Student voices warm up cold night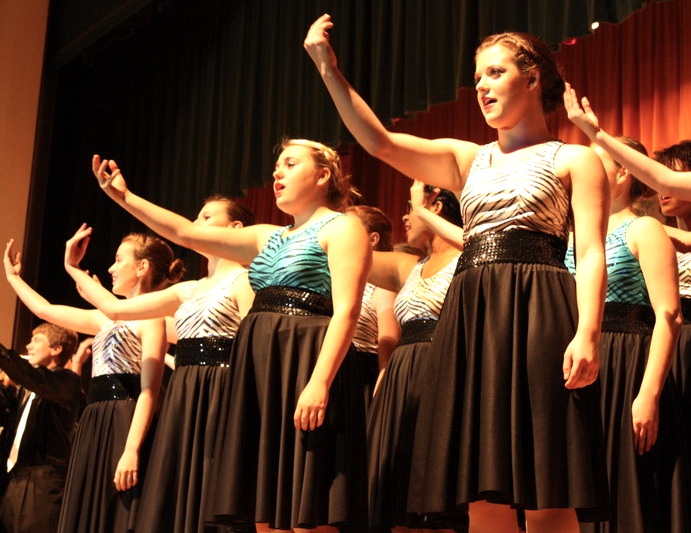 Talent, charisma, and festivity were all on display Thursday when two different all-district show choirs dazzled the audience with their voices and creativity.
Students and parents from all over the district crowded into the Ventura High School auditorium Thursday to watch the Noteables and Company perform in the Holiday Celebration.
The two all-district show choirs were separated into two different age groups. The Noteables were elementary school aged children and Company consisted of students from all Ventura high schools.
Both of these choirs have been developed and run by music specialist Heidi House. This is the first year for both of the choirs, and so far there has been a positive reaction from the students participating in the program.
"I feel pretty nice, it's a great opportunity to be involved with a lot of your friends," said Ventura High School senior Kyle Harvey who is a member of Company.
The show began when the Noteables took the stage started singing modern holiday songs such as "Hip-hop Reindeer." The elementary children managed to elicit many chuckles out of the audience with their continuous fidgeting and cute hand gestures.
"They were absolutely adorable," said Foothill sophomore Desireé Sehati.
After the Noteables performed, the high school choir, Company, went on stage. Before performing, Foothill sophomore Ariana Cohen admitted, "I'm super super nervous; but I'm also really excited to go on and do my best."
Company seemed to captivate the audience with their harmonies and soloists. The group performed holiday classics such as "Carol of the Bells" and "Santa Baby."
The glee club also performed a montage of songs such as "You Can't Always Get What You Want," "Material Girl," "Eight Crazy Nights," and many more.
During her solo, Foothill senior Gabby Trainor had to overcome the unforeseen difficulty of singing to a crowded auditorium without a microphone. Remarkably, her voice could be heard even in the furthest back of rows.
"Gabby did an incredible job singing without a working microphone," said sophomore Hayley Abourezk-Pinkstone.
Her incredible vocal ability earned Trainor a standing ovation from the audience.
The Holiday Celebration ended on a peaceful, lasting note by reminding the audience of the simple joys of life. Both choirs performed John Lennon's "Imagine" together to close the performance.