Stars dress to impress on the red carpet runway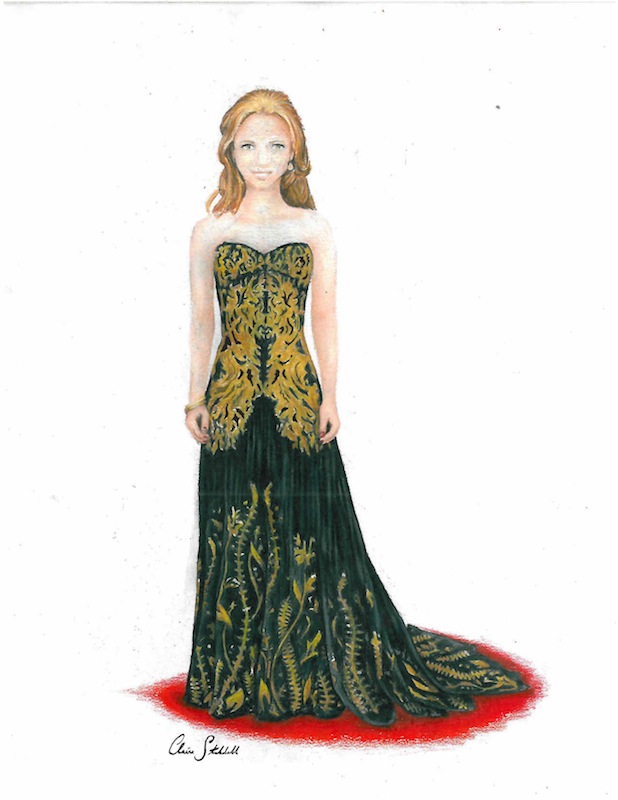 The Academy Awards is always a dazzling evening for fashion. It places all of the big name actors and actresses in the spotlight for judgment on the best and worst dressed. In the past, daring outfits, conservative garments and outright ugly dresses have all been attempted. But it depends both on the actress and how the dress is worn, or the actor and the complied tux, to exude true brilliance.
This year many of the stars went for simple colored dresses rather than ones with patterns, odd creations, or accessories.
To begin, Angelina Jolie was stunning and classic with her red lip and structured black velvet dress. Although her right leg seems to be getting more attention than the outfit itself, she remains one of my favorites.
Jennifer Lopez, on the other hand, was a disaster in a skin tight, striped, nude dress that had a plunging neckline. At times I was certain she was flashing unnecessary parts of her cleavage. The arm slits didn't add much positivity to the dress either.
Stacy Keibler, George Clooney's smiling girlfriend, looked like an Oscar herself with a form fitting, strapless, gold dress. The way it clung to her skin made her look like she was cast in gold and she was beautiful aside the silver fox himself.
Another actress on the best dressed list was The Help's Jessica Chastain. She donned a black dress with golden embellished designs beginning at the top and leading to the midpoint of the dress, then continuing after a break to the train. The look was flawless.
The Artist's Berenice Bejo, nominated for Best Female in a Supporting Role, disappointed with tightly pulled back hair and a dress that disappeared and clashed with her skin. In any other color, the dress would have been a hit.
Anna Faris's black sequined, long-sleeved dress was also a letdown.
In the men's department, Sasha Baron Cohen's promotion of his new role was irritating. For an event in which men should wear clean and professional tuxedos, Cohen instead dressed in costume, downgrading the Oscar's into a Halloween party. With his additional prop-like ladies walking the red carpet with him, he acted as if he were arriving at the Grammy's rather than the Academy Awards.
Natalie Portman's dress wasn't thrilling, and the red with polka dots seemed childish.
Although Gwyneth Paltrow's cape was questionable, the entire white ensemble got my vote and she was another one of the Oscar's best dressed.
Colin Firth, as always, looked incredibly handsome and dapper in his traditional tux.
Best Actress winner Meryl Streep was a bit of a golden mess with her shining gown and the bunching up in the front had too much material. At first I was a fan, but with the full view it was too overwhelming.
Tina Fey looked remarkable in a navy blue strapless dress. The peplum added flirt and the dark strip which encircled the waist added contrast.
Emma Stone's bow made me question my position on her gown, but with a full view I believed it to be decent; it was not anywhere near best dressed, but not necessarily a miss either.
Octavia Spencer has developed a very prominent fashion reputation for wearing dresses which flatter her figure. Her Oscar gown was an unmistakable addition to this reputation and she looked gorgeous and elegant in the white and diamond embellished gown. The emotion to match was heartwarming.
In her usual and unique style, Michelle Williams attended the Oscars in red. With the little diamond bow and overall view, the dress didn't impress. I loved her in My Week with Marilyn and believe she deserved the Oscar for Best Actress, yet do not believe she deserved best dressed, which was declared by many of the hosts on the red carpet entrance shows.
Busy Phillips, William's date, wore an intricately patterned dress which was incredibly flattering. However, her shoes and bold earrings ruined the look.
Viola Davis's emerald green dress was incredibly bold, as was her move not to wear her usual wig. Kudos to Davis for embracing her natural hair.
In my opinion, the worst dressed star of the night was Shailene Woodley. Her gown was much too matronly and thick for an event such as this one in Los Angeles. She appeared older than necessary.
Best dressed goes to Rooney Mara. Her perfect white dress had a beautifully structured top and the long train was stunning. The delicate material of the dress made it appear light and my favorite feature is the lace that topped the entire dress and singled as the straps.
The Oscar's had many hits and misses in the fashion department, and overall style is one of the key parts to making a statement and being remembered for more than simply a nomination or award.