Simple ways to redecorate your room on a budget
As the season shifts from winter to spring, and quarantine continues, most of us are feeling tired of being in our homes. Not only is the weather wanting change, but so are our daily activities as a new phase in our lives begins. Adapting to a "new normal" brings a new era: why not redecorate your room to create a sense of change and pass the time? With economic uncertainties, most of us cannot splurge on expensive room decor from Urban Outfitters or the means to paint our rooms a new vibrant shade. Here are a few simple and very inexpensive ways to change up your room and bring a new exciting season in your life without having to break your bank account. 
Reorganize Your Room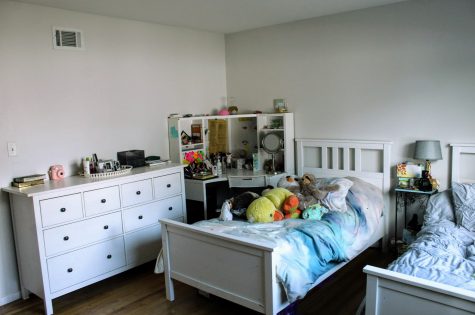 This method will take little time and zero money to do. The act itself is pretty self explanatory since all you have to do is move around the various items items in your room, like your bed, desk, dressers, shelves, etc. You now possess a new and totally glamorous room! The most amazing part about this method is that if you do not love what you changed, trial and error is your friend. Hypothetically, if what you did change is not up to par, it isn't set in stone like repainting your room or buying an expensive and nonrefundable piece of furniture would be. All reorganizing takes is a little muscle and ta da, it is finished. Now you have a magnificent room without any money or permanent changes.
Minimalistic Look
The minimalist method has hit the decor game hard in interior design, fashion and even everyday living. Being minimalistic can be a very affordable way to redo your room to look slick, clean and chic. You can create this look from taking away as opposed to buying more. Too many decor components can make your room look messy and unappealing. Instead, try putting things away and focusing only on a few key colors. Add decor elements based on your decided color scheme.  As someone who is not an effortlessly organized person, a minimalistic approach can make it tougher to accumulate clutter; being organized can really change a room and make it more eye appealing. Some ways to pull off a minimalistic look including taking away unnecessary throw pillows, buying a few cheap knick knacks with your decided color scheme and generally keeping surfaces free of extra stuff.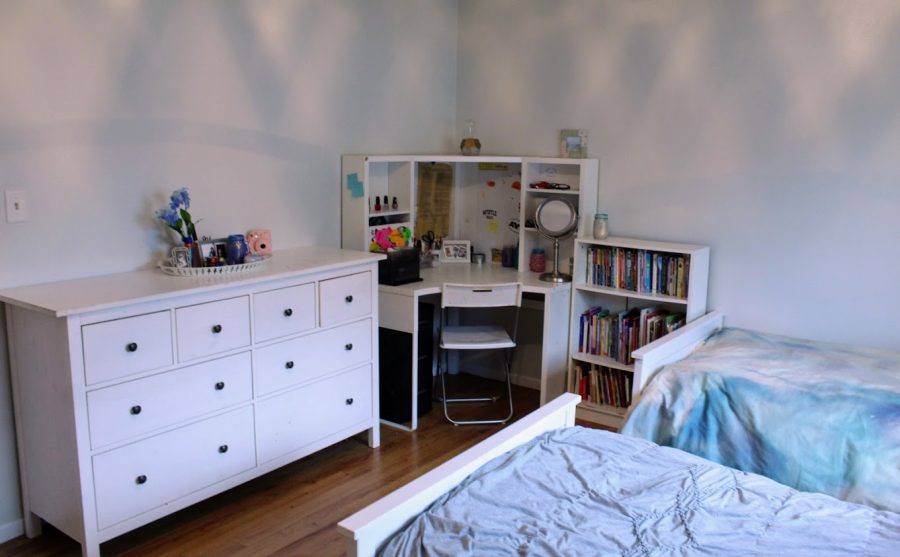 Thrift shops are your best friend
If you have to go out to buy a piece of decor, choose a thrift shop! Thrift shops are an amazing way to reuse products for cheap and there are endless unique options for your room! Thrifting is an inexpensive way to be environmentally friendly by recycling home goods. Some stores also donate to charities, effectively giving back to the community. There are plenty of amazing thrift stores around downtown Ventura such as The Arc Foundation, The Coalition, Child Abuse and Neglect thrift store and Goodwill, so there's no excuse to not shop wisely and affordably. Unfortunately, with COVID-19, thrift shops are currently closed due to quarantine. While this is not an option for the time being, there will likely numerous donations to these stores once restrictions are lifted as many people are cleaning their homes. When thrift shops open again, you can utilize them for a cheap way to make your room unique!
DIY! 
DIY-ing (do-it-yourself) is an easy way to create an original, personal and fun touch to your room. It creates a distinctive and different appearance that no one else can exactly match. Creating your own decor can also be a great way to promptly get change in your room, and can feel more rewarding that spending your savings, while still being stunning.
Fairy light flowers
Fairy lights are on display on every Pinterest board for decorations and can spruce up your room with a soft look. Adding fake flowers can add a cute and unique touch since fairy lights alone are fairly popular. This flower fantasy is an easy way to have an aesthetically pleasing look that is gentle and charming. You can also replace flowers for any product you would like for your room, such as glow in the dark stars or heart decals. While you can hang this decoration anywhere on your walls, it adds an especially nice touch when outlining a mirror.
Directions:
Lay out fairy lights however you want on the mirror or your wall

Cut flowers off stems and tape or hot glue onto the fairy light strings

Place how much or as little you want

You are done! Turn on the lights to reveal your newly styled room!
Painting a light switch or outlet cover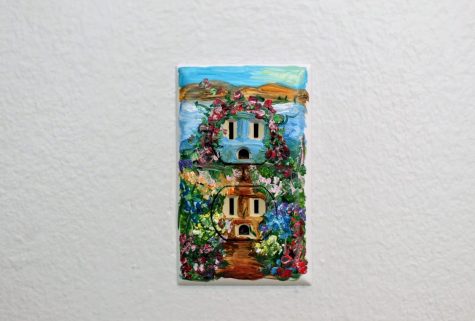 Although this craft is a very minuscule step in reforming your room, it creates a sense of uniqueness and a look only you can obtain. I originally acquired this idea when I saw it at a friend's house and instantly fell in love with the look . It is a very easy and quick way to make your room more exciting and creative without an overpowering change. You can construct this DIY anyway you want and it can be as simple or as complicated as you wish. You only need acrylic paint and a light switch or power outlet for this decoration.  
Directions:
Pick out what light switch or power outlet you want and prep your paint

Paint whatever you want for your creation (maybe a flower, or a moon and stars, or an alien)

That's it! Now you have a small but very pretty change for your room.
Mason jar lights
Mason jars are an extremely popular product for room decor. They bring pretty decor with a simplistic feel. However, to put a spin on the basic mason jars, spice it up with some charming mason jar lights! Lighting plays a key role in the tone of your room. Creating a simple and easy way to softly light your room while appearing ravishing is spectacular. All you need to match this change is decorative tape, mason jars and small fake candles. Voila! 
Directions:
Get floral, or any kind of decorative tape and place side by side strips on the mason jar

Continue doing this until jar is fully covered

Place tea light electric candles in the jar and now you can light up your room with style!
All in all, decorate in a way that makes you happy to be in your space. If you're lacking inspiration, these tips and tricks will help you make the transformation to a beautiful room on a budget.