Students are able to showcase their new fashion after a year online
As students begin to return to school after a year of exclusive Zoom classes, students haven't been able to see the new fashion styles at Foothill Technology High School (Foothill Tech) until now. Due to the absence of seeing what fashion trends were rocking, it seems that these back-to-school fashion looks are more important than ever. Through diverse expressions of style, students can convey how they have changed over this insane past year. Here are a few fabulous students who have shown their fashionable outfits during these first few weeks of in-person school.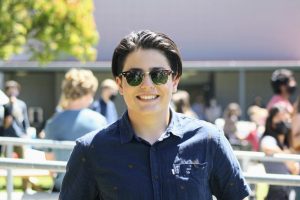 Sawyer Jennings '24 starts off his Foothill Tech career, wearing a navy Beverly Hills button-up, jeans, a pair of GREATS shoes and some Ray-Bans to complete the look. Jennings says that quarantine has immensely affected his style this year. He claims, "last year, I used to just put on whatever I threw together and now I am much more focused on what I wear." It is good that quarantine has improved how he dresses because the right clothes can make people feel confident and much better about themselves.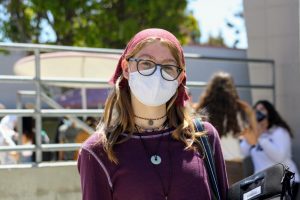 Megan Parkhouse '23 returned for her second year at Foothill, wearing a red, long sleeve shirt, a pair of jeans, converse and a plethora of accessories that complete an artsy look. Her favorite part of her style is the accessories. Parkhouse expresses, "I wear them every day and they make me feel complete." It is amazing how much accessories can do for your look, and while some people may choose not to style their outfits with accessories, it really enhances Parkhouse's already amazing attire.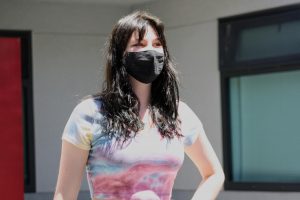 Heidi Ingram '22 walked into campus showcasing chic statement boots, a colorful tie-dye t-shirt and bell-bottom pants for the first day of her junior year. Ingram's extravagant platform boots were borrowed from her sister, her flowy bell-bottoms were purchased from M. Fredric's and her bright tye-dye top was from H&M. "I choose one item of clothing I want to wear, and then I decide how I want to style it; today was the boots," Ingram exclaims. Ingrams explains that her fashion has grown with her confidence, and she can express herself easier than she could pre-COVID-19. "I don't care what other people think, I am just going to wear what I want," declares Ingram.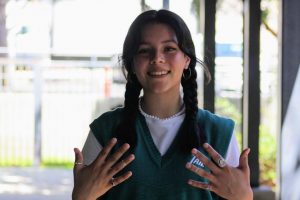 Erica Conchas '21 is taking advantage of her last weeks at Foothill Tech to express herself through her trendy and classic outfits. Conchas's outfit consisted of a thrifted green sweater vest, a white undershirt from Target, jeans from Urban Outfitters and Nike Air Forces with colorful beads threaded through the laces. Conchas describes her fashion change from the year spent in quarantine due to getting inspiration from online and says, "I spend a lot more time on Tik Tok and Pinterest with my free time so that definitely influences it." Throughout quarantine, Conchas has become more comfortable and confident with herself and can now show off more of her incredible looks at school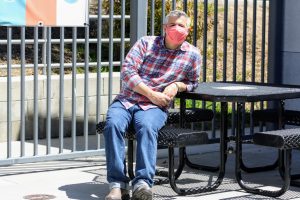 Justin Frazier, a beloved teacher at Foothill Tech, comes to school every day wearing looks that leave students stunned. Frazier wore Blundstone boots, a red, white and blue flannel and Zenga jeans. Fraziers adds that traditionally most of his outfits consist of sweater vests with a professional undershirt. Before and during COVID-19 he did not care about fashion as much as he does now, as he recounts, "I did not wear a pair of pants that didn't have an elastic from when we left school to when we came back." But now Frazier is back and better than ever with a new sense of direction and ideas with his fashion choices and says, "I am definitely coming back strong."
While quarantine has been a long struggle, fashion is definitely one of the things that have benefitted from it. Working around key items in their outfit, people are now improving their look and getting excited about showing off their own sense of style. The fashion at Foothill Technology High School is better than ever!