Wrap-Up: Girls' tennis takes the win over Santa Paula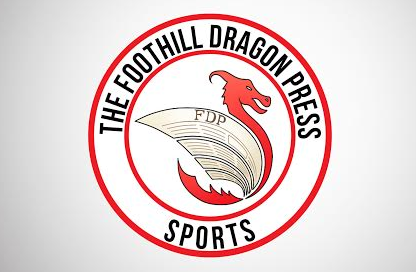 On Monday afternoon, the Dragons' girls' tennis team defeated the Santa Paula Cardinals 12-6 in an away league match in Santa Paula.
Despite the warm weather, all three singles players "swept their single sets," according to Coach Brad McClain. McClain made some slight changes to the usual lineup, putting sophomore Summer Khouvilay in as a singles player, replacing sophomore Enkela Qoshlli. Freshman Erin Gaynor and junior Laina Feath completed the singles roster against the Cardinals both also going 3-0.
In doubles, sophomore Sherlyn Khouvilay played alongside sophomore Enkela Qoshlli. They worked together to win all three of their matches as a team.
Playing doubles is a big change for Qoshlli.
"Playing doubles is a very different game, the strategy is all cross court and every ball must be planned so that you opponent can finish the rally," Qoshlli said. "That being said, you have to think ahead a lot more and it is less physically exerting than singles because you don't have nearly as much ground to cover."
Team two, senior Karina Cole and junior Emma Kolesnik and team three, sophomore Katlyn Urick and senior Nina Urban were both defeated with an overall score of 0-3.
Foothill took the overall win with a final score of 12-6 and McClain was happy with the way his players performed.
Foothill's record is now 12-3 overall, 9-3 in league. The next match will be the Dragons' final home league match of the season at Ventura College against Santa Clara High School on Oct. 20 at 3 p.m.