Dragons celebrate Air Guitar 2023 like "diamonds in the sky"
With the sun shining and birds chirping, it's that time of year at Foothill Technology High School (Foothill Tech) where students are excitedly reminiscing about one of the year's most anticipated events: Air Guitar. Held in the quad on May 19, 2023, the Associated Student Body (ASB) made an entire day out of the show, beginning with opening gates at 6 a.m., a fundraising Food Faire with eight different vendors and unique performances by Foothill Tech students and staff alike. 
Malia Sanchez
In preparation for Air Guitar at the end of the week, there was also a spirit week to enhance the fun. The week began with Pajama Day and the theme allowed students to alleviate stress following Advanced Placement (AP) exams and other end-of-school-year projects and tests. By far the most popular, many students walked around in plaid pants and some even in onesies. Music played during lunch and bubbles floated in the air, giving the atmosphere a tranquil and elementary school feeling, tying in with the popular pajama theme. 
Tuesday was Band T-shirt Day and participation was lower than the previous day. Students walked around sporting their favorite bands and artists including Pink Floyd, Taylor Swift, 5 Seconds of Summer, Harry Styles and more. During lunch, there were friendship bracelet kits where students could make a bracelet for someone special. The day was a great way for students to represent their favorite music genres around campus. 
Adam Sandler Day was on Wednesday, in which students dressed in baseball caps and basketball shorts to copy the famous comedian. Although this day had less participation than others, some students went all out, showing off their dedication to school spirit. 
Sofia Patiño
Thursday's theme was inspired by the popular social media trend to host a "white lie t-shirt party," where students could come wearing a white shirt decorated with a phrase or statement to represent a "white lie" about themselves. Students wore a variety of different statements including, but not limited to, "I don't like Taylor Swift," "I'm a good driver" and "I'm on time."
The final day revolved around the famous Air Guitar performance, a student talent show intended to showcase the unique gifts of Foothill Tech dragons. Keeping in line with the year's theme of "Around the World," Air Guitar was themed "Rocking in Rio" and Friday's spirit day invited students to wear their favorite festival outfits. Students walked around in festive colors and sunglasses to sport the theme.
The quad itself was also embellished with multicolored balloons, streamers and decorations, all intended to mirror Rio Carnival, the well-known cultural festival held in Rio de Janeiro every year.
"
It's a different experience that you don't normally get. No other school does this, so it's really fun."
— Megan Graves '24
Part of the allure for Air Guitar is the pre-show excitement, beginning as early as 6 a.m. when the gates of Foothill Tech were thrown open and early risers rushed to get prime viewing real estate. By 6:30 a.m. the quad was filled to the brim, where students could be seen lounging on blankets, in beach chairs and even under easy-ups. 
Hadyn Hughes '23, Jessie Yalinkatian '23 and Megan Graves '24 were some of the first students to step foot in the quad and were rewarded with a spot right in front of the stage. When asked for the rationale behind waking up early to come to Air Guitar, Hughes explained, "Last year it was the first Air Guitar for all of us because of COVID, so we were like 'let's come early, let's see what it is all about.' It just kind of became a tradition to come early and go to Denny's afterward so we wanted to do that again."
Mikaela Clabaugh '25 added, "I came early because I wanted to get a spot where I could actually see the stage because you can't always see it even if you come 10 minutes after six [a.m.], so I decided to come early to see better."
Despite the festivities, class did commence at 8:30 a.m. like normal, but it followed a modified Monday schedule with 30 minute periods. Students were then released into the quad at lunchtime, free to browse the selection of items for purchase at the Food Faire, including PizzaMan Dan's and Mr. Softee. The Food Faire also acted as a fundraiser for many clubs and organizations on campus and students were able to purchase items using tickets paid for at the student store.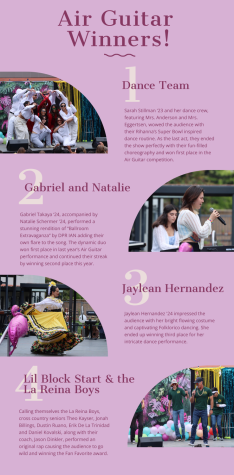 After students spent time chatting with friends and enjoying delicious food, the performance commenced at approximately 1 p.m., with the masters of ceremonies Lily Shadden '23 and Kelsy Randall '23 cracking a few jokes to get started. The crowd cheered loudly before falling silent as the first act took to the stage. 
In total 11 acts were performed, ranging from solos to duets to Folklorico dance to court reenactments to diss track rapping. A detailed list of the acts can be found below. 
"Mama's Broken Heart" by Miranda Lambert
Folklorico dance
Spanish courtroom skit
"Picture to Burn" by Taylor Swift
"Basket Case" by Green Day
"Man or Muppet" by Jason Segal and Walter
"Adore You" by Harry Styles
"Ain't It Fun" by Paramore
"Ballroom Extravaganza" by DPR IAN
Original rap
Rihanna SuperBowl dance number
When the final act concluded, the judges, namely Heather Ferris, Rick Villano, Justin Frazier and Isis Benetiz, quickly debated which of the acts should receive recognition as first, second, third and fan favorite. The crowd waited in anticipation as they shifted their positions on the grassy quad, waiting for the judges to decide the winners.
Ultimately, after much deliberation and crowd input, first place was awarded to Sarah Stillman '23, second place was awarded to Gabriel Takaya '24 and Natalie Schermer '24, third place was awarded to Jaylene "Jay"  Hernandez '24 and fan favorite was awarded to the La Reina Boys and Jason Dinkler, who was dubbed "Lil Block Start" in reference to being the head track coach. 
Reflecting on the win in an exclusive interview the fan-favorite winner, the La Reina Boys, explained the preparation process saying, "We spent a lot of time doing the verses over and over again" and added, "The energy was really there." The La Reina boys continued explaining how the lyrics were intended to hype up the audience. "What we do for the fans, you know," Jonah Billings '23 mentioned.
As students collected their beach chairs and blankets folded out in the quad, they left with great memories of the event-filled afternoon. From dancing to singing, this year's Air Guitar was filled with incredible acts for Dragons to remember forever.