"Midnights": A perfect addition to Taylor Swift's discography
Taylor Swift has had a firm chokehold on the music industry for over 15 years. From soft guitar songs to emotional ballads, Swift has done it all. After two years of only re-recording her old albums, the promise of her new album "Midnights" sparked excitement among fans. Now that the record-breaking album has been heard worldwide, many are reflecting on what it has to offer. 
Every Taylor Swift album released to date encapsulates a certain vibe and message. "Midnights" harnesses a soft yet vibrant undertone and represents the feeling of getting over past experiences while welcoming new ones. She distinctly pulls together inspiration from her past eras, creating a new yet familiar medley.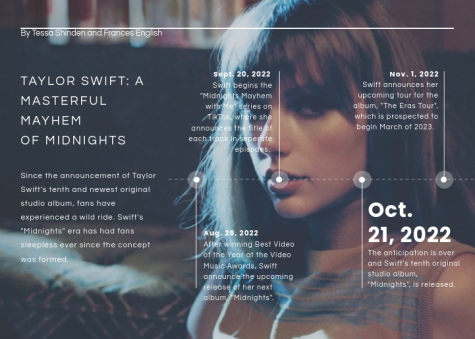 "Lavender Haze," "Maroon," "Midnight Rain" and "Bejeweled" are some of the pop favorites, while "Anti-Hero," "You're On Your Own, Kid," "Mastermind" and "Question..?" have more potent meanings. These are the songs to play with your friends and jam out to in the car. "Vigilante Sh*t" and "Karma" possess more revengeful lyrics and harness a stronger energy. The album's calmer and more relaxed songs are "Snow On The Beach" and "Sweet Nothing."
"Anti-Hero" became a hit straight away. The music video accompanying the song came out shortly after the release of the track and gave fans even more to talk about. Swift wrote meaningful lyrics about her personal problems and struggles throughout her life. The video conveyed her message and included a comical scene of her own funeral. A few days later, the "Bejeweled" music video was released and told more of a story within the piece. It starred Swift as a version of Cinderella, breaking away from her stepmother and stepsisters and becoming "bejeweled." Although the music video tells a very clear story, fans can't help but speculate it may have a more significant meaning, such as her journey in the music industry. 
Although the album was an instant success, that doesn't mean it came without disappointments. "Snow On The Beach" features another very popular singer-songwriter, Lana Del Rey. Fans were excited to see what the two artists came up with and expected a song similar to the track Swift did featuring Phoebe Bridgers on her recent album "Red (Taylor's Version)," "Nothing New." To the dismay of many, the song mainly focused on Swift while Rey accompanied her vocals in the background. The song is still a favorite, but fans can't help but wonder what could have been with this anticipated collaboration. 
While the official album was released at midnight, just three hours later Swift released "Midnights (3am Edition)". This new collection of titles featured what was on the original album plus seven new tracks. These were songs that Swift explained were created along the journey, but didn't fit in the story she wanted to tell with "Midnights". They were an extra surprise, similar to the "From The Vault" songs that Swift added to her re-recordings. Even more new music excited fans and allowed for more songs to become all-time favorites. 
On Nov. 1, Swift announced her world tour, titled "The Eras Tour." In an Instagram post, she explained that the tour is "a journey through the musical eras of my career (past and present!)." With so much to celebrate and look forward to, both fans and Taylor Swift herself are running the internet, articulating their opinions on the album and guessing what this future tour will be like.