Air Guitar: the return of a Foothill Tech tradition
"Are you guys excited for our first Air Guitar in three years?" Donovan Hart '22 asked the large, cramped crowd. The impatient sea of students responded with cheers, excitement erupting instantly as Air Guitar, Foothill Technology High School's (Foothill Tech) annual talent show began.
Foothill Tech pupils gathered for the first live Air Guitar open to the whole school in two years. The anticipation was palpable, with people showing up as early as 6 a.m. to secure a spot for the show. Most groups brought blankets and chairs, with one group even bringing a mattress.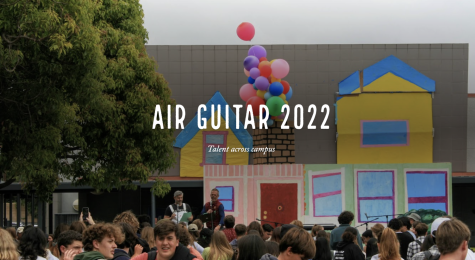 A makeshift stage with a backdrop of the home from the Disney movie "Up" was soon filled with microphones, instruments and other props needed for the different performances. 
In class, Foothill Tech students anxiously awaited the dismissal of sixth period so they could beeline to the growing food lines and wait in anticipation for the show. Many clubs sold food, including churros, lemonade and other goods, drawing hungry students in. The Pizza Man Dan's food truck proved to be popular, and many students were carrying more than one box of pizza around the quad.
As the crowd's eagerness increased, Air Guitar hosts Hart and Claire Duganne '22 stepped on to the stage wearing matching costumes of Russell and Carl Fredricksen, the main characters of "Up". They hyped up the crowd and introduced the performers, all while maintaining the high energy of the audience in between acts.
Hart and Duganne introduced the judges, two beloved Foothill Tech teachers: Justin Frazier and Daniel Baker, as well as student counselor Jane Napora and student Makayla Hanglyn '22.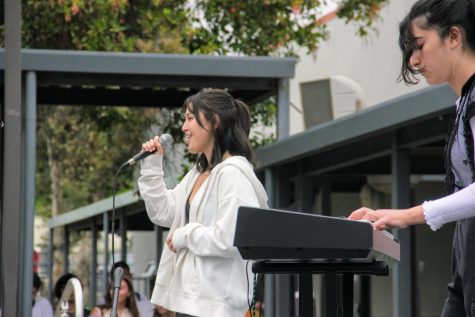 Before the show started, Principal Russell Gibbs came on to the stage to announce the freshmen students awarded with the Tanner Alvera Award. Alvera was a county resident with muscular dystrophy. Despite this, he went through life being a positive force, choosing kindness over all else. Alvera also committed to his schooling, claiming he didn't want to die ignorant. 
Ariel Montahano '25 and Bree Epnip '25 were given the award, with peers and faculty praising their kindness and inspiration. 
The performance began shortly after the awards with Alex Jannone '22, who opened the event with a keyboard mash-up of different songs. He began with "Imagine" by John Lennon, then "Runaway" by Silverstein. Jannone then transitioned to the popular song "Sweet Caroline" by Neil Diamond, then unexpectedly, "Hurricane" by Kanye West. He ended with a song he said was "requested by many", "Less Than Zero" by The Weeknd. The crowd clapped and hollered whenever the song changed and Jannone maintained confidence throughout the performance.
Kira Shinden '22 performed next, singing her original song, "Crying By The Poolside". The song described the heartbreak after a loving summer romance. The audience began to wave their arms along to the song. Shinden played acoustic guitar while singing, strumming as she lilted the lyrics along. After the song, Duganne joked, "One day, Olivia Rodrigo will be opening for her!"
Next, Sofia Lawson '22 and Owen Teehee '22 switched things up by swing dancing to "Long Tall Sally" by Little Richard. They were donned in matching red outfits that made them look like 50's socialites. Their smiles were bright and the audience responded with whoops of encouragement at every twist and dip.
Giving a particularly charismatic performance of "Your Song" by Elton John, Jared Latiegne '22 shook off nerves at the beginning of the song and made jokes in instrumental parts of the song. Playing the piano and crooning into the microphone, he quickly grabbed the attention of the crowd, keeping them entertained but enthralled.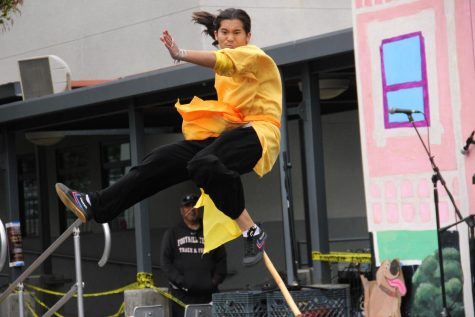 Scott Leung '22 then surprised the crowd with a display of his martial arts skills. Leung has been doing martial arts since he was three years old, and went by the stage name Ninja Yen. He performed a variety of punches and rolls as the crowd roared with its approval. The cheering only grew louder when he brought out a staff and flag, which he whacked and did impressive moves with.
Following the martial arts, Charisse Lindsey performed "Andante, Andante" by ABBA, which she dedicated to fellow student Athina Ananias '22. Lindsey's vocals were on full display in her performance as she hit high notes with ease. She encouraged the crowd to sing along with her, before finishing to a praising crowd.
Duo Ashley Newman '22 and Jane Lambert '22 gave an energetic performance of "I Want You Back" by The Jackson 5. They danced and the bond between them was evident on stage.
Kenna Paul '23 sang the iconic song "Valerie" by Amy Winehouse, keeping her energy high as she danced to the beat. 
Natalie Briel '23 slowed the tempo down with "Fine Line" by Harry Styles. She played electric guitar and softly sang the emotional song, the audience swaying with each strum of the guitar. 
Sophomore Natalie Schermer '24 played the keyboard to Gabriel Takaya '22's rendition of "Creep" by Radiohead. Takaya's voice was high and choir-like, which shocked the crowd, who quickly cheered loudly for the pair. 
After the slower-paced song, Sarah Stillman '23 and other students danced with surprise guests. Foothill Tech faculty Jennifer Eggertsen, Mika Anderson, Sarah Page, Heather Ferris and Claire Adams joined them onstage, leaving the audience in uproar. They danced to upbeat songs and the teachers impressed students with their moves. Stillman had a few solo moments, drawing more applause from the crowd. 
After that act, Kami Kada '22 and Kelsa Ropersmith '22 sang "The Story Of Us" by Taylor Swift, with Ropersmith playing the acoustic guitar. They gave a heartfelt performance with harmonies that bewitched all in attendance.
"
In those moments where everyone is together, it was really special to see that unity.
— Maya Morita '24
Finally, it was time for the fabled M.L.F. reunion tour. Astounding the crowd, teachers Yiu Hung Li, Kurt Miller and Dan Fitzpatrick came out in long wigs, tight clothing and punk accessories. They performed various rock songs, dancing and jumping to the beat. They were given a standing ovation.
"At school, we only see the professional side of our teachers. For students to be able to see them have fun humanized them," Associated Student Body (ASB) Air Guitar Assistant Director Maya Morita '24 expressed.
As the performances ended, the judges had come to a decision. Frazier and Baker announced that Stillman and company had secured third place. In second, Kada and Ropersmith were awarded for their duet. Before announcing the winner, the judges announced that Leung had won Fan Favorite for his martial arts performance. With a drumroll, Takaya and Schermer were revealed to have won first place and the crowd cheered louder than before, already anticipating next year's Air Guitar.
Correction: Maya Morita's graduation year was incorrectly noted as Class of 2022. It has been corrected.