"Help save lives": Donors save the day at BioScience Academy and Vitalant blood drive
Under gray skies and drizzly conditions, Foothill Technology High School (Foothill Tech) brightened the day with a blood drive, hosted by the BioScience Academy's Health Occupations Students of America (HOSA) and Vitalant, a non-profit organization helping those in need of blood, on Tuesday, March 21, 2023. 
"
There's always someone in the community who has benefited from a blood transfusion.
— Mika Anderson, BioScience Adviser
While minors require parental consent, Foothill Tech students and community members over 16 had the opportunity to donate blood to Vitalant, who supply blood for local hospitals in Ventura County. 
Kristopher Hope, Vitalant Donor Care Supervisor, shed some light on the organization, sharing that, "Our mission is to provide the community with the ample blood supplies that it always needs on a daily basis."
BioScience Adviser Mika Anderson explained what set Vitalant apart from major blood donation companies, saying, "The blood that they collect goes directly to CMH [Community Memorial Hospital]. It goes directly to VCMC [Ventura County Medical Center], and to the local hospitals here." 
To prepare for the process, donors were strongly encouraged to stay hydrated and eat before their appointment. Then, throughout the school day, students would be called out of class to register and await their turn.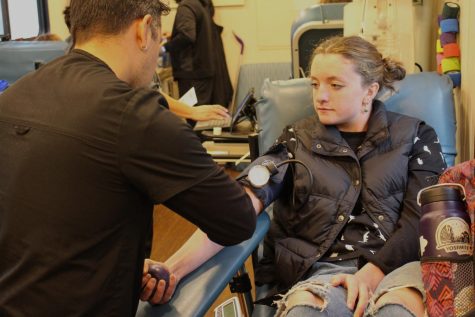 When called, they would go into the Vitalant trucks, where their height and weight were recorded, as well as iron levels tested. Those who met the requirements and qualified would then donate blood and wait for 15 minutes before leaving.
Despite this, some went extremely pale as the blood was taken, or even fainted, wobbling out of the truck and back into the campus as they recovered.
As a reward for their generous deed, donors were given a Vitalant shirt, as well as snacks and water to keep them from becoming light-headed. 
Both Vitalant and BioScience work to highlight their belief in the importance of blood donation. One transfusion can help save up to three lives; plasma, red blood cells and white blood cells can all be equipped to help different patients. 
"Sometimes we forget that although we live in a very technologically advanced society, blood can only be made by people," Anderson emphasized, "as of right now, the only way that patients who need blood can get blood is if we get donors."
"
Come out and donate; help save lives.
— Kristopher Hope
Anderson continued, "There's always a shortage [of blood] and hospitals are always in need."
Hope identified how blood donation affects donors themselves, asserting that, "Donors come to me and say, 'I was able to help someone stay alive just because I'm here with Vitalant.'"
"Some individuals might not always make it, but at least it gives them that few more hours to spend with their loved ones," he finished.
On a more comedic note, Anderson joked that, "Donors are literally giving people life-saving body fluids. That sounds weird but it's true." 
As the blood drive concluded, students with colorful patches around their arms could be seen throughout Foothill Tech. Overall, 38 units of blood were donated, holding the potential to save up to 114 lives.