30: Adele and her fourth studio album
Her most ambitious performance to date, Adele debuted her album "30" on November 19, just in time for the holidays and seasonal depression. Her powerful voice has filled fans' hearts and homes since the beginning of her career, only to return with a new perspective on relationships and emotions that isn't seen by many. Teaching us how to love and then love again, "30" gave listeners a taste of what it means to be Adele Adkins. 
The English singer is one of the world's best-selling music artists, with—at 33 years old—over 120 million records sold. Her brilliant mezzo-soprano has filled many people's hearts and has won her a total of 15 Grammys since rising to distinction in the 2000s.
Her past albums include her debut "19" in 2008, "21" in 2011 and "25" in 2015. It's not new for Adele to create record-breaking music, as her second studio album became the world's best-selling album of the 21st century in 2011. It is only following suit that "30" should resonate with global audiences just as much as other music that she has created. 
She opens her album with the track "Strangers By Nature", demonstrating just how much this album is going to reveal to listeners. "I'll be taking flowers to the cemetery of my heart" encapsulates the raw authenticity of what will be revealed in the following songs. Her second track "Easy On Me" (the leading single) reveals the complexity behind her emotions, as it can be described as a reflection on the end of a relationship through vulnerability and introspection. 
"My Little Love" follows, filled with voice memos of Adele explaining her fear of being resented by her son following her divorce from Simon Konecki. Track four "Cry Your Heart Out" takes an ironic stance towards feelings of depression with the idea that if you cry enough, it will "clean your face". Lyrics such as "When will I begin to feel like me again?" further this narrative. Contrastingly, "Oh My God" has Adele putting herself first, despite internal conflicts about it. After a depressive episode, she finds herself taking control of her life.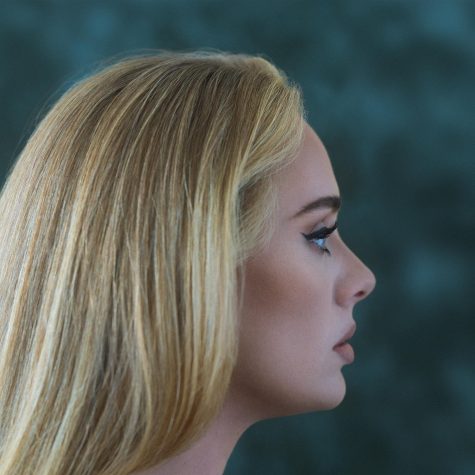 The sixth track "Can I Get It" features producers Shellback and Max Martin, with the song being written about wanting an authentic relationship rather than a casual one. "I Drink Wine" proceeds, with Adele revealing its original rendition to be 15 minutes long. Additionally, she describes the song as being about shedding one's ego, including flares of the works of Elton John and Bernie Taupin in instrumentals. Track eight "All Night Parking (with Erroll Garner) [interlude]" is about briefly finding love again after her divorce and the almost intoxicating feeling of falling for someone new. 
"Woman Like Me" comes next, with lyrics confronting the less than indifferent nature of the relationship with her ex. She scolds him for being "complacent, lazy and insecure", wasting any sort of potential they could have had together. The following track "Hold On" can be described as an anthem, with feelings of gospel and contentment embedded into the song. Nearing the end, "To Be Loved" marks the 11th track at almost seven minutes long. In its simplest form, the song is a piano ballad describing the ups and downs of life. 
The 12th track "Love Is a Game" closes the album, blowing audiences away for the final time on "30". Instrumentals on the song are nothing less than romantic, grand and retro, with lyrics delivering twists that immerse listeners into the music. Adele concludes her fourth record with her internal battle on wanting to love and be loved. 
Adele has broken multiple records with "30", debuting at No. 1 and becoming the fastest-selling album of 2021 in the US. Her newest album disappointed no one, as she has an evident talent for connecting with her listeners through her music.