Adele's anticipated comeback single "Easy On Me" is not easy on any of us
"There ain't no gold in this river" is how listeners were introduced to Adele for the first time in six years. After three albums, it seemed as though it would be impossible for her to create more musical masterpieces, but she has proved us wrong. This powerful vocalist's upcoming album, 30, is looking to be equally, if not more heart-wrenching than previous works. 
Adele is one of the world's best-selling musical artists—to no surprise—with her albums continually dominating the charts. Being a 15-time Grammy award winner, songs from her works 19, 21 and 25 are still being played on the radio, and they tug at listeners' heartstrings to this day.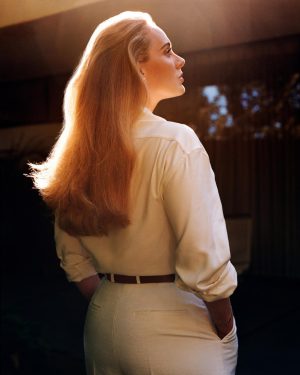 Her highest-charting songs include "Rolling in the Deep", "Someone Like You", "Hello" and "Set Fire to the Rain". She became the first female artist to have three top-ten singles (for her album, 21) concurrently on the Billboard Hot 100. 
After releasing her newest single "Easy on Me" on Oct. 14, Adele was able to reclaim the emotional pull that she has carried with fans since the beginning of her career. "Easy On Me" matches her classics in depth, melody and lyricism. Lines such as "I had no time to choose what I chose to do" bless listeners' ears as well as reveal aspects of her personal life. 
Her lyrics can relate to many, but her truth is in which her life changes as her relationship does with her family. In a sense, this song is used as an explanation, apology and source of strength. She dives into her hiatus with both Genius and Vogue, explaining how she is "ready to be famous again."
Being the lead single off of 30, the song created much anticipation for her upcoming album. Since 2015, fans have created many predictions as to how Adele would handle her fourth album. It is safe to say that the masses will be tuning in to the British singer's newest 12 tracks. 
The music video for "Easy On Me" was released alongside the single. It displays Adele driving through many situations as she reminisces about what her life has been like in terms of relationships, family and career. It feels as though the viewer is sitting alongside the singer, both listening to and watching her new level of depth as an artist. 
After six years of waiting, fans could not be more eager to listen in on what 30 is all about. Nov. 19, 2021, is marked and ready to hear Adele take the stage, yet again.