Students protest against dress code after announcement from administration
During the daily announcements on Sept. 24, Assistant Principal Stephanie Cruz reminded students that despite the warm weather, dress code was still to be adhered to, ending the statement congratulating the boys of the school for "doing great."
Cruz was absent from school for the next two days due to a family funeral.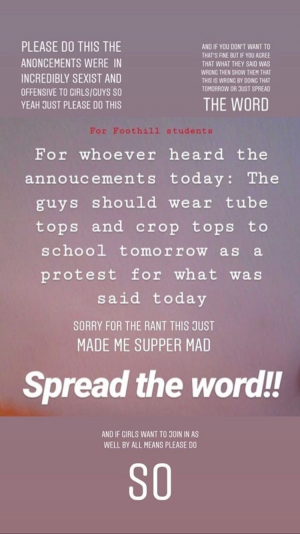 In response to the announcement, a proposition started to make its way around social media. This post stated, "guys should wear tube tops and crop tops to school tomorrow as a protest for what was said today."
On Sep. 25, a silent protest took place consisting of about a dozen boys sitting on the stage at lunch wearing clothes that would be classified as breaking the dress code.
Elysia Haigh '21 thinks that "it's funny that the guys didn't get dress coded, but us girls get dress coded every time we wear this."
Jackson Vizzo '21, one of the boys who participated, thought that everyone should be able to express oneself and that "shoulders or a belly button should not set someone off."
Cruz wishes she would have been at school the previous few days, so she could have "corrected the mistake a little bit sooner."
The next day, Sep. 26, Assistant Principal Katie Tedford made an announcement which stated that Cruz was absent and would return Friday, and encouraged any students to come and have a conversation with her if they had any concerns to voice.
Tedford acknowledges that "Foothill's dress code can be revised to address gender neutrality" and says there are steps being taken to significantly improve the dress code as a whole.
Likewise, Athina Ananias '22 thought that a "gender-neutral dress code could be a good thing, so no one would feel discriminated against."
During the announcements on Friday, Sep. 27, Cruz was noticeably shaken up about the extent of the situation. She apologized profusely and stated that the dress code is "not gender-neutral, but equitable to all students at Foothill."
Cruz affirmed that there were mistakes in the words she used, and next time she will choose her words more wisely.
Additionally, Cruz feels appreciative of students "wanting to voice their opinions" and proud that the students "have opinions and take stands."
As of Sep. 27, the administration is working with Foothill's associated student body (ASB) on the first draft of the revision of the dress code.
Cruz stated that she is "proud to be at Foothill" and she looks forward to interacting with students to "hear more about what they want for their school and future."