La falsa esperanza del sueño americano
El sueño Americano es tan solo eso—un sueño. La esperanza de que al llegar a los Estados Unidos demuestres tu valor con tu esfuerzo, escales los niveles socioeconómicos y logres ser feliz. Un sueño que hace que miles de personas arriesguen y cambien su vida por completo cada año por tan solo la oportunidad de tener una mejor calidad de vida.
La violencia en Latinoamérica está fuera de control. Más de un tercio de la población a denunciado ser víctima de un delito violento cada año, y en si, Latinoamérica se consolida como la región más violenta del mundo. Esto a causado que busquen refugio fuera de su país.
Los Estados Unidos es anunciado y conocido como "el país de las oportunidades" y "la tierra de la libertad," donde los sueños se cumplen si te esfuerzas lo suficiente. Pero para la mayoría de las personas este sueño es inalcanzable.
El hecho del asunto es que padres arriesgan todo por darle a sus hijos la oportunidad que ellos no tuvieron, escapar de la violencia e injusticia que inunda su país y al llegar a Estados Unidos se encuentran con otro tipo de obstáculos. Obstáculos basados en prejuicios sobre etnicidad e identidad.
El sueño americano se supone que es para todos. La excepción es que al ser inmigrante o al ser una minoría, tus opciones se limitan significativamente. El sueño sigue ahí, pero no todos tienen las mismas oportunidades para tratar de obtenerlo. Al ser marginado o discriminado por el tono de tu piel, la forma en la que hablas o tu país de origen empiezas con una gran desventaja a comparación de los demás.
No se puede negar que hay movimientos tratando de mejorar las condiciones de desigualdad para inmigrantes y minorías alrededor del país. Pero la solución no está tan solo en obtener estadísticas demográficas que digan demostrar la igualdad, porque esas demográficas no demuestran los pensamientos ni el bienestar de las personas.
La igualdad es demostrada cuando estas minorías no se sientan marginados por ser ellos mismos. Aunque la sociedad diga apoyarte, no siempre pueden entender cómo se siente ser diferente de la norma, como se siente ser juzgado por ser diferente. Al ver las miradas que las personas te dan por hablar tu lengua nativa. Ser juzgado por tus costumbres y cultura. El no ser comprendido puede llegar a ser extremadamente aislador. Así que, para tener las mismas oportunidad, la igualdad es indispensable.
Hay muchos aspectos que considerar al hablar de inmigración ya que es un asunto inmensamente complejo. Y no cada persona persiguiendo el sueño americano puede llegar a obtenerlo. Pero no hay porque tratar a inmigrantes como pestes tratando de invadir los Estados Unidos. Aunque sean inmigrantes indocumentados siguen siendo seres humanos huyendo de terribles condiciones en su propio país como la corrupción, el narcotráfico, la violencia, entre otras injusticias. Llegan a un país con una cultura completamente diferente a la suya donde son tratados como inferiores y donde tienen que empezar desde cero.
A fin de cuentas la mayor razón por la cual el sueño americano es inalcanzable por la discriminación. Porque luchar por una nueva vida, desear algo mejor, también significa sufrir.
About the Contributors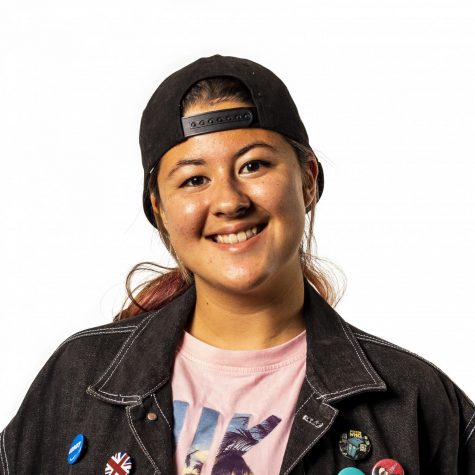 Lillian Li, Illustrator






Just a third year illustrator who loves music, character designing, and Dungeons & Dragons. Believes video games are a valid art form and...