Foothill Tech reflects: Recent mass shootings highlight the effects of Asian hate
On Jan. 21, 2023, Monterey Park, California excitedly celebrated Lunar New Year as usual. From firecrackers to glowing red lanterns, this holiday festival was attended by many townspeople. However, the festivities were hindered as multiple tragedies occurred. After a gunman, later identified as Huu Can Tran, entered the celebratory building where families and groups of Asian Americans were gathered and shot and killed 11 people, leaving nine injured with seemingly no motive. Later that week, on Jan. 23, 2023, another gunman in Half Moon Bay entered a farm where primarily Asian Americans worked. The gunman killed seven people and injured one other. In a time meant for celebration that welcomes prosperity, these tragedies have contradicted the true meaning of Lunar New Year. 
Lunar New Year, one of the most culturally significant holidays in Asian countries, marks the beginning of the lunar calendar. It is celebrated around the world, particularly in countries such as China, Taiwan, Vietnam and more. In the United States, celebrations often include fireworks, performances, preparations of symbolic foods and gifts of money. These celebrations date back to the 1860s when Asian immigrants in California wanted to share their unique culture and traditions. Nowadays, it is a time for giving to the younger generation and inviting prosperity for the new year. 
In Monterey Park, residents were incredibly excited about this upcoming festival. From the traditional foods to the dancing and singing, community members began the festivities by attending the Star Ballroom Dance Studio the day before Lunar New Year, on Jan. 21, 2023. A 72-year-old man entered this ballroom where friends and family gathered and with an assault rifle, he killed 11 people. Initial thoughts led many to believe that it was an act of anti-Asian violence, however the shooter was also an Asian American. 
Claire Adams, an Ethnic Studies and Social Justice teacher at Foothill Technology High School (Foothill Tech), weighed in on this, "That throws our idea of racism off because here are communities turning against themselves, right?"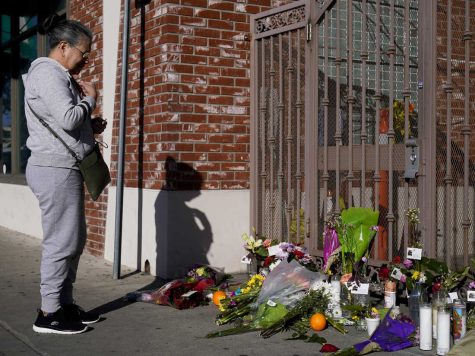 In light of these mass shootings, it has become clear that there is an increasing issue of Asian hatred in the United States, despite the race of the gunmen themselves. Mika Anderson, the Bioscience academy advisor at Foothill Tech, begs the question, "Is it overall an increase in Asian violence or is it because there are social and emotional issues going on in the Asian community?" 
After the COVID-19 pandemic, previous prejudices against Asian Americans were exacerbated. Not only was there a rise in microaggressions, but there was also an increase in physical violence against minorities as well. According to the Center for the Study of Hate and Extremism, there was a 145 percent increase in anti-Asian hate crimes in America's largest cities. Many prejudice incidents that occurred included verbal harassment, shunning or avoidance, coughing or spitting, and physical violence. Many of these acts of hatred stemmed from the rhetoric that someone had to be blamed, and Asians were unfairly targeted.   
Although the shootings may or may not be an extreme expression of Asian hate, this aggression is still a prominent issue in the United States today. This sparks more interest in how the conflicts have affected the students and staff of Foothill Tech and what issues they may bring up. Generally, Foothill Tech is a school that embraces cultural diversity and encourages students and staff to celebrate their heritage. 
"I think we're very fortunate, we have a very welcoming school, … Foothill relishes diversity," Foothill Tech teacher Yiu Hung Li stated. In an environment where students and staff value community, respect is one of Foothill Tech's greatest strengths. 
While direct acts of hatred and racism may not be a common sight within the walls of the school, the story could be different throughout the community. Data from the 2022 Ventura County census states that Asian Americans only make up 8.0% of the population, which is around 67,000 out of almost 840,000 people, so to say that Asian Americans are a minority in our community is an understatement. This large gap creates major discrepancies in the way certain groups are viewed. "I've lived in this community for more than half my life, I consider myself a Venturan … , but when people see me they clearly see someone that's different from the normal demographic of Ventura. I've noticed that people look at me differently," Li explained. Similar to other racial minorities, it is a common experience that Asian Americans are treated as if they don't belong, merely because they look different. 
Having a large imbalance of people with different heritage almost inevitably leads to microaggressions. "Nothing has been direct, it's more in passing in the grocery store and people will make snide remarks on the side, you know. Telling me I should go back to my country or being really aggressive when I grab certain produce," Anderson elaborated.
However, Foothill Tech has also seen a rise in microaggressions. "Students will mention people making fun of them for Asian stereotypes, you've got the negative ones about criticizing Asian driving and then you've got things that are like, wait, you're an Asian American student but you're not in an AP class?" says Adams. In many cases, these remarks are seen in a joking manner, but are typically part of a bigger problem in society. Many people grow up with these stereotypes which leads them to believe that it's okay to say these things, even directly to Asian students themselves.  
"
Acceptance starts with understanding who we are.
— Yiu Hung Li
"Ignorance is the big issue right now," Li emphasized. "What hurts me the most is that a kid or an adult is just going to lash out because they don't understand." A lack of education about different ethnicities and cultures often leads to a discrepancy where certain groups of people are either attacked verbally or physically and are treated like a spectacle. The ignorance that causes this is only inflamed by the fact that schools and media often fall short when it comes to representation. "We should have more opportunities to celebrate individual heritage," Li continued. 
Despite our community being accepting of different cultures on a surface level, recent tragic events such as the Lunar New Year shooting and the Half Moon Bay shooting can only cause an increase in microaggressions and intensify underlying prejudices. Although it may not directly affect the majority of Ventura county, it is still a prominent issue that more people should be aware of. To guarantee that our community and Foothill Tech itself maintains a welcoming environment, we need to ensure that minority groups are properly represented and encourage individuals to celebrate their heritage.
Editor's note: In addition to being a Foothill Tech teacher as stated in the article, Yiu Hung Li is also the faculty adviser of the Foothill Dragon Press.