Thanksgiving is fast approaching, meaning that Thanksgiving recipes will be on everyone's minds. If you're coming up with a blank as to how to spice up your Thanksgiving table, check out some of our favorite recipes that will keep you wanting one more taste. These recipes are easy to make if you are running short on time and are sure to please even the pickiest of your guests. We also include Vegan and gluten-free dishes so everyone can partake in the delicious food.
[divider]Roasted Brussel Sprouts[/divider]
Recipe by: Laina Graf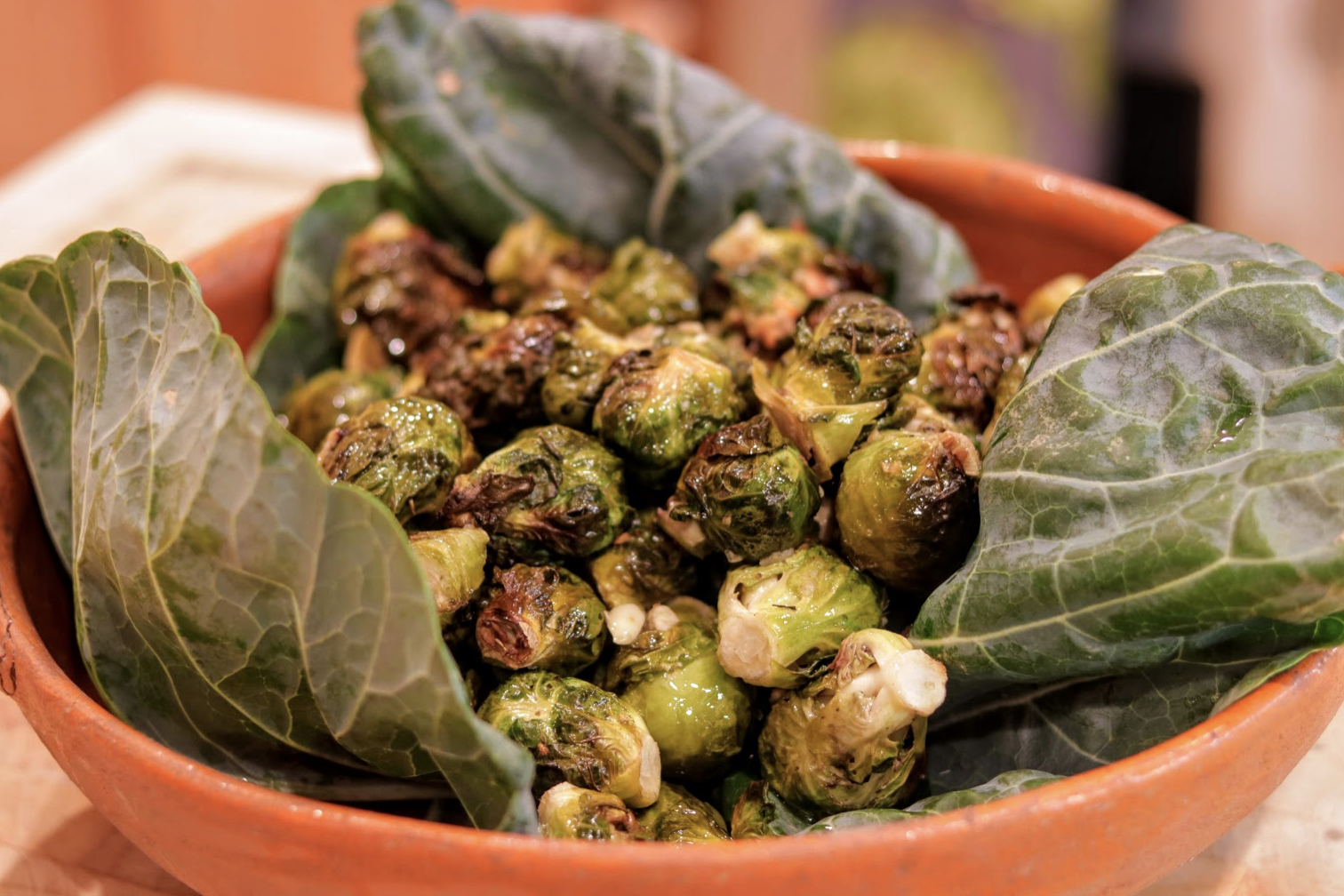 Ingredients:
Three pounds of Brussel sprouts




Two bulbs of garlic (less if desired)




A cup of olive oil




A tablespoon of sea salt
Equipment:
Directions:
Preheat the oven to 350 degrees. Take the two bulbs of garlic, peel the cloves and roughly chop until the garlic pieces are to the size you desire. Take a cup of olive oil and a tablespoon of sea salt and toss with the Brussel sprouts until they are evenly coated. Spread over a cookie sheet in an even layer, and cook in the oven until the Brussel sprouts are browned and caramelized. Let cool for a few minutes and enjoy!
[divider]Stuffed Asiago-Basil Mushrooms[/divider]
Recipe by: Taste of Home
Equipment: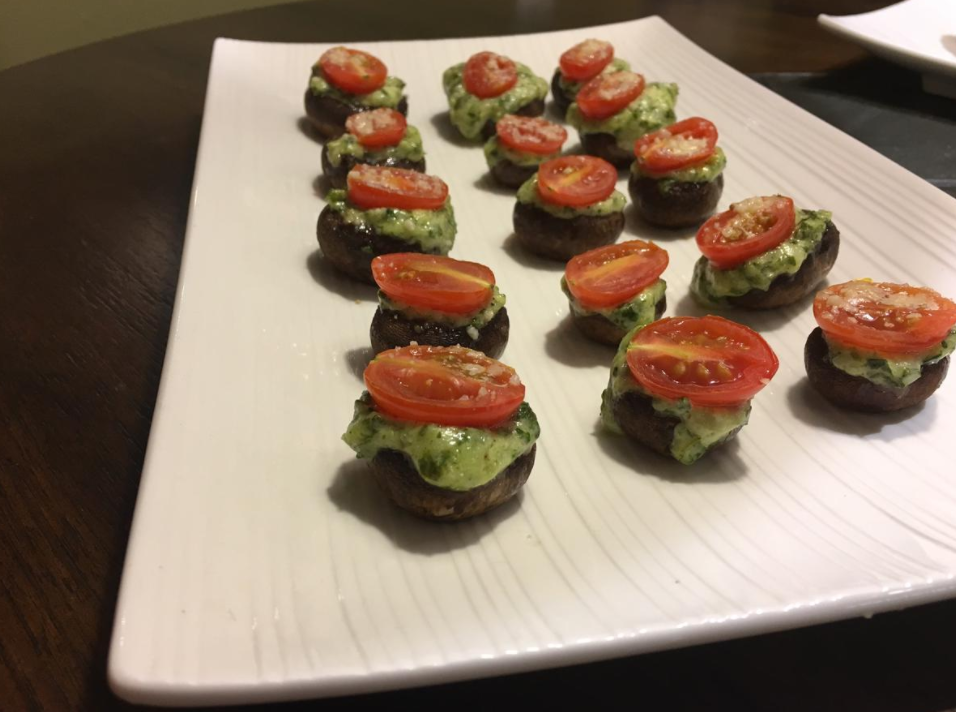 Cutting board




Baking sheet




Food processor or blender
Ingredients:
24 baby portobello mushrooms or 24 cremini mushrooms. Remove stems of mushrooms before cooking

A half cup of mayonnaise




Three-fourths of a cup of grated

Asiago cheese

A half cup of unstemmed basil leaves

One-fourth teaspoon of white or black pepper

12 cherry tomatoes that will be halved to yield 24 slices

Parmesan cheese
Instructions:
Before you begin cooking, preheat the oven to 375 degrees. After destemming the mushrooms, place the caps on a pan that is greased with the top of the mushrooms facing the pan. Proceed to put the pan in the oven for 10 minutes. While the mushrooms are cooking, get a food processor or blender and place the Asiago cheese, pepper, basil and mayonnaise inside of it. Blend until all ingredients are combined thoroughly. Remove the mushrooms from the oven and fill each mushroom with the Asiago cheese blend. This ranges from a teaspoon of filling to three teaspoons depending upon the size of the mushroom. Place the halved tomatoes on the top of the filling and place in the oven for eight minutes. You have the option to sprinkle grated cheese on the top of the mushrooms before placing the pan in the oven, or you can put a small slice of parmesan cheese on top after you take the pan out of the oven.
[divider]Vegan Mashed Potatoes[/divider]
Recipe by: Pinch of Yum
Equipment: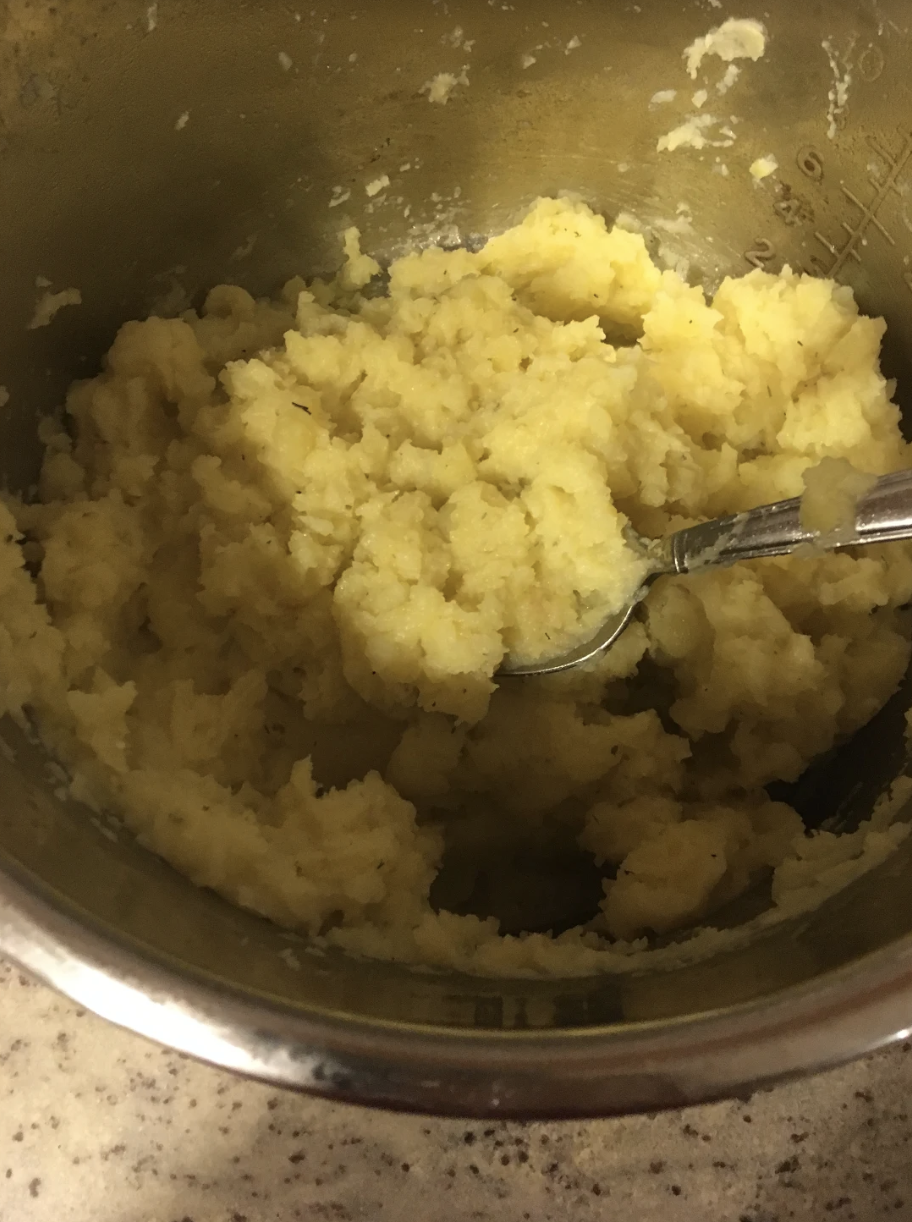 Instant Pot

Potato masher or wooden spoon

Potato peeler
Ingredients:
Seven russet potatoes (about 2 1/2 pounds)

Two teaspoons of salt, divided

One-fourth of a cup of fake butter

One-fourth of a cup of olive oil

A half cup of vegan ranch dressing

One-fourth of a teaspoon of garlic powder
Instructions:
First off, you must peel all the potatoes. After performing this task, place the fully peeled potatoes in an Instant Pot and cover them with around four cups of water then add a teaspoon of salt. Use the steam setting for the Instant Pot and cook for approximately 12 minutes. After this is finished, instantly release the steam and then drain. You then have to use either a potato masher of the back of a serving spoon to mash the potatoes up. After mashing, allow for steam to exit the potatoes for a couple of minutes. After this is completed, incorporate the olive oil, vegan ranch dressing, fake butter, the remaining salt and the garlic powder.
[divider]Turkey Sliders with Sweet Potato Buns[/divider]
Equipment: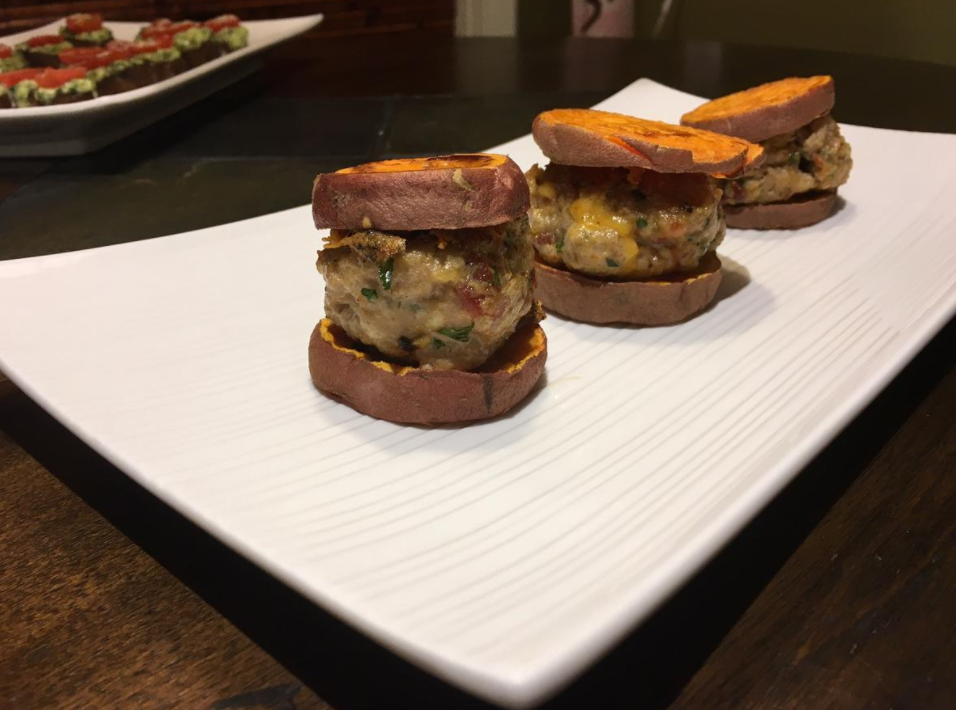 Baking sheet

Skillet

Large bowl

Cutting board
Ingredients:
Four applewood-smoked bacon strips that are chopped extremely finely

One pound of turkey that is ground

A half cup of panko breadcrumbs

Two eggs

A half cup of grated parmesan

4 tablespoons of cilantro that is chopped

A teaspoon of dried basil

A half teaspoon of ground cumin

A tablespoon of soy sauce

2 large sweet potatoes. These should be large in diameter so they can be used to cover the patties fully.

Colby-Monterey Jack cheese slices
Instructions:
Preheat the oven to 425 degrees before beginning to cook. In a skillet, place the chopped bacon in the skillet to cook until crispness. Place the bacon in paper towels to remove the grease from the bacon. Keep a small amount of the grease but discard most. In a large bowl, combine the bacon with the turkey, breadcrumbs, eggs, parmesan, cilantro, basil, cumin and the soy sauce. Cut the sweet potatoes in 20 circles that are about half an inch thick. Place these slices on an ungreased pan and cook for around 30 minutes or until the potatoes are tender. Heat the skillet and the remaining grease in the pan again and form the turkey mixture into slider-sized patties. Place the patties on the skillet and cook each side for four to five minutes and add the cheese the first time you flip the patties. Once everything is cooked, place the patties on the sweet potatoes and choose your condiments. Dijon mustard tastes excellent with these sliders!
[divider]Mushroom Tart[/divider]
Recipe by: Laina Graf
Equipment: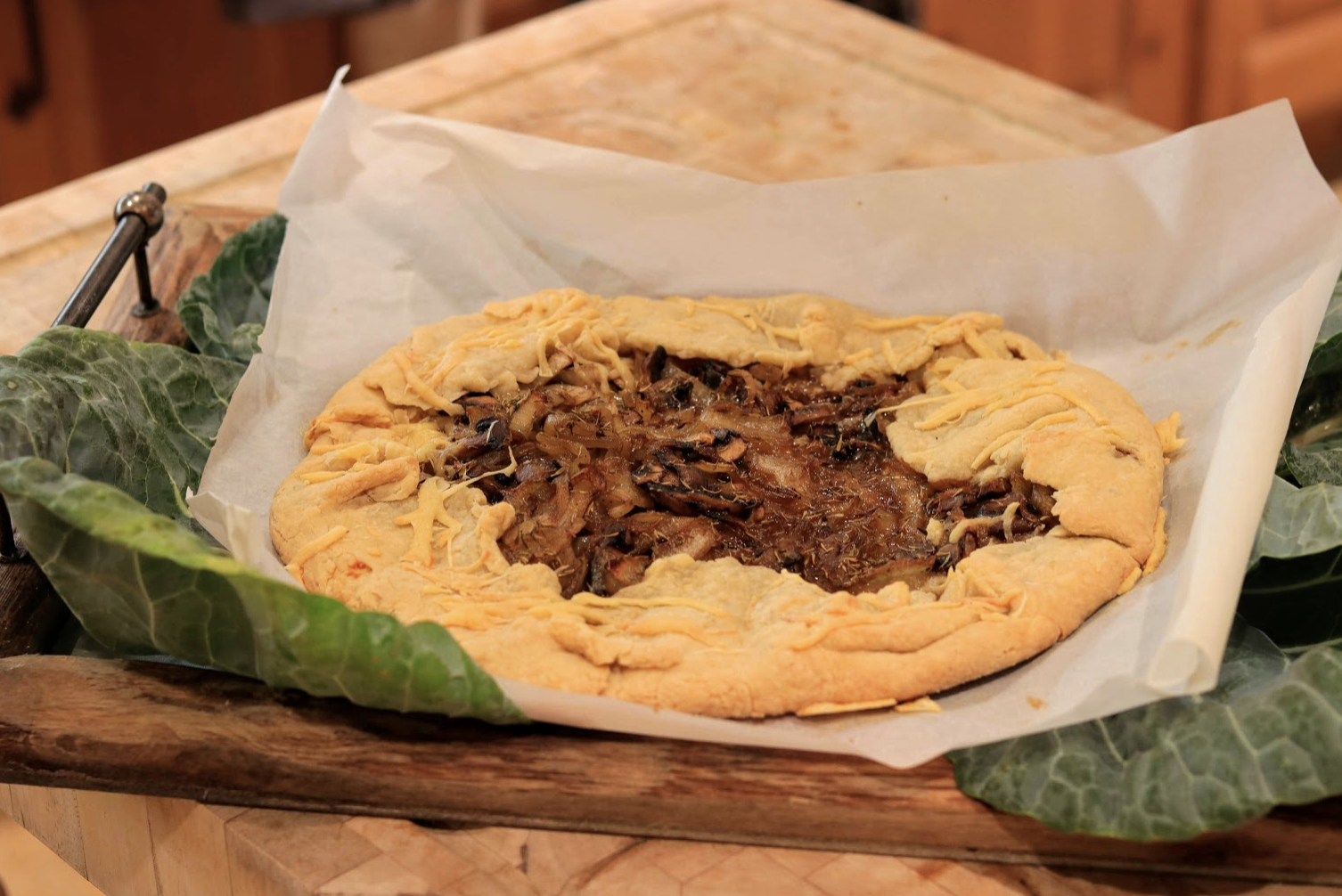 Parchment paper

Cookie sheet

Bowl

Wooden spoon

Measuring cup

Rolling pin
Ingredients:
Crust Ingredients:
Two cups of flour

A cup of butter (chilled and diced)

A teaspoon of salt

A half cup of water
Filling Ingredients:
Four tablespoons of butter

Three large onions

A pound of mushrooms

Three cups of Jarlsberg or Gèruyere cheese
Instructions:
Crust Directions:
Preheat oven to 350 degrees. Cut butter into the bowl of flour and salt. Put into a food processor and mix until butter pieces are the size of small peas. Add a half cup of chilled water slowly, mix until dough forms into a ball (do not overmix beyond that). Put the ball of dough into a refrigerator.
Filling Directions:
Take three large onions, halved and sliced. Take a pound of sliced mushrooms. Put two tablespoons of butter and the onions in the pan and saute until the onions are slightly caramelized and golden brown. Put a half teaspoon of salt and a pinch of ground pepper into the pan. Take off onions and saute mushrooms with remaining butter. Saute until slightly brown.
Preparing the Tart:
Roll out the dough oblong to 15 inches. Spread the cheese over the dough, leaving two inches around the border. Stir onions and mushrooms together and layer on top of the cheese. Add two teaspoons of fresh thyme on top for extra flavor. Fold the border over so it lays on top of mushrooms and put two tablespoons of cheese sprinkled on top. Bake for 45 minutes, and enjoy!
[divider]Acorn Squash Quinoa Bowl[/divider]
Recipe by: Sophia Parker
Ingredients: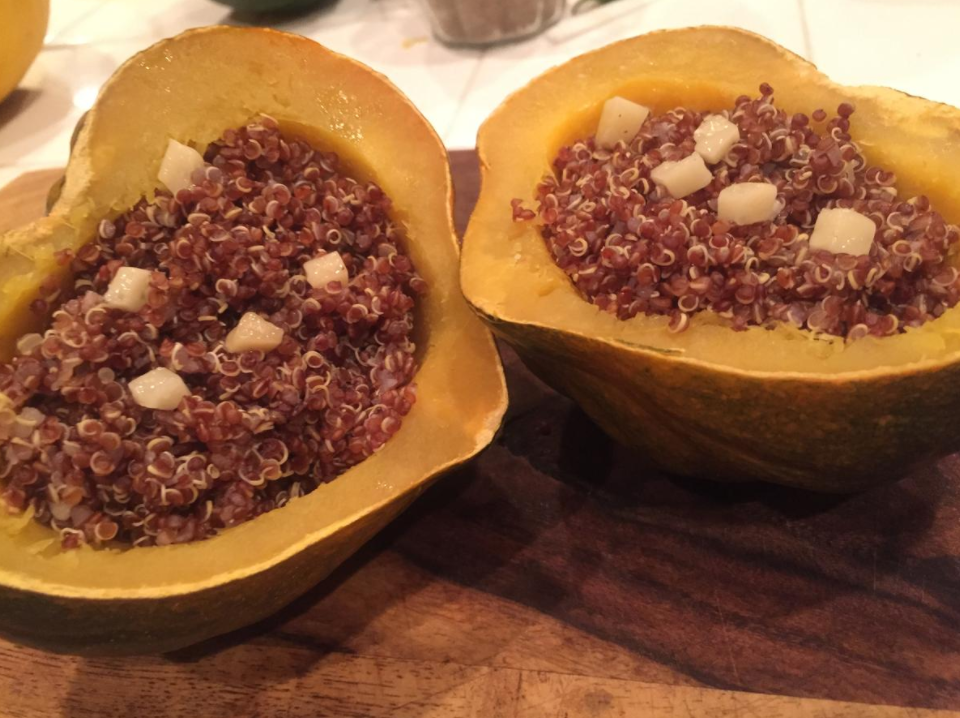 One Acorn squash

A half teaspoon of salt

A teaspoon of butter

A half cup of quinoa

A cup of water

Small pieces of cheese of your choice
Directions:
Cut the acorn squash vertically so that the stem is in half and scoop out the seeds and leftover insides. Place the squash into a pot with water. Once the water comes to a boil, lower the temperature and place a covering over the pot and let it sit for 30 minutes. If the squash is not soft, leave in for additional time. In another pot, put a half cup of quinoa and apply a cup of water. When the quinoa comes to boil, lower the heat and put a cover over the top of the pot. Let the quinoa sit on low temperature for 20 minutes, till its soft. When the acorn squash and quinoa are cooked to perfection, apply a light layer of butter to the inside of the squash with as much salt as wanted. Put the quinoa into the middle of the hallow area of the squash and add small pieces of cheese mixed throughout to add a savory taste to the sweet acorn squash. There is a healthy and yummy quick meal for your friends and family.
[divider]Pumpkin Oatmeal Chocolate Chip Cookies[/divider]
Recipe by: Sophia Parker
Equipment: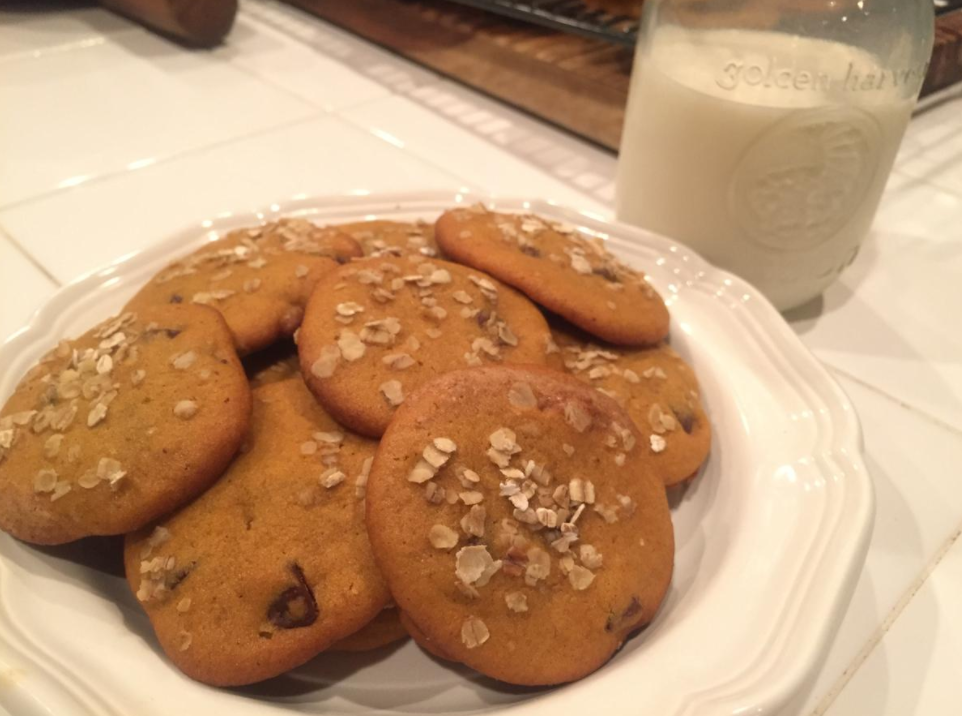 Electric mixer

Bowls

Baking sheets

Parchment paper
Ingredients:
Two cups of all-purpose flour

A cup of oats

1 ¼ teaspoon of baking powder

A teaspoon of ground cinnamon

A teaspoon of fine salt

A half teaspoon of ground nutmeg

Two sticks of unsalted butter

A cup of packed brown sugar

A cup of granulated sugar

An egg (at room temperature)

A teaspoon of vanilla extract

A (15-ounce) can of pumpkin puree

1 ½ cups of chocolate chips
Directions:
Preheat oven at 350 degrees and prepare baking sheets with parchment paper over the top. Whisk the flour, baking powder, cinnamon, salt and nutmeg in a medium-sized bowl. Make sure all the dry ingredients are thoroughly mixed. Put the butter and sugars into a large bowl and mix until thoroughly combined. Either combine the two bowls into a larger bowl or, if an electric mixer is available, put it to use. When the dry ingredients are mixed with the butter and sugar add in the vanilla extract, pumpkin, chocolate chips, oats and egg. Make sure all the ingredients are mixed well but be cautious not to over-mix. When ready drop a medium spoonful of dough onto sheets four inches apart. Then put it in the oven for 15 minutes and wait to taste the savory and sweet flavors all in one cookie.
[divider]Cinnamon Apple Crumble Cake[/divider]
Recipe by: Oh My Goodness Chocolate Desserts
Equipment:
Baking pan (I used an 11-by-7-by-2 inch pan) or, preferably, a springform pan

Hand mixer

Parchment paper
Ingredients:
Streusel Ingredients: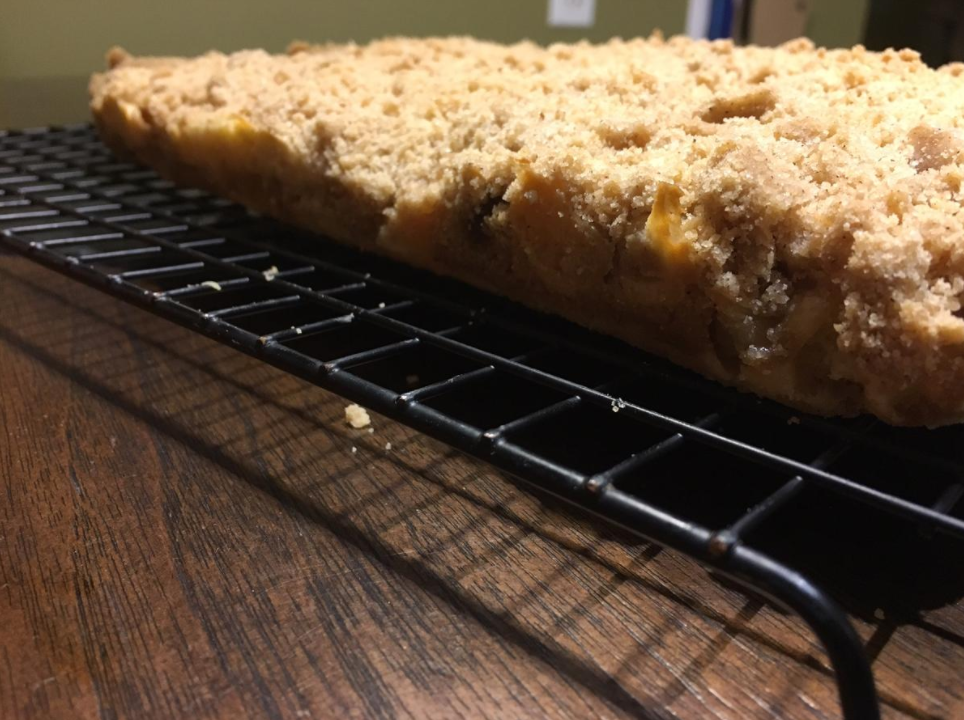 1 ½ cups of flour

A half cup of brown sugar

One-fourth of a cup of granulated sugar

Half teaspoon of salt

A teaspoon cinnamon

One-fourth of a teaspoon of nutmeg

A half cup of melted butter

Half teaspoon of vanilla
Cake Ingredients:
4 Tablespoons butter

1/2 cup granulated sugar

A large egg

A teaspoon vanilla

1/2 cup sour cream

A cup flour

1/4 teaspoon baking soda

1/4 teaspoon salt

1/2 teaspoon baking powder
Glaze Ingredients:
A half cup of powdered sugar

1 ½ to 2 tablespoons of apple cider
Other Ingredients:
A large Granny Smith apple that is chopped
Instructions:
Set the oven for 350 degrees and get yourself ready to cook! Grab a bowl and mix all dry ingredients that are listed in the streusel ingredients. After all, ingredients are mixed, include the melted butter and vanilla until everything is integrated. Set this bowl aside and grab another one to mix the cake ingredients together. Add the amount of butter labeled in the cake ingredients section along with the amount of sugar. Mix these until it is fluffy and then add the egg. After these are beaten together, add the sour cream and vanilla. In a separate bowl, combine the dry cake ingredients which include the flour, baking soda, salt and baking powder. Add this dry mixture to the egg and butter mixture until fully incorporated. Grab a pan and start layering. Thinly layer the cake mixture on the bottom of the pan. If you have a springform pan, use that since it is most suited for this cake, but if you don't use a regular baking dish and layer with parchment paper. Use about half of the mixture. Next, grab the chunks of apple and spread over the cake batter then take a cup of the streusel and layer of the apples. Proceed to take the rest of the batter and spread over the streusel then, once spread, layer the rest of the streusel on top. Place the pan in the oven for 35 to 40 minutes. Make the glaze by mixing the powdered sugar and apple cider together and drizzle over the cake when ready to eat.
[divider]Vegan Pumpkin Pie Bars[/divider]
Based on a recipe by Living Well With Nic
Equipment: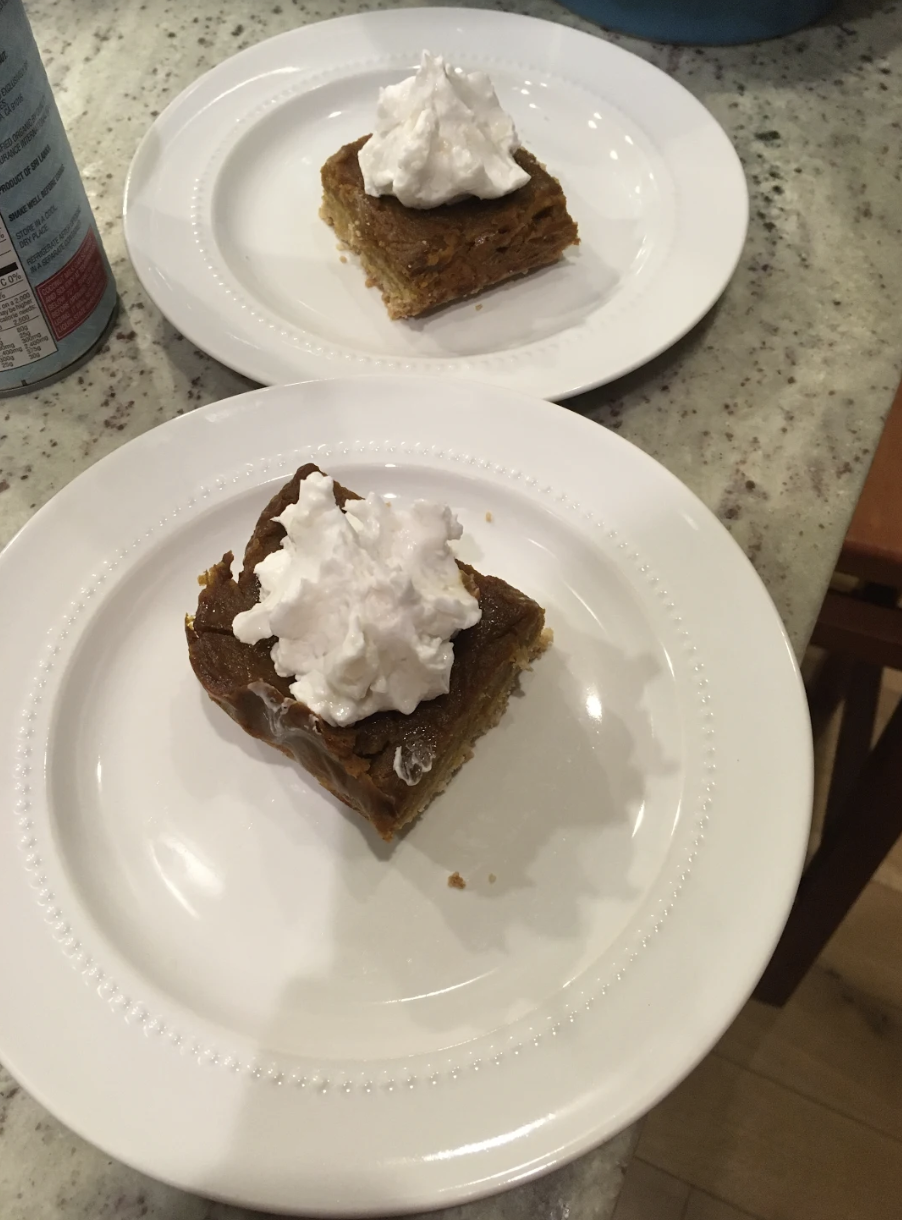 8-by-8 inch pan

Food processor or blender

Parchment paper
Ingredients:
A cup of gluten-free oats

1 ½ cups of almond flour

One-fourth of a cup of almond milk

Five tablespoons of maple syrup

A tablespoon and two teaspoons of cornstarch

Half teaspoon of sea salt

A 14 ounce can coconut cream

Three-fourths of a cup of powdered sugar

1 ¾ teaspoon of pumpkin pie spice

Half teaspoon of vanilla extract

Four cups of brown sugar

Five tablespoons of coconut oil

2 ¾ cups of canned pumpkin
Instructions:
Preheat the oven to 350 degrees Fahrenheit, then take an 8-by-8 inch pan and line it with parchment paper. To create the crust use a food processor or a blender and pour the oats inside and blend until the texture of flour is achieved. After this happens, incorporate the almond flour, sea salt, 1 ⅓ cup brown sugar and mix. Then combine two tablespoons of maple syrup and melted coconut oil with the mixture. Transfer the crust to the baking dish and shake to evenly disperse. After, put a parchment paper over the crust and press down with your hands to make the crust more condensed. Place in the oven to bake for 20 minutes and after it is done, set it out to cool throughout. While this is happening, take the canned pumpkin, 2 ⅔ cups of brown sugar, the rest of the maple syrup and almond milk and place it in the food processor or blender. Mix these ingredients until the consistency is smooth. When the crust is baked and cooled take it and pour the filling into it. Make sure to tap the pan on the counter a bit to disperse any air bubbles. Place the pan in the oven and let it cook for 50 minutes to an hour. When you remove the pan, the filling should have cracks and be able to wiggle and jiggle. Set the pan out to cool and once cooled, cover it with plastic wrap and place it in the refrigerator for four to six hours. When done cooling, slice the bars. To create the cream that goes on top of the bars, mix coconut cream, powdered sugar and vanilla extract. Finally, layer the bars with the cream and enjoy your new, delicious treat!