Reign of Terror Haunted House will horrify, excite
Are you looking for a good scare? There's no need to drive all the way up to Los Angeles to experience Horror Nights at Universal Studios, all you need to do is head to Thousand Oaks and get in line for the  Reign of Terror Haunted House. The 23,000 square feet experience was voted the best walk-through attraction in southern California, and there's no doubt that it is an experience like no other.
Over their 19 consecutive seasons, they have created a perfect atmosphere where everything and anything will terrify you, while simultaneously making you smile and love the adrenaline that comes with it.
The Reign of Terror Haunted House is a culmination of 105 rooms that include eight different attractions which feature a variety of horrifying settings. As soon as you step into the line you are greeted by a bloodied wolverine, who is silent, deadly and armed with a knife in hand.
Your journey truly begins at Miner's Revenge, which engulfs you in the setting of a mine that is haunted by vengeful miners who are focused on haunting anyone who enters. According to the legend, a greedy mine owner forced the workers to continue digging and digging, always believing they would hit gold the next day. As a result, two miners died, and, as the website states, their "souls remained restless, yearning to return above ground to reunite again with the loved ones who were so violently torn away on that horrible day. They remain trapped today, unaware their presence has turned their underground home into a haunted mine forever."
THANK YOU! to the Thousand Oaks Acorn for highlighting Reign of Terror Haunted House in this week's edition. "It's Halloween season, and the ROT is setting in. Give in to the decadent decay and scare up some… https://t.co/LtonkLzLMv

— Reign of Terror (@ROThauntedhouse) October 18, 2018

The next attraction is the Haunted House, which leads you into a house that was previously a beautiful Victorian mansion where happiness thrived, but now it is plagued by misery and terror. You are at the mercy of ghosts who always seem to be lurking around the corner.
Next is Casa Blood. What was once Granny's cozy cottage is now a pit of sadness that was afflicted by a curse of savageness. This family gives off a bloodthirsty vibe as they are all consumed with rage. Nowadays, all they crave is the taste of blood. You must face the wrath of this family of savage ghosts who only know blood, mayhem and murder.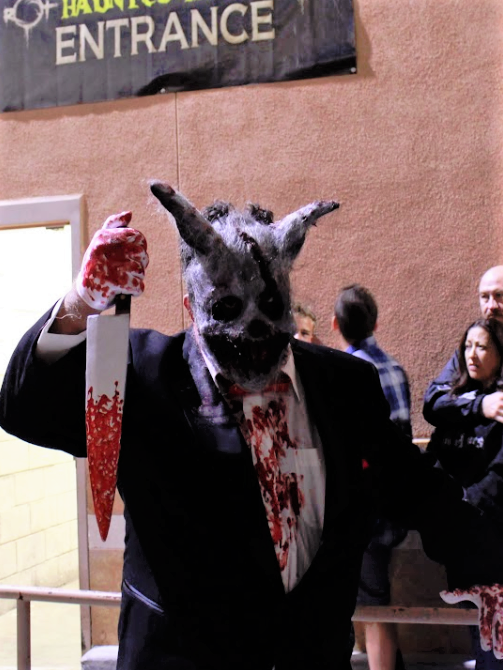 If that wasn't enough, you must also make it to safety in the next attraction, Quarantine. Here you are faced with escaping an area consumed by a highly infectious disease along with running for your life from those who are contaminated. The Asylum is another attraction where you are faced with patients and doctors who are intent on tormenting you.
Another attraction, Infected, integrates you into an apocalyptic scene where you are surrounded by tainted individuals who put you in danger at every turn. Inbred takes you through rooms full of mayhem and terror while another attraction, Fun House, brings you through a circus full of psychotic clowns and rooms that bring anything but joy.
The house is not only a nighttime sanctuary for horrors. They also offer a "Lights On" feature for younger children, and a "Lights Off" version in complete darkness on Nov. 3 if you simply can't seem to get enough spookiness.
The production quality of this haunted house is as impressive as it is terrifying. With the use of high-quality fog machines, special effects lighting, compressed air, elaborate props, and superb actors, The Reign of Terror Haunted House achieves an impressive level of scare that few have experienced before.
The haunted house utilizes rooms full of components that are designed to cause you to feel unnerved in order to disorient you before you enter the next room full of bone-chilling frights. One of these discombobulating rooms is fully white. When entered, you can't see anything except white and fog which robs you of one of your most trusted senses: sight. It takes the comfort of being able to see where you are going and throws it out the window.
7 FEET TALL & COMING THRU THE WALL. Hang out with us at Reign of Terror Haunted House all weekend! We're open Friday Oct 12th, Saturday Oct 13th AND Sunday Oct 14th. Doors open at 7pm. Tickets available at our… https://t.co/xbANWj1wQw

— Reign of Terror (@ROThauntedhouse) October 13, 2018
Peter Ranck, who is in charge of operations and marketing of the haunted house, described the whiteout room as "a room that's all white, full of fog and you can't see where you are." In a sense, you "lose sense of time and space so it kind of gives you an unsettling feeling."
Other rooms contain actors with the intention to startle and surprise you, which creates an environment of imminent terror for what you will find behind each and every corner. You never feel safe in this house because someone can, and will, jump out at you from the refrigerator, behind the wall, from the couch or from behind a fence. You never know when or from where. Along with scaring you, some of the actors will speak to you, which causes you to feel further submerged in terror. It deepens your suspicions that everything you are going through is actually real.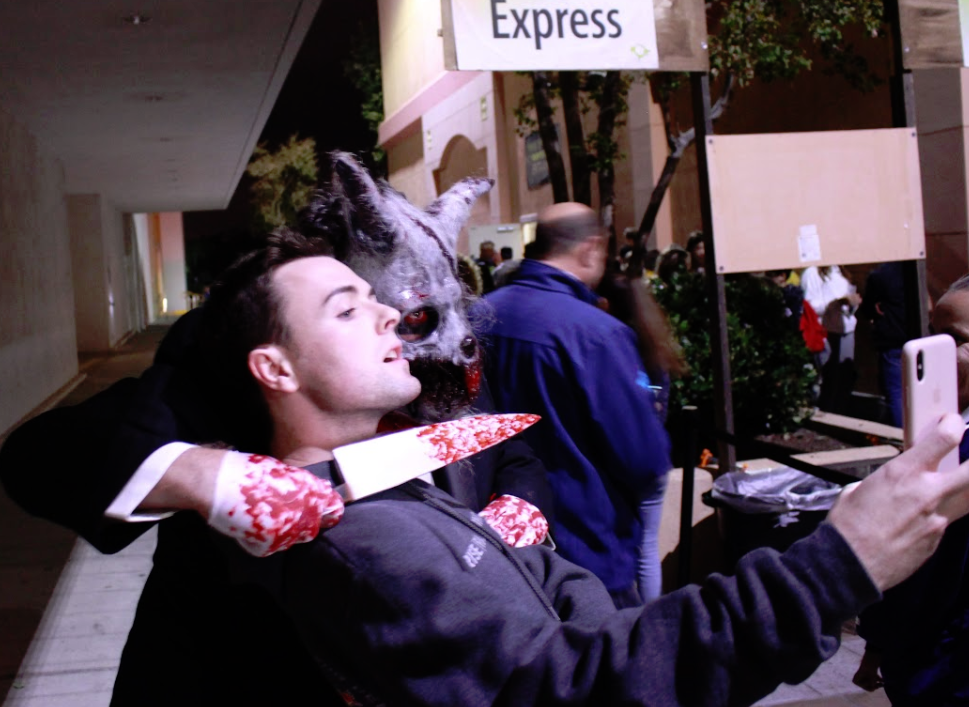 The entrance fee is $25 for general admissions on Saturdays and Fridays, and $20 on Sundays. For $10 more than the general admission, you can upgrade to the VIP ticket which shortens your wait in line by a drastic amount. The VIP ticket is definitely worth it because the venue, on average, attracts 800 to 1000 people a night. On a typical Saturday night, the lines fill rapidly and the general admissions wait grows to an hour by 7:05. The VIP line usually maintains at a 15 to 20 minute wait throughout the night. The admission price is well worth your experience since the entirety of the haunted house takes about 40 minutes to complete and you are given a high-quality fright along the way.
Your money is also used for good.
Ranck commented that ticket proceeds are "donated back to the Conejo Park District." In other words, "it goes to our teen center in Thousand Oaks and to a special Actors Guild for kids with special needs so they can put on plays through the park district." Over 9 years in Janss Marketplace, they have generated over $200,000 of donations.
If you're looking to feel good about giving back to the community, and simultaneously fulfilling your desire for a Halloween spook, the Reign of Terror Haunted House is the place to go. The haunted house is open every Friday, Saturday and Sunday in October, as well as the 30th and 31st.