Senior night delight for boys' volleyball
For the Foothill Technology boys' volleyball team, Monday, April 30, was a long-awaited night. As a team with eight seniors, four of them being four-year varsity players, the Dragons have truly been through it all. Since the team's inaugural season, they have faced adversity, especially in their first year as freshmen.
"They're the core of the program," head coach Janine Cobian said. "They've been here since day one when they were freshmen. They were tiny and they were playing 18-year-old seniors from other schools with full beards, just trying to do their best."
And this season, their best has arrived right on time. After Monday night's 3-0 victory over the Carpinteria Warriors, the Dragons completed their perfect league season (14-0  record), winning the Tri-Valley League and heading into the California Interscholastic Federation (CIF) playoffs with an overall record of 21-6.
The Dragons came out swinging in the first set, jumping to an early 11-3 lead behind kills from Chad Talaugon '18, Collin Weaver '18 and Tanner Nodolf '18. Carpinteria battled back with a 4-0 run, but Foothill stayed steady as their hitters continued to swing away on sets from Kyle Cobian '18. The Warriors scored most of their remaining points in the set on Foothill errors, as the Dragons put them away 25-13.
The game then took a turn for the spicy, as Carpinteria turned it on.
With a few missed serves by the Dragons and several kills from the Warriors, Carpinteria jumped out to a 8-2 lead in the second set; Foothill remained calm. Matthew Godfrey '20 entered the game and tallied two kills and an ace right off the bat. Talaugon, Weaver, Godfrey and Nodolf battled with the Warrior hitters, until the set was knotted at 18-18. Miles Harvey '19 then came in and had a kill and a block as Foothill climbed to a 22-20 lead. Carpinteria moved the score to 23-23, but Godfrey and Cobian put the set away, winning it 25-23.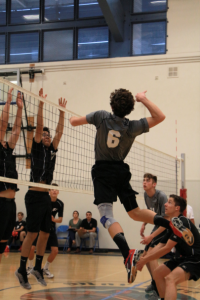 The third set mirrored the second set's competitiveness, as the two teams continued to fight back and forth. After a Weaver kill, the Dragons held a 8-4 lead, but the Warriors never gave up. Carpinteria tied the score at 16-16 on the end of a 4-0 run, and the game proceeded to be tied at 17-17, 18-18, 21-21, 22-22, 23-23 and 24-24, until Weaver finished off the Warriors with a kill and an ace to win the third set 26-24.
Nodolf feels that the game was the "ultimate game of our volleyball careers collectively," and that they've been "working really hard at this for four years." 
"I think this game was a really good culmination of a lot of our skills put together," Nodolf said.
He said it "feels really good" to be the first boys' volleyball team to win league at Foothill, especially given their beginning.
Logan Flair '18 said that game went well but wanted to give a shoutout to non-seniors Harvey and Godfrey for coming into the game and helping to put together some key plays. He feels that for playoffs they're going to need to work on passing because it was "a little subpar tonight."
Kevin Ochoa '18 thinks the team needs to focus on their serving.
"I want to thank the fans for all the support, because it really means a lot to us," Flair said.
The team will play their first-round CIF playoff game on Tuesday, May 8.
Editor's Note: Matthew Godfrey is a features writer for the Foothill Dragon Press. He was not involved in the production of this article.