Samantha Ebberson is ready to "make history" with girls' water polo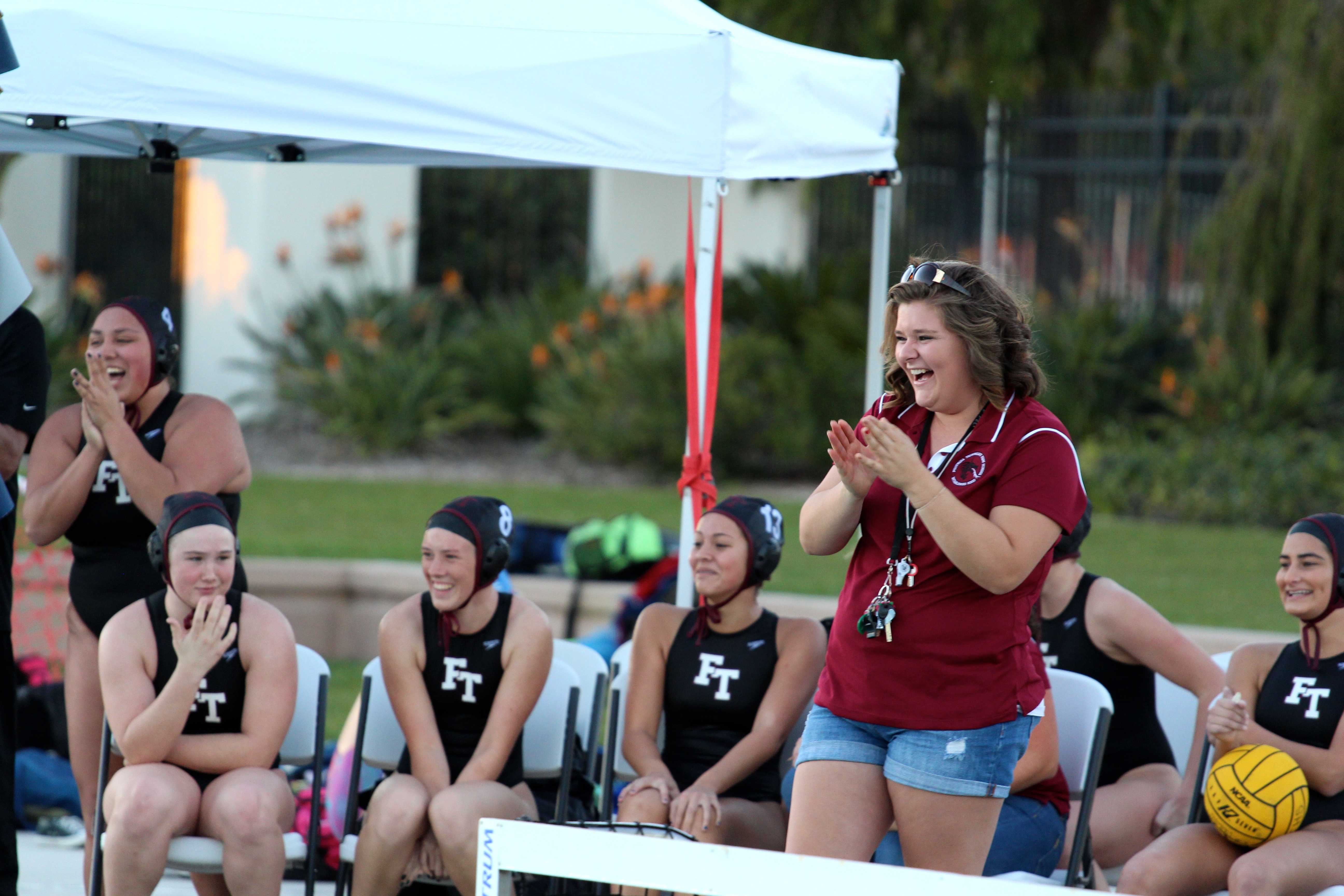 The new girls' water polo coach, Samantha Ebberson, is beginning to coach her first year for Foothill and fifth team overall. Ebberson has played water polo since she was in high school and through college, for a total of eight years of experience. She has been a head coach for Gold Coast Water Polo for four years, and continues to coach the high school level of the club.
While she was in high school, she played water polo at the varsity level for all four years and played in the California Interscholastic Federation (CIF) championship game her junior and senior years. In college, she was deemed player of the year two years in a row and was put in Ventura College's hall of fame.
Ebberson's love and excitement for the sport encouraged her to be interested in coaching, especially after her injury which prevented her from continuing in the sport.
"I switched to a different component of still being able to love the game and just seeing it in a different light and getting to see these kids' faces light up," said Ebberson. "[I] get to experience the other half of [water polo]."
Ebberson was not originally the head coach of Foothill, but was given the title from Mike Giles, the head coach of Gold Coast Water Polo. Giles is now a "co-head coach," according to Ebberson.
Foothill water polo player and sophomore Lezly Plahn, who has known Ebberson for three years, feels that Ebberson is a great coach.
"She works us really hard and wants the best for our team," said Plahn. "The relationships between the players and Samantha is like a daughter-mother relationship. The girls look up to her a lot and respect her."
Junior and player Vanessa Villalpando agrees with Plahn and says Ebberson works with the girls and pushes them to succeed.
"[Samantha] is absolutely amazing. She pushes us to the point where we just want to give up, but she tells us not to," said Villalpando. "She pushes us to the limit, and I love that."
Both Plahn and Villalpando look forward to this first season and expect Foothill to "dominate."
Plahn predicted that the team will do "amazing" since Foothill  has more players who have "played longer" and participated in Gold Coast Water Polo club.
Ebberson said that the team "looks very solid" and that Foothill will be "making history."
"The possibilities are endless," said Ebberson. "Whether they win or lose, it's just the fact that they are going out there and making history […] is exciting."
[soundcloud url="https://api.soundcloud.com/tracks/178813596″ params="color=ff5500&auto_play=false&hide_related=false&show_comments=true&show_user=true&show_reposts=false" width="100%" height="166″ iframe="true" /]
Ebberson is also excited about Foothill's new athletics program and thinks it shows a different level of accomplishments. 
"I think any school, whether it is a technology school or a public school, sports really do help," said Ebberson. "It pushes you to get good grades […] and it shows this level of accomplishment to your community."
She also believes that it is better for the students to play for the school they attend.
"[Students] are finally getting to play for the school they represent," said Ebberson. "Yes, you can play at other schools […] but it is not the same because you go to a different school. These [Foothill] kids are your teammates in the classroom and in the field."
Ebberson's main goal of the first season is to have every girl play their best and to improve while having fun.
"It is not wins or losses, but it's each [girl] improving in their own way and showing that they improved," said Ebberson.
"If there was one girl that couldn't play a whole game before, [and] who played a whole game at the end [of the season], that's a win. It means that I did what I need to do and this girl stuck with it. She loved it. She fell in love with the sport and is just out there having fun."