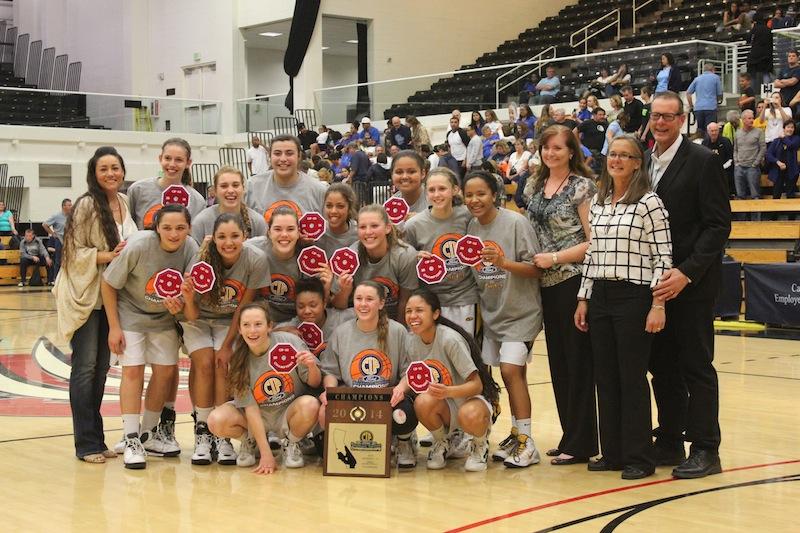 The Ventura High School girls basketball team edged out Camarillo High School for the CIF-SS Division 1A championship last Saturday by eight points, with a final score of 59-51. Among the players on the victorious team were four Foothill students, including seniors Kayalin Akens-Irby, Natalie Smith, Cassandra McCambridge and sophomore Klio Matthews-Irby.
For the athletes, the win was an otherworldly experience.
"Winning CIF feels amazing because it reminds you how all the strenuous practices and hard times have paid off," Matthews-Irby said. "I honestly couldn't stop smiling. I cried when there was 30 seconds left because it was just so overwhelming. [It] didn't even feel like real life."
The athletes felt the title was much deserved due to their hard work and dedication.
"This is something we've been working for all year, and even for the seniors, it's something we've been working on for four years," Smith said. "It was the most amazing thing ever just seeing how happy everyone was, how happy Coach Larson was, how happy everyone was for us."
Some of the excitement of the win stemmed from its rarity. The Ventura girls basketball team has not won a CIF championship since 2002, according to Coach Ann Larson. They have not been to the finals game since 2005.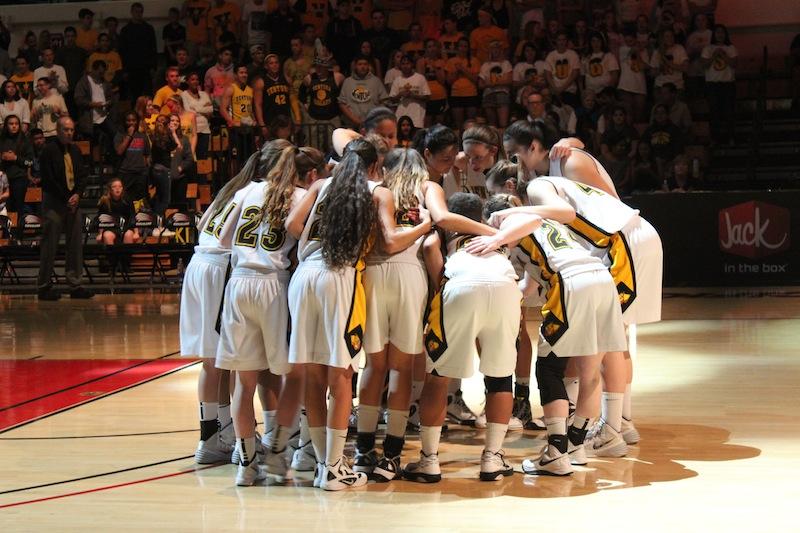 The family atmosphere upheld on the team played a large part in their success over the course of this season.
"They're very weird. This team really likes each other, they have great chemistry," said Larson. "A lot of interesting dynamics mixed together and the final outcome has been a really cohesive, neat group of kids to coach."
Akins-Irby also noticed the team's close bonds.
"We all know how much we've sacrificed for this collectively [and this] makes us stronger together," said Akins-Irby. "Whether you like the people or not, they're going to be your best friends because you're practically attached."
According to Smith, the team was so tightly knit that, at the end of the day, their coach would have to force them to leave the court and go home.
[soundcloud url="https://api.soundcloud.com/tracks/139800174″ params="color=ff0000&auto_play=false&hide_related=false&show_artwork=true" width="100%" height="166″ iframe="true" /]
That strong bond, and the combination of hard work and a passion for their game, led the girls to their ultimate victory last week, but their triumphs weren't always so smooth. Smith remembered their first game of the season.
"First game of the season we beat Rio Mesa by 15 points and we were so stoked about that and looking back at that now, […] Rio Mesa would be so lucky to score 15 points against us," said Smith. "You could see us getting hungrier and hungrier for that ultimate goal which we achieved."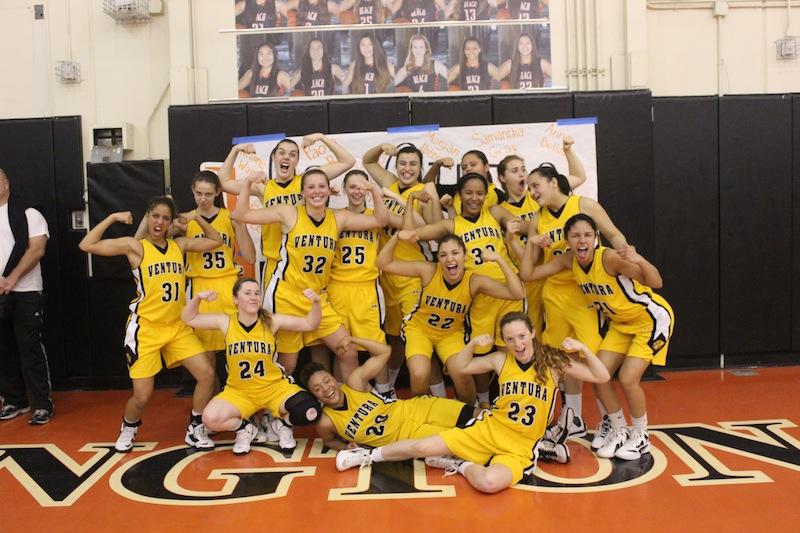 McCambridge also recounted how much the team had grown.
"At the beginning of the season, sometimes we struggled to really want to win. We struggled to want to dominate the other team," said McCambridge. "We struggled to comprehend that but as the year was moving on, I think we pursued that really well."
Most of the varsity players are graduating this year and plan on continuing their basketball careers. McCambridge will be enrolled at the University of Rochester in the fall, Akens-Irby will most likely settle on Claremont McKenna, and Smith is still deciding but is hoping for a school in the Pacific Northwest. Matthews-Irby will be a Foothill junior next year and plans to continue to play on varsity.
"I am looking forward to next year and working hard," Matthews-Irby said. "I'm not going to be a sophomore anymore so I need to step up a lot more but I'm excited for the family feeling you get from all of this."
Coach Larson is disappointed to see her players leave, but is confident in the opportunities and paths the girls hold in their futures.
"You always have a feeling that you're sad [when] they go but they all have such bright futures and they all have somewhere to go," she said. "The avenues they've got are just tremendous."
Akens-Irby knows she will apply the skills learned while playing basketball to other aspects in her life.
"I always say that you can learn from life experiences but basketball's almost better because you become a tough person in a controlled environment," she said. "It's kept us on the straight and narrow."
Mattews-Irby attributes the success of the season to her teammates and her commitment to the sport.
"To play basketball for Ventura High, you have to be committed and dedicated to working hard," Matthews-Irby said. "All the running isn't for nothing."
Larson will remember the unique contribution each girl made to her team. She spoke of Matthews-Irby's positivity, Akens-Irby's hard work and dedication, McCambridge's immense effort and improvement in her skill set, and Smith's everlasting energy.
[soundcloud url="https://api.soundcloud.com/tracks/139798663″ params="color=ff0000&auto_play=false&hide_related=false&show_artwork=true" width="100%" height="166″ iframe="true" /]
Though their lives may diverge, the players realized that they will remember their victories and losses as a team.
"We've grown in every way. We've changed in the way of realizing what we're capable of," said Akens-Irby. "We used to think 'Oh, we're just Ventura' but I think this year we realized 'Nope, we are Ventura.'"