Daysi Perez: Naturally a flower child (6 photos)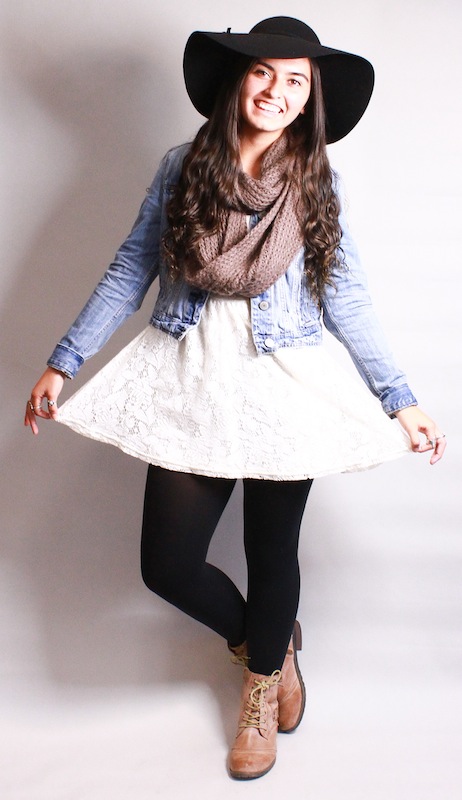 Daysi Perez can be seen rocking a different outfit every day. Her style is casual and fun with her own little twist. She walks the halls in floral printed dresses, cute shirts, the perfectly matching shoe and just the right amount of accessories. Her outfits range from fancy to casual, and she pulls off every look.
Daysi thinks that her style usually resembles her personality. Her outfits sometimes give off the "hippie vibe," which reflects her free-spirited and fun-loving persona.
Daysi describes her style as, "sort of edgy and kind of Indie sometimes."
[soundcloud url="https://api.soundcloud.com/tracks/118720367″ width="100%" height="166″ iframe="true" /]
Accessories are an important part of Daysi's outfits. She adds bows, necklaces and rings to complete her look.
She puts her outfits together a day in advance by looking in her closet and pairing things that would compliment each other. However, she mixes and matches clothes and sometimes wears a shirt or sweater over a dress.
Daysi mostly shops at American Eagle and Urban Outfitters. She also likes Brandy Melville and Free People. She pairs different clothing pieces from each store to achieve a different and more original look.
"I would spend it [a million dollars] at probably Brandy Melville," she said. "I just like the style and the dresses and because they have a lot of flower daisies on the dresses."
Her love of flower patterns, especially those featuring daisies, is no coincidence.
At the start of high school, Daysi thought that dressing nice was important and that she needed to look nice everyday. Now, as a senior, she dresses for herself and considers her outfits fashion statements.
She summarized her thoughts on fashion by saying, "If you look good, you feel good."
Credit: Maddy Schmitt & Ellie Morrison/The Foothill Dragon Press