LGBTQ+ representation in music throughout the decades
Throughout the past decades, the LGBTQ+ community has been more accepted into society with the help of more representation in the media — especially in the music industry. However, these artists are not just idols showcasing their sexuality, they are all influencers who have risen to fame in spite of their sexuality. Their dramatic theatrics and natural talent attracted a young audience while simultaneously making homosexuality less taboo.
David Bowie: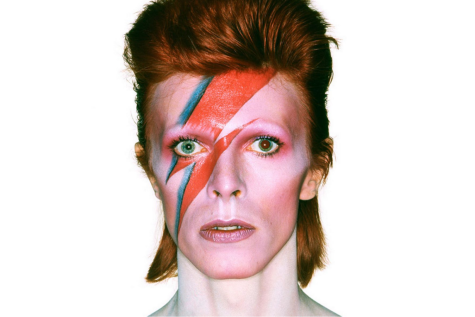 Rising to fame in 1969 with his first hit song "Space Oddity," David Bowie has been among the most influential singers in the rock music industry. Many bands and singers with diverse styles such as Sex Pistols, The Smiths and My Chemical Romance attribute Bowie as their inspiration. 
During his rise to fame, he was also credited with creating multiple sub-genres. Among these are Glam Rock (along with Marc Bolan from the band T. Rex) and punk rock. In Glam Rock, men dressed in feminine clothing and wore makeup in an attempt to create a futuristic look. These heavy makeup looks and outrageous outfits inspired many of the looks in the punk rock scene in Britain. By openly wearing makeup, Bowie was going into a new territory that openly went against the gender norm of the time and encouraged younger audiences to do the same. 
Towards the end of his life, he continued making music but shifted to a video format. He carried on with his gothic style in his songs Blackstar and Lazarus. To the end of his life, Bowie carried on the legacy of his theatrics, inspiring new artists to experiment with their looks and allowing the youth to express themselves.
Freddie Mercury: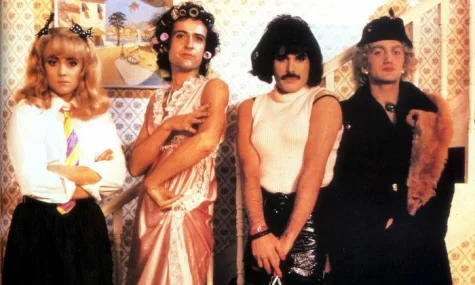 A conversation on queer artists in the music industry cannot happen without mentioning Freddie Mercury. Although he had a short life, he made a lot of changes in not only the music business but also in recognizing AIDS and the other hardships those in the LGBTQ+ community had to face at the time.
Throughout most of the history of Rock and Roll, there was an obsession with hyper-masculinity. But Mercury easily broke this narrative with catchy songs such as "I Want to Break Free," where the members of his band (Queen) dressed in drag and encouraged rock audiences to focus on the music rather than the person. As with any genre, there were exceptions like Suzi Quatro and Pat Benatar. However, women did not really show up on the rock scene until the subgenre of punk rock, Riot Grrrl, came. Mercury was continuously changing the rock industry and a feminine man was the way of bringing more women into rock.
Towards the end of his life, Mercury still performed with Queen in the Live Aid concert to raise funds for AIDS, which  ended up taking his life. Even at the end, Mercury was still fighting to support his community to the best of his abilities.
Lady Gaga: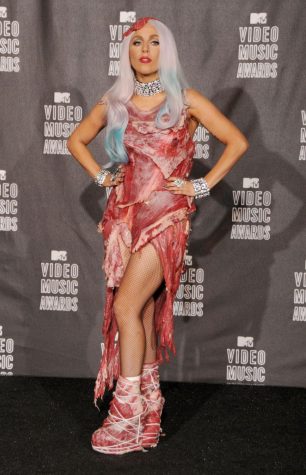 Stefani Germanotta, more commonly known as Lady Gaga, is a bisexual woman who has changed the pop music industry with her theatrical and outrageous costumes that were influenced by Mercury and Bowie. Some of her most memorable moments came from the shock factor she was attempting to bring back. Among these moments are the Meat Dress from the VMA Tour de France and the 2017 Superbowl Halftime Show.
Lady Gaga rose to fame in the MTV era, where the main music format was through Vevo and pop music was extremely popular. With most audiences in search of watching an entertaining show, it is easy to see why Lady Gaga was able to quickly gain fame. 
With Gaga being a philanthropist, she donated much of her money to charity organizations that mostly supported kids. While donating, she was also simultaneously advocating for the youth and created songs such as "Born This Way" that fought against bullying amongst kids. This would lead to Gaga to co-found the Born This Way Foundation along with her mother, where the money goes to supporting youth's mental health.
Of course there are a plethora of artists within the LGBTQ+ community that need mentioning but these three artists changed the visual aspect in the industry. All three would appear in dramatic costumes and heavy makeup encouraging audiences to be drawn to theatrics as well as the music. Representation in media is important in a time where there was little to be found but their contribution to the music industry is just as important.