"Loop 83" wows downtown Ventura in their first live concert
On Oct. 15, 2022, local alternative indie rock band, "Loop 83", had their first public performance in downtown Ventura, Calif. Previously, they had only performed at small, private venues, making this concert a new experience for everyone involved: whether it be the audience of friends, family, fans and passersby as well as the band themself.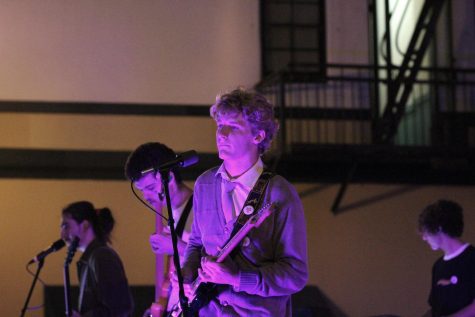 As dusk approached and the evening fog rolled in, high schoolers and adults alike gathered in the blocked off intersection of Main and California St. where the outdoor stage was located. With downtown already being a popular hangout spot, the environment fostered a relaxed, welcoming atmosphere. The lighthearted crowd eagerly anticipated the performance, excited to enjoy an evening of mellow music and support their friends in the band. Some devoted fans even wore "Loop 83" merchandise, which is designed by the combined efforts of band member Fletcher Freeman '23 and Jaelan Hsu '23 from the "Idea Center". 
"Loop 83" has four main members: Foothill Technology High School's (Foothill Tech) Aiden Connelly '23 as lead singer and solo guitarist, Ventura High School's (VHS) Reid "Goldenthumb" Kemble '23 on bass guitar, Freeman '23 on drums and Jack Gordon '23 on electric guitar. Liam Clemow '23 on trumpet also made an appearance for solos and accompaniment in multiple songs. All of these musicians are also seniors in high school, impressively balancing the demands of school while expressing themselves creatively through original music composition and performance. To prepare for gigs and learn the music, "Loop 83" typically practices two to three times a week. 
An interesting fact about the band's name, "Loop 83", is that it originated from Connelly's guitar loop station (a playback machine he uses to write songs). The 83rd loop was the first song that they recorded as a band and the song name on the album is "Loop 83".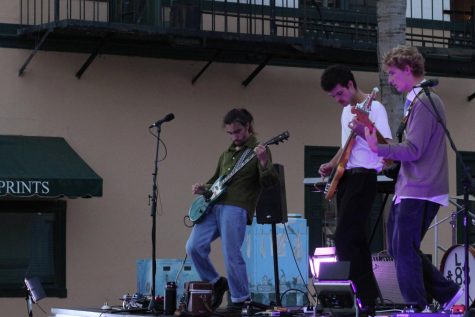 The concert began with a song cleverly entitled "Intro", which, hence the name, introduced the audience to the relaxed indie rock that was to come that night. This song was important because it not only set the tone, but it also drew the attention of people walking downtown. The crowd in front of the stage grew as intrigued people passing by decided to stop and listen. 
Throughout the performance, the energy of the musicians and the passion they expressed was contagious, making for an engaging and inspiring event. "Loop 83" also debuted three brand new songs to the audience that have not yet been released for streaming. This opportunity thrilled fans and gave them an exclusive look into what "Loop 83" has in store for the future. As the sun set, the multicolor stage lighting highlighted the retro ambiance that was portrayed by the music. 
After debuting multiple new tracks, the band played their newest release, "Twofold". This song starts out slow, but as the tempo increases, smooth chords and vocals are supported by a memorable chorus, making for an exceptional new addition to their discography.
To conclude the show, "Watch What You Say, a crowd pleaser (and one of my personal favorites) was performed. Its upbeat rhythm and catchy lyrics were a superb ending to the night. This song gave off a "feel good" energy, leaving many to hum the lyrics for days to come and closing the concert on a very positive note. 
After the concert, the crowd slowly dispersed, although many fellow students and friends of "Loop 83" members stayed to socialize and express their congratulations. Connelly '23 shared, "I think it went pretty good, [but] I wish we had more material." His favorite part of the live performance was playing the music and "see[ing] a lot of familiar faces." 
The local indie rock band had an amazing debut evening, showcasing their immense talent and sharing their art with Ventura's community. To stay up to date on song releases, upcoming concerts, merchandise and more, fans can follow them on Instagram @loop83. Also, be sure to follow them on Spotify and other streaming platforms where fans can be sure to find new favorite tunes created by Ventura's own young artists.