Serena Williams: A monarch of women's tennis
For 27 years, professional tennis player Serena Williams has changed the ethics of her sport and inspired players across the globe. Her long career finally ended on Sept. 3, 2022, after losing a match to Ajla Tomljanović in the third round of the US Open. Her statement announcing the 2022 US Open was to be her last came before the tournament started and rattled fans around the world. Now that her years playing in sold-out stadiums are over, lovers of the sport can't help but reflect on her historic career. 
Williams grew up loving tennis. "King Richard," a movie about her family's early life in tennis, shows how her dedication and talent made her an instant success at such a young age. At 17, she won her first major singles title at the US Open in 1999, beating former Grand Slam champions Kim Clijsters, Conchita Martínez and Monica Seles. A year later, she and her sister, Venus Williams, won an Olympic gold medal in women's doubles.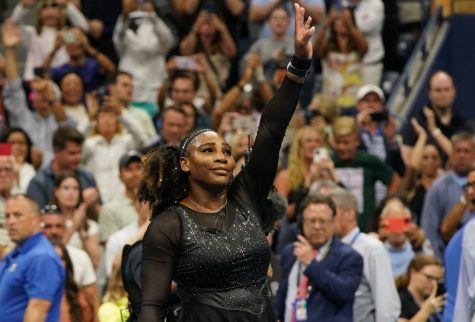 Tournament after tournament, Serena Williams proved her dominance. She sent shockwaves through the media, beating one world class player after another, including her sister, who was forced to play her in numerous tournaments. Not only was Williams successful in singles, but in doubles too. At the end of her career, she holds 73 singles titles, 23 being Grand Slams. She also holds another 23 doubles titles, making a total of 96 titles, a tally practically unheard of in women's modern tennis. The only player surpassing her number of singles Grand Slam victories is Margaret Court, an Australian who played from 1960-1975 and won 24 titles. Williams' score is still significant, considering Court played at the beginning of the Open Era, which allowed all players to compete in major tournaments. Court won 13 before it started, sparking disputes about who really holds the most impressive tennis resume. 
Serena Williams' time on the court did not pass without its share of controversy. Williams succeeded in both disagreeing with umpires and tournament dress codes. Through the years, women's tennis wear has been expected to include modest tennis skirts and outerwear. Williams, highly interested in fashion on and off the court, has always shown her personality through bright colors and less-than-traditional styles. In the 2018 French Open, Williams stepped out in a catsuit that was later criticized by tournament leaders and banned from future participants' wardrobes. Backlash supporting Williams' clothing choices dominated social media, but the new rule is still in practice. Williams has also worn ballerina-inspired tutus and other unique tennis wear that influenced athletic brands to create more eye-catching athletic looks. 
Although her professional tennis career is over, Serena Williams' legacy will continue to change the game and live on through countless monumental performances. Her absence will mark the end of a tennis era, but also will spark a new one, inviting more tennis prodigies to take their place on the court. She has clarified that just because she isn't playing in tournaments does not mean her involvement in the sport is over. The world will just have to wait and see what else she has planned for the game of tennis.