The Black Bear Diner review
Wafting a compelling scent into the cool, salty air of Pierpont, the Black Bear Diner has boomed in business as the newly opened diner in replacement of Carrows.
Driving by at any time of the day, you can spot the restaurant filled with customers waiting to try the new, wide range of food off of the Black Bear Diner menu. On weekends, lines can even be seen going out the door. Diner waiter Jayden Jones talks about the busiest times, "9 a.m. is when we get our first morning rush and then [it's noon]. After, it clears up around 3 p.m."
Being a chain, the Black Bear Diner provides Ventura locals comfort in having the restaurant bike-distance away from them, rather than driving out of town to other locations. Simi Valley is the next closest spot, and it is the second Black Bear Diner in Ventura County.
Like Carrows, this restaurant is open for breakfast, lunch and dinner. Customers are most attracted to the 24-hour breakfast menu promised with comfort foods. Not only is the option for food large, they have a multitude of drinks for children and adults, along with many creative, traditional desserts to enjoy after your main meal. 
Portions are served big as one portion of food comes out to be bigger than that for two people together, leaving lots of room for leftovers, easy to enjoy at home. Service is also served well. Between taking your time to choose what to order and actually getting your food,you have the perfect amount of time to enjoy the atmosphere around you without being too hungry. Booths and regular tables for two, four and more are sprawled out around the restaurant.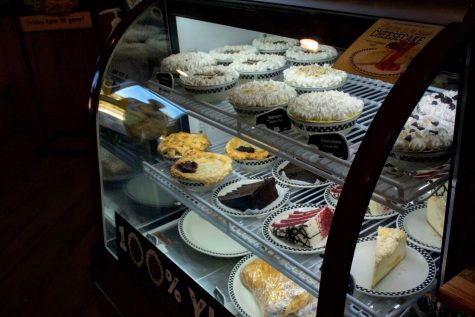 The outside sitting area is nestled under a roof, looking out onto the other areas in a court and showering you with rays of sunlight. With tables being well separated, you can share easy conversation with your neighbors or choose to keep to yourself. Table space varies, usually not allowing much leftover room after the food is served. 
After enjoying a nice meal, the location is perfect for you to make a ten minute trip down to the beach. If you find yourself ready for a dessert on your walk down to the beach, Surf 'n Yogurt is right at your convenience, planted under beautiful palm trees and bright sunlight. 
Being a new diner, Jones predicts,"I think this restaurant is going to do a lot better than all of the Ventura locals have thought." Having high hopes and a bright smile, Jones exemplifies the enthusiasm of all of the other workers.
Waiters have a lot of work from the large rush of customers, but their calm demeanor in taking orders and delivering food is impressive. The environment is safe and family friendly, leaving customers able to enjoy their time. 
As a new part of Ventura County and an exciting place to visit, the Black Bear Diner brings comfort and welcome to the people wanting to try out a change of eatery. So the next time you're around the Pierpont area, don't hesitate to stop by and treat yourself at the Black Bear Diner.