The Market Report: Persimmons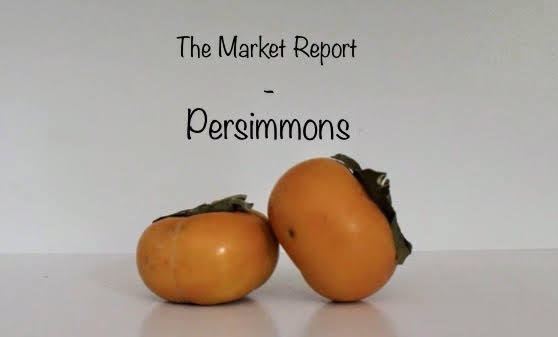 As the weather cools, it is the perfect time to purchase some persimmons from your local farmers' market. At first glance, persimmons may seem like a hard, bright orange fruit that resembles a tomato, however, after delving into the sweet interior, persimmons will easily become your new favorite fruit.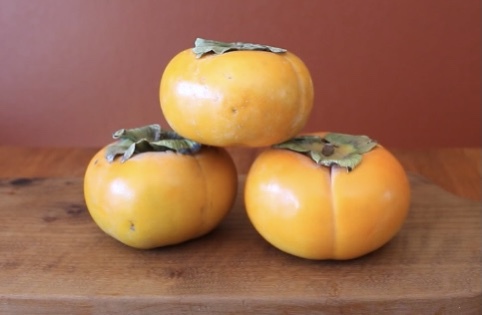 Introduced to California in the mid 19th century, persimmons were originally grown and cultivated in China for thousands of years, where the first varieties were produced. There are many varieties of persimmons, as there are with most types of produce. The most common varieties are the firm-fleshed, tomato-like persimmon, the fuyu. Its opposing variety is the hachiya persimmon, which resembles an acorn.
The fuyu persimmon is less astringent out of the two varieties, which means that it can be eaten raw. As a great source of vitamins A and C as well as fiber, fuyu persimmons are perfect simply cut up as a snack like an apple or to add some crunch to a salad.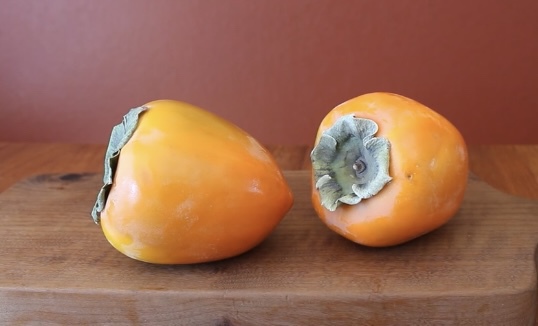 The hachiya persimmons, on the other hand, are very bitter when eaten raw. This bitterness comes from the fruit's high tannin content, which contributes to its high astringency. Hachiya persimmons are best when left to ripen. When they feel like a balloon about to burst, you know they are ripe and ready to eat. Hachiya persimmons can be eaten directly from the skin with a spoon or added to baked goods.
Here is a recipe to add some freshness and color to your winter table:
Persimmon Harvest Salad with a Vinaigrette Dressing
Materials:
– small jar with a top or small bowl
-serving plate or bowl
Vinaigrette Dressing:
-¾ cup olive oil
-¼ cup vinegar (red wine or white wine vinegar preferably)
-½ teaspoon salt
-¼ teaspoon black pepper
-1 minced shallot or garlic clove
Persimmon Salad:
-2 ½ cups approx. of mixed greens
-1 thinly sliced Fuyu persimmon
-1 thinly sliced apple
-¼ cup approx. of pomegranate seeds
-2 tablespoons pumpkin seeds
-¼ cup crumbled goat cheese (optional)
Assembly:
Mix all vinaigrette ingredients in a jar or small bowl. Shake and set aside. Open a small pomegranate to collect seeds. Place seeds in a bowl and set aside. Chop a fuyu persimmon and an apple into thin half rounds. Place in small separate bowls and set aside. Wash mixed greens and pat dry. Assemble the salad in a bowl or serving platter. Place downmixed greens, then top with persimmon slices, apple slices, pomegranate seeds, pumpkin seeds and goat cheese if desired. Finally, dress the salad with your homemade vinaigrette.
Bon appetit!