The pop of Depop: rethink your holiday shopping
Need an affordable way to pick up a few new articles of clothing, revamp your closet or find an alternative to the influx of fast fashion that can end up in your cart on Black Friday? Welcome to Depop, an online, worldwide platform that provides users with an outlet to sell and purchase clothes straight from your own closet, and that of others. With more than 20 million registered users in 147 countries, these personal shops offer up an abundance of unique styles, ranging from custom handmade clothing to rare, sold out items and everything in between.
Sustainability is the new trend, as more of Gen Z has hopped on board to search for environmentally friendly options to their current habits. Prolonging the life of clothes is encouraged, and since a majority of the items on Depop are thrifted or pre-loved, buying second hand is a common theme. With this mindset in motion, Madison Duston '21 describes that "being able to go thrifting or sell [her] old clothing so that it doesn't just get thrown away or thrown to another Goodwill bin that inevitably goes to landfills is just so much nicer." Compared to popular sustainable brands, like Reformation, gems on Depop can also be found within a much more affordable price range, with the right digging tactics of course.
Depop Final Video w-audio (final) from The Foothill Dragon Press on Vimeo.
Such tactics can be used through a variety of provided features; filtering the search engine to a specific price range or time frame are just two ways in which you can narrow down the broad selections to something specific. Though this may take dedication, you aren't alone. Depop also produces a style edit by filtering selections that are based on the styles you spend time browsing. This personalized collection allows you to explore interests that may add more spice to your shopping experience. A plethora of unique apparel is out there waiting to be curated by you!
The structure of the app is similar to that of a social media platform, where you can "follow" friends or other sellers, which encourages users to stay up to date with new listings. From domestic to international shipping, connections can also be established when receiving something that once resided on the other side of the country, or even the world. Depop's private messaging feature is the glue that binds both sides together, where both parties can negotiate prices, confirm measurements or simply reach out to promote their shops. This system keeps the app simple and straightforward, which gives off a friendly, welcoming message to any type of buyer, new or old.
Kristina Efner '22 agrees: "I think it's just really user friendly. It's super easy to just start a business; the community's super nice, and it's a good way to make some money."
Ava West '23, an avid user, elaborates and gushes on "how nice everyone is; if you message someone about a certain item and you need certain feedback, it's just good because mostly everyone's honest about it. Also, I like how on Depop some of the items have a story behind them."
Of course, there aren't always good samaritans on the app, as scammers may entice oblivious customers through fake listings, one-sided trades or by shipping out an item that may arrive in an unexpected condition. To remedy this, there is a  "reviews" feature, so both a seller and buyer can leave feedback on their experience with one another or the item itself through a rating of up to five stars. In turn, others can divert their attention from these harmful sellers. 
In addition, an abundance of small businesses are given the opportunity to make their name known. Shops like "emmarogue " and "bagheadvntg" have gained thousands of followers who are eager to purchase their latest listings and have built an impressive number of sales with superb reviews, while also creating a reliable image.
Efner is also in the process of building up her shop through her handmade tank tops. "I needed money" she explained, "and I had friends who were doing it, and they just taught me what prices to put things at, how to set up your account and later on I started my tank top business, so it started as a resale and now it's a small business.
She notes how her experience as a seller has affected her views as a buyer, explaining "how hard it is to sell and how exciting it is when you get a sale," and so she tries to support fellow small businesses on Depop because "[she] knows how it feels to get that thrill."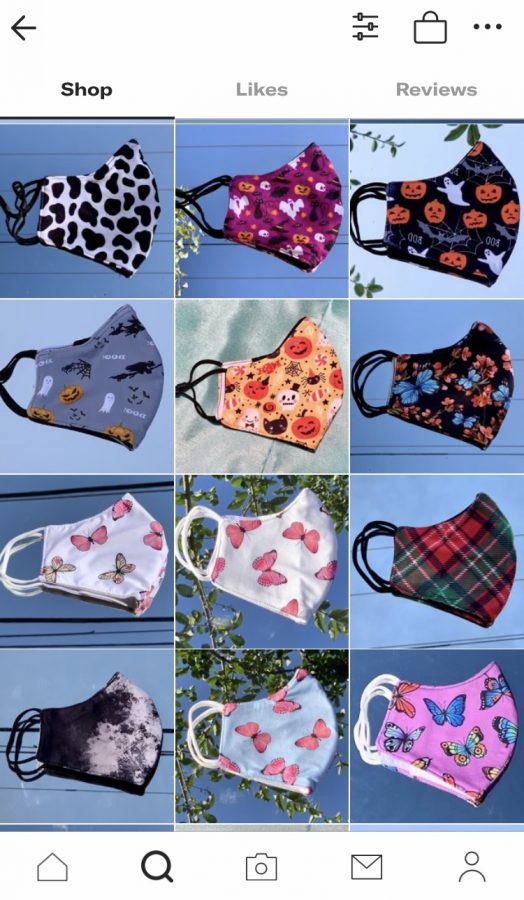 Throughout the COVID-19 pandemic, the company has emphasized safety as a priority, and in response, an influx of handmade masks have been flooding the site. Quarantine is no match for creativity, and contributing to safety is another facet of keeping Depop alive and relevant. While the flow of sales persists, supporting local charities and staying up to date with public health organizations is also recommended by the company.
A new generation has become interested in new trends, new beliefs and new actions, and Depop is a massive source in fueling this fire. Young people grow to become more comfortable in their own skin and will want to showcase their individuality to the world; Depop ricochets this idea onto a global scale. 
With this holiday season approaching, it can be stressful to find the perfect gift for someone. Worried about it being too broad or general? Small businesses everywhere and on Depop have got your back with specific, one-of-a-kind items with a bonus of giving back to Mother Nature. This is your cue to start looking into buying second hand! So let's wave goodbye to these fast-fashion corporations and explore this exciting alternative in sustainability!