Intense, "scarring" event brings awareness to Foothill community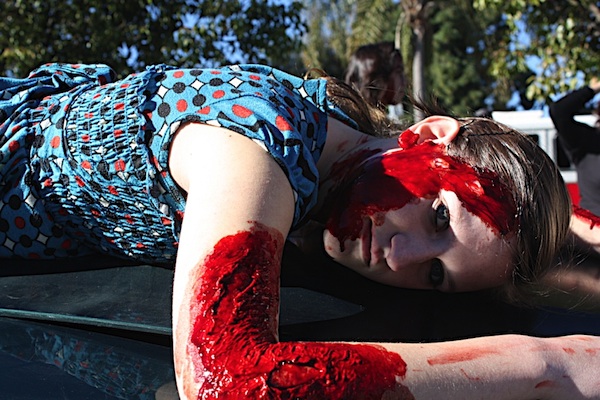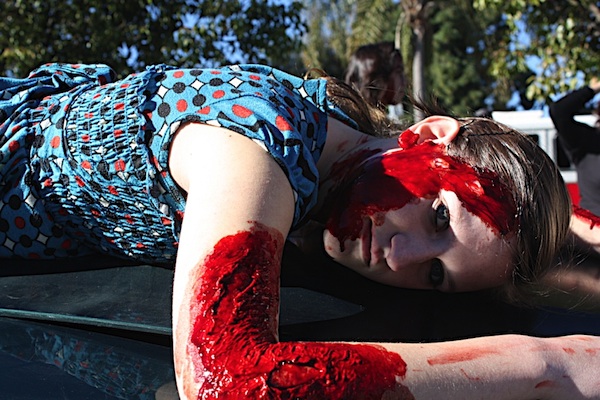 Foothill juniors and seniors witnessed a simulated car crash Tuesday called "Every 15 Minutes" which attempted to raise awareness about the dangers of driving under the influence of alcohol.
The Every Fifteen Minutes workshop was designed to provide real-life DUI experience without the real-life risks and give students lessons that may prove invaluable to their futures.
"It was scarring. It puts you in a real-life situation. I never really realized how serious this was before in my life," said sophomore Andre Sehati.
The intense program is centered around a single sobering statistic: every fifteen minutes someone is killed from an alcohol related traffic collision.
"No one is promised tomorrow," district attorney Kevin Drusher said passionately while speaking at junior Henry Ashworth's mock trial. Ashworth portrayed the drunk driver who caused the crash.
Foothill's Every Fifteen Minutes production consisted of students who played the parts of the 10 "living dead", a grim reaper, policemen, firemen, ambulances, coroners, two crashed cars with four students in them, a trip to the hospital and courthouse, the sentencing of said driver and various videos for Foothill students.
"I think it's an excellent combination of a mock crash and obituaries of the living dead. It hits the young people at this school at an emotional stand-point and shows that they aren't the only victims," said Officer Reid, a member of the Ventura Police Department.
Reid has had over 20 years of dealing with the issues brought on by drunk driving.
Foothill teacher Darcy Perez who coordinated the event has spent over a year planning it. Foothill received a grant for $9,999.99 to put on this program.
Police officers were summoned to the scene and told to perform as if they were at the scene of a real DUI accident.
Actors sat through extensive make-up sessions with a professional cosmetologist in order to look like believable crash scene victims.
"I'm scared to put on makeup. I might faint when I see myself," said actress junior Celeste Lopez.
The campus began buzzing at 10:45 when a pre-recorded 911 call was played over the school's intercom.
"There's been a crash, on Day Road…it's right in front of Foothill Technology High School. It looks pretty serious, there's a girl and she's bleeding everywhere," said a girl's voice.
Juniors and seniors were then escorted to the front of the school where they viewed the crash scene for the first time.
Upon arrival, the students saw senior Gabby Trainor lying on the hood of the car after being ejected from the passenger seat and thrown through the windshield.
Gabby was then covered with a neon plastic tarp, pronounced dead on arrival, placed in a body bag, and driven away to the "coroner". She was actually driven to Ventura County Medical Center to meet up with all other involved students.
"If you haven't been in a body bag, I recommend it," said Trainor.
Firefighters arrived at the crash scene within seven minutes, ready to use the jaws-of-life to cut through one of the cars in order to pull senior Roger McDonald-Reyes and junior Celeste Lopez from it. 
McDonald-Reyes played the part of a critically injured victim who was later pronounced "dead" at Ventura County Medical Center.
Lopez's character sustained minor injuries. She was placed on a stretcher, carried to an ambulance, and transported to VCMC.
Meanwhile, Ashworth was pulled from a green Mustang by police officers and was forced to witness the damage his character had caused. After the slightly injured and critically injured victims were taken care of, the attention turned to Ashworth.
The teenager was questioned by the police and given a field sobriety test, which he inevitably failed. He was then handcuffed, read his Miranda Rights, and put into the back of a police car.
Every 15 Minutes a "very powerful statement"
Although it was a fake crash, the scene began to feel real for many staff, students, and family members.
"My mom cried a few times and I reminded her that I'm not really dying, but she says it doesn't matter," said junior Alisa Steinbroner, one of the students portraying the living dead.
The Every Fifteen Minutes presentation was not only created to let students experience the effects of driving under the influence, but also driving while distracted. Freshmen and sophomores were shown a video about texting while driving, as well as receiving instruction to drive carefully at all times.
"It's a sad, depressing thing, a very powerful statement," said Steve Boyd, a Foothill guidance counselor.
However, not everyone felt that Every Fifteen Minutes was beneficial.
"I kind of feel like teenagers are going to do it anyway," said Trainor.
Students experience effects of DUIs at hospital and courthouse
After departing from the scene, victims and living dead were brought to VCMC to see what would happen in the emergency room after an accident. Film crews swarmed, creating a video to be shown at the follow-up assembly today.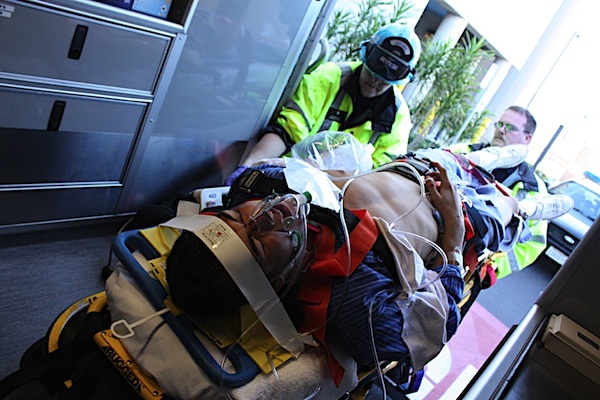 McDonald-Reyes' mother was received at the hospital, acting powerfully as a mother whose son has just been killed. She continuously wailed, "Who killed my baby? I want to touch my baby!" in between hysterical sobs.
After the emotional hospital scene, everyone involved piled onto a bus and headed to the Ventura County Police Headquarters for a tour of the jail and booking rooms.
Students were transported to Courtroom 335 in Ventura's Government Center for Ashworth's sentencing.
Before the mock trial began, the victims, parents, and living dead listened to the story of how Drusher has been affected by the dangers of drunk driving. 
Drusher's best friend in high school witnessed his family die in a tragic car crash caused by a reckless driver who had been under the influence of alcohol.
"At the time I thought this didn't happen to anyone – that this can't happen. That my best friend is fine," said Drusher, on the verge of tears.
Ashworth tapped into Drusher's strong emotion, playing up his remorse while the scene's judge sentenced him to fifteen years and eight months in prison.
Night retreat gives parents important message
After the crash, hospital, and court scenes, the actors were taken back to Foothill for an overnight student retreat. During the retreat, students discussed the powerful lessons they learned, wrote goodbye letters to their parents to be shown the next afternoon at an assembly, and released pent-up emotions from the event. 
Later in the evening, parents were invited to attend an informational meeting about teens and intoxication. 
Principal Joe Bova began by introducing the adults to the Every Fifteen Minutes program, followed by a question-answer panel and a performance by local organization Straight Up Ventura.
"Straight Up is aimed at parents and teens to show them what's become socially acceptable at parties. People don't understand what actually happens," said Foothill sophomore and Straight Up member Catlin Hurst.
The group gave parents a realistic of what can go on at teenage drug parties. Actors played various drinking games, such as beer pong, higher-lower, and beer bong. 
"I think it's a better system than hearing someone in a classroom lecturing about drugs and alcohol. I mean, I've seen grown men, parents, leaving a scene crying because they've just seen a passed out girl carried off to be raped! It really affects them," said Hurst.
A panel of nine officials from the community who talked about the dangers of driving while under the influence of any substance was also featured.
"The parents are the gatekeepers for making the decision of whether or not they are going to allow their children to do the very activity that is the leading cause of death for their age," said Steve Reid of California High Patrol.
Also represented at the parent seminar was the organization MADD (Mothers Against Drunk Driving).
According to the MADD website, the association strives "to aid the victims of crimes performed by individuals driving under the influence of alcohol or drugs, to aid the families of such victims and to increase public awareness of the problem of drinking and drugged driving."
MADD has saved nearly 300,000 lives since when it was founded in 1980.
Working together, everyone involved was able to make Every Fifteen Minutes a powerful learning experience.
"It's a good wake-up call," said Trainor. 
Perez was more than satisfied with the outcome of the Every Fifteen Minutes program.
"Today was an amazing day of several agencies coming together to raise awareness," said Perez, "We're keeping our student community and staff safe for the future."