"Every 15 Minutes" ends with somber, moving presentation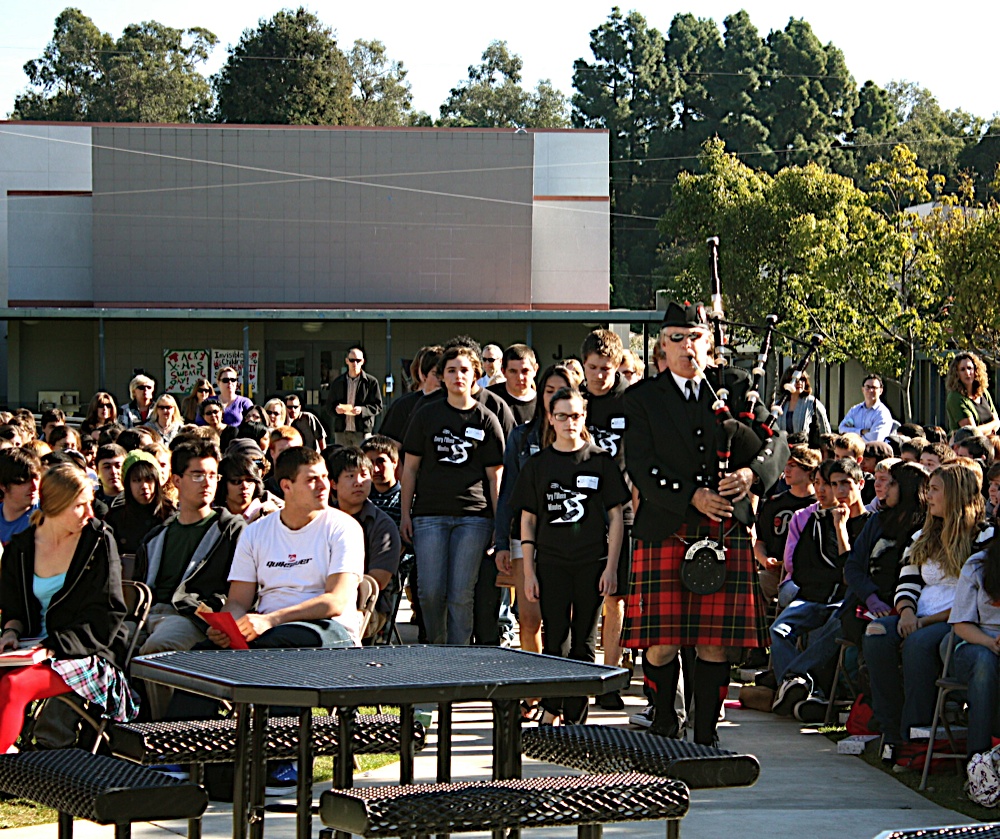 Bagpiper Bill Boetticher led the "funeral" procession towards the stage where a presentation for upperclassmen ended the two-day "Every 15 Minutes event". Credit: Katie Elvin/The Foothill Dragon Press
Students turned away with tears in their eyes as they saw a recap of Tuesday's crash scene and the aftermath of the incident in a follow-up assembly today.
The Living Dead and crash victims entered in a mock funeral procession, led by professional bagpiper Bill Boetticher who wore a traditional plaid kilt.
The mood slowly became somber as the "dead" students stepped past the crowd, setting the tone for an announcement made by Principal Joe Bova and a video recapping the previous day's events, which were compiled by CAPS TV.
"I would like you to remember that these people represent hundreds of true stories. I want you to think about this and talk about this," said Bova.
An emotionally charged video began to play as the victims lined up in front of the stage. The short film let all upperclassmen see what went on in the ambulance, hospital, and courtroom after the accident.
After the video, Officer Anthony Pedeferri gave a touching speech recalling his firsthand experience with a drug related crash. An intoxicated driver hit a car that Pedeferri was standing by, throwing him into the air and 40 feet away into a ditch.
The accident left him a quadriplegic, and unable to eat or even speak. He was however, able to regain his ability to talk, eat and move his arms after months of physical therapy. Pedeferri has now made it his life's mission to educate people about the dangers of driving while under the influence of any substance.
The next speaker, Tyler Tatangelo, spoke about the brain damage he suffered from a motorcycle accident. While driving his motorcycle, Tatangelo fell asleep at the wheel and suffered a near fatal crash. That one moment has changed his life forever, and he is now an advocate for careful driving.
The parents of the "deceased" children then read letters addressed to their child. As they sobbed over the "death" of their kids, many of the audience joined in. The fact that this was not a real tragedy did not stop people from feeling the sadness they would have felt at a real crash. The incredibly passionate scene left very few calm.
Not everyone felt this strong reaction though.
"It was fake and pathetic, and kind of dumb," said senior Leah Robles.
After the presentation ended, students were given the opportunity to sign Casey's Pledge and Oprah's Text-Free Promise. Most students signed the agreement, assuring their commitment to safety and sobriety.
The Every Fifteen Minutes production made students think twice about the real dangers driving under the influence imposes. Sophomore Kayla Laguna said, "Obviously, I don't want to be the one to be hurt – or the one to hurt someone else."