Foothill's quad was filled with vibrant artwork and music Thursday evening as students and members of the community came to see work done by students throughout the year at Foothill's Art Show.
The Foothill Art Show is an annual event that gives students the opportunity to share their work and raise money for the school. This is the third year it has been held.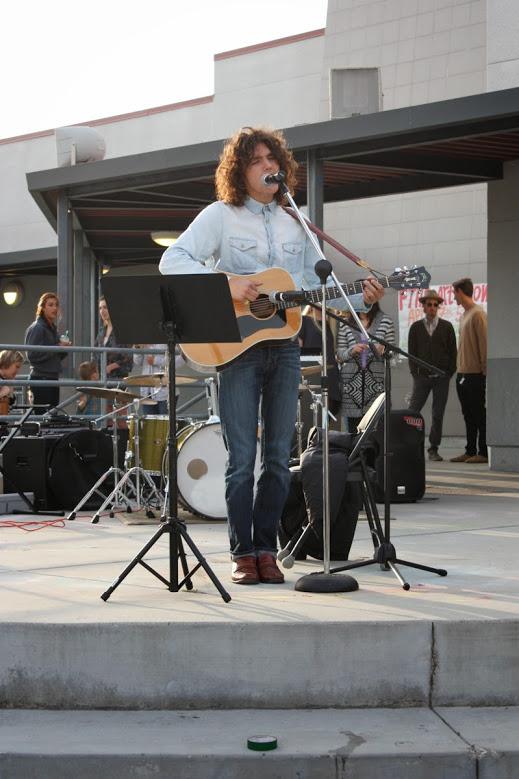 — Victoria Bonds (@Virose215) April 17, 2014
The event was from 5:30 p.m. to 8:00 p.m, with student musicians performing while everyone walked around and viewed the art. There were performances by seniors Blake Silva, Caleb Bigler, Talia Aharon-Ezer, Aysen Tan, Hanna Rivera, Angela King, junior Wyatt Kufta-Kuntz, and the Rus Weagel Project.
"The students do artwork in class, but it's usually just graded and not really seen, and that's not what should happen with art. This is a chance for them to show their art and their accomplishments and to socialize," said art teacher Justin Frazier.
Most students who submitted art are enrolled in one of the art or photography classes, but anyone was allowed to enter.
This year was sophomore Rachel Horiuchi's first time entering her photography in the art show.
"It's so exciting. I've never done this kind of thing before. It's one thing to see your photo on a screen while you're editing, but it's another to see it physically in print right in front of you. It's lots of fun," she said. "Seeing it here now, you know how hard you worked, but it was so worth it, even if it was challenging."
Senior Veronica Lopez is in Art 2 this year, but this was also her first time entering her work in the show.
"It's nerve-wracking because I want my work to look good, but it's about the experience," she said.
Students were given the option to sell their artwork if they wanted and were allowed to set their own price, but Frazier said that they usually prefer to keep their work rather than sell it.
There was an auction for the chalk pieces students created during the Chalk Festival this Wednesday and Thursday, with all the proceeds going to the Foothill Art Department.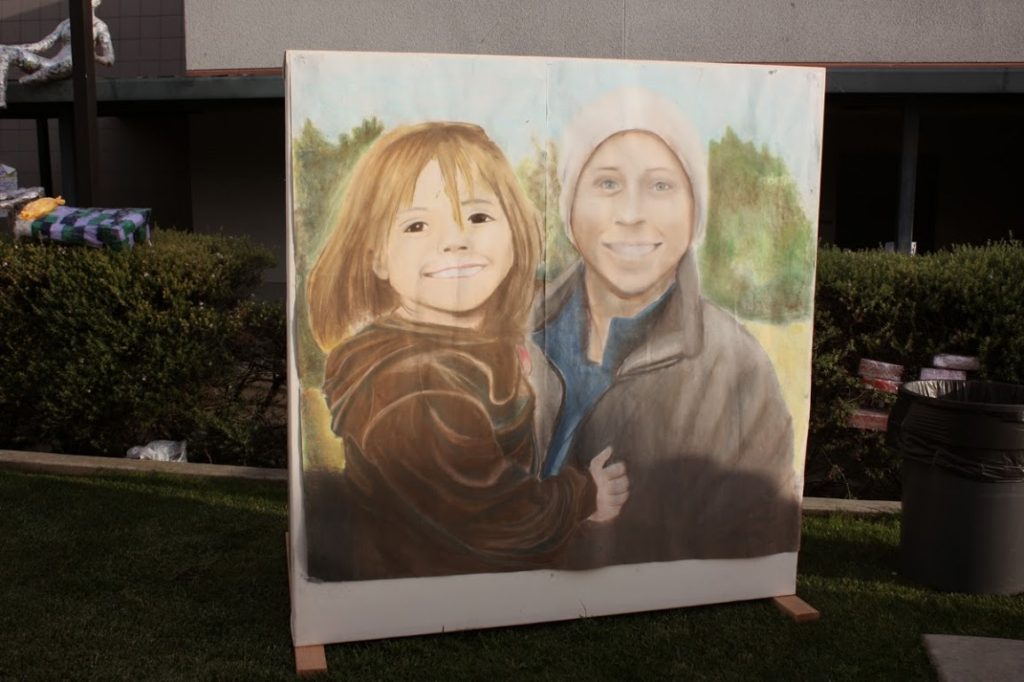 Last week, Frazier and students worked on three chalk portraits of former Foothill teacher Chris Prewitt, who was fatally hit by a car on April 6. The portraits were on display for his memorial service last Saturday, April 12, and were auctioned off at the art show.
The Foothill staff pledged enough money and raised so much interest that they were able to outbid each piece. They will be giving over $300 to the Chris Prewitt fund, along with giving one portrait to DeAnza Academy of Technology and the Arts (DATA), one to the Ventura Unified School District office, and keeping the third at Foothill.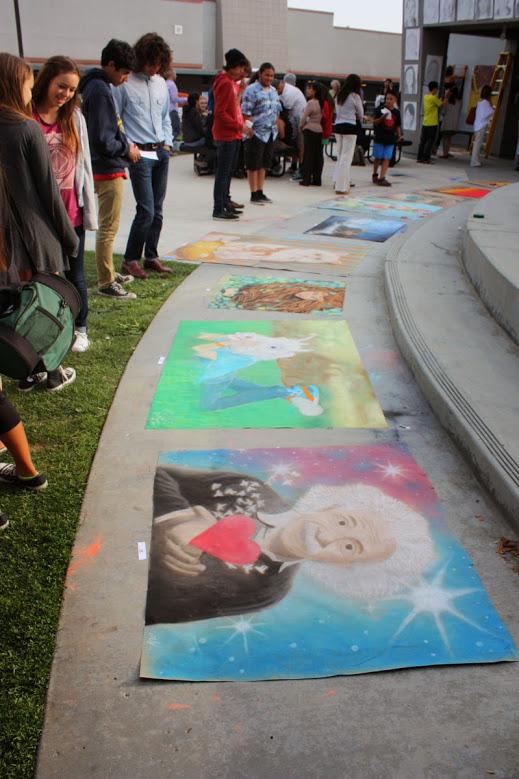 The event gave students the opportunity to display their remembrance of Prewitt and to display their own work for the community to see.
"As a school, we focus a lot on academics. Those things are rewarded, but art isn't always rewarded,"
Frazier said. "They don't get an official medal or anything here, but there is a sense of reward in having people seeing your art and saying things like, 'Wow, that's amazing.'"
Senior Tara Yanez has been taking art since her freshman year and bases a lot of her work off of photos she has taken in Sierra Leone. Even though she has been doing it for a while, she said she hasn't felt very confident in her art until this year.
"I'm just more inspired to do it," she said. "I've submitted work before, but more just because it was a requirement. This year I submitted more stuff, and I feel more confident and happy with my work."
She loves coming to the Art Show to see the different kinds of work her classmates submit.
"It's fun to see all the students' work and how much variety there is and all their different talents, because you don't get to see all of the other students' talents just from being in class," Yanez said.
……………………