Thousands of members of the Ventura community gathered in the Buena High School stadium this morning for a "celebration" of the life of DeAnza assistant principal and former Foothill teacher, Chris Prewitt. Approximately 2,200 people attended.
Prewitt died last Sunday after being hit by a car while jogging along Olivas Park Drive.
In honor of Prewitt's "infectious smile and positive spirit," those attending were asked to dress in casual clothing and treat the memorial as a "celebration of life."
The service began with opening remarks from VUSD Superintendent Trudy T. Arriaga. She shared the story of how Prewitt always stated that DeAnza was going to be the "best school ever" and how they had "the A-team."
The last words Arriaga heard Prewitt say were, "Some people say I spread too much sunshine. Let it shine!"
Madelyne Spivek, Prewitt's niece, then sang "Imagine" by John Lennon.
Hector Guerrero, Principal of DeAnza, boss, friend, and mentor to Prewitt, shared how Prewitt spread a sense of fun and adventure.
"Only Chris could get me to do an interpretive dance in front of my language arts and math staff to the 'Frozen' soundtrack," Guerrero said.
Next, Katelyn Dembowski, who Prewitt coached, said a few words. She shared how Prewitt would take a picture of the water polo team on the first day of the season each year and write "This is why I wake up at 5 a.m. every morning" on the top.
Dembowski said that the coaches who can write out plays are "dime a dozen," but the amazing coaches are, "the ones who get inside you and push you to greatness."
Doug Thaxton, Ben Clancy, Cameron Crouch, and Chris Stehle went on stage together to tribute Prewitt. Together, they had 71 years of collective friendship with Prewitt.
Chris was, "honest, genuine, completely authentic" and "didn't have an enemy in the world" Thaxton said.
"This is his legacy: love, life, adventure, forgiveness […] and now his legacy is our challenge; to live, to love, to adventure. And as difficult as it will be to forgive, Chris would want us to forgive."
………………………
Cameron Crouch, Prewitt's brother-in-law and photography teacher at Foothill, said that students admired both Prewitt's smile and personality.
"They [students] may not remember any specific lesson plans, but they will remember him standing at his door, firmly shaking their hands and telling them good morning," Crouch said.
Choyce and Amy Prewitt, Prewitt's father and sister, respectively, also shared thoughts about Prewitt's passing.
"My heart is heavy with the loss of my son […] I'll tell you this, he wouldn't want anyone to be sad on this occasion today," Choyce Prewitt said.
Todd Spivek, Prewitt's brother-in-law, called Prewitt the "vice-president of fun and adventure." and said that Prewitt pushed him out of his comfort zone.
"Before I knew it, I was on top of Mt. Shasta with an ice ax in my hand, sliding down giant boulders in the Sespe wilderness, watching the sunset from the top of the Vatican, and riding a drift boat down the snake river," Spivek said.
Erin and Isabella Prewitt, Prewitt's wife and daughter, came on stage last. Erin Prewitt first acknowledged the community's grief, and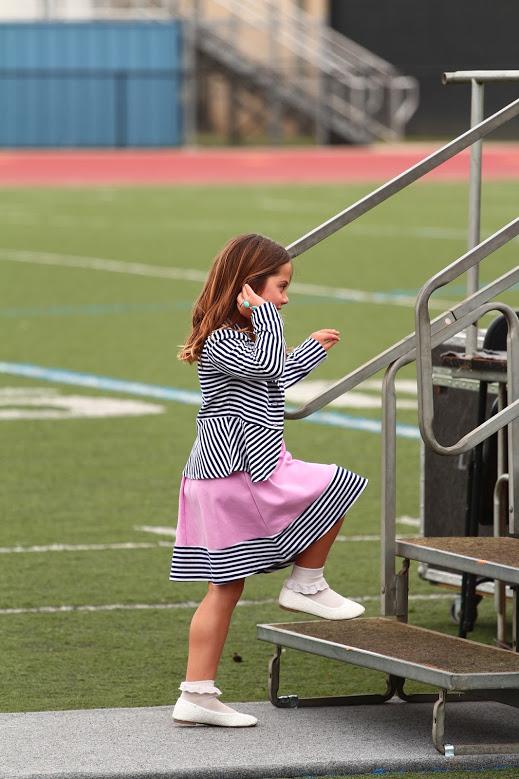 then gave everyone a "Call to Action" from Prewitt to be adventurous and "positive changes" in our lives.
"Where have you stopped saying 'yes?' On behalf of Chris I say, 'jump in,'" Erin said. "He would want each of us to live those great adventures for him."
In closing, Prewitt's catchphrase, "make it a great day," was shared with the community, and everyone was encouraged to follow his example of kindness, connection, and adventure.
After the memorial, people gathered on the field to share memories and thoughts about Prewitt.
Prewitt's sister, Amy Prewitt, said that she was touched by the number of people who attended the memorial service.
"It's just very touching," she said. "My brother truly was an extraordinary man."
Foothill alumni Sabrina Partridge who currently attends UCLA came home for the weekend so that she could attend Prewitt's memorial.
"I wanted to pay my respects to him and his family in some way and I also felt it was a good time to be with the community. I'm so glad I went because both the service and the amazing turnout were incredibly moving," she said.
Brianna Maxwell, who met Prewitt through Schools For Salone, flew from her home in Kansas City to California to be at the memorial. She said that, as a parent, she has always admired Prewitt's devotion to his family.
"I never saw him less than incredibly proud of Izzy and I never saw him less than unbelievably devoted to Erin," Maxwell said. "He took so much joy from his family."
Foothill principal Joe Bova said that he admired Prewitt's positive attitude and never saw problems as obstacles, despite his hearing disability.
"Even today [at the memorial] they didn't talk about his disability that much because it wasn't a problem for him," Bova said. "I think he even turned his disability into a strength […] he let it help him connect with people on a greater level than most people."
Foothill senior Brianna Houska said that Prewitt's death has inspired her to extend a hand of kindness whenever possible.
"I am definitely going to try to go out of my way to talk to people I haven't talked to and to go on more adventures," she said. "I want to be the person that Prewitt was to every person he met."
Former Teacher Chris Prewitt's Memorial from The Foothill Dragon Press on Vimeo.