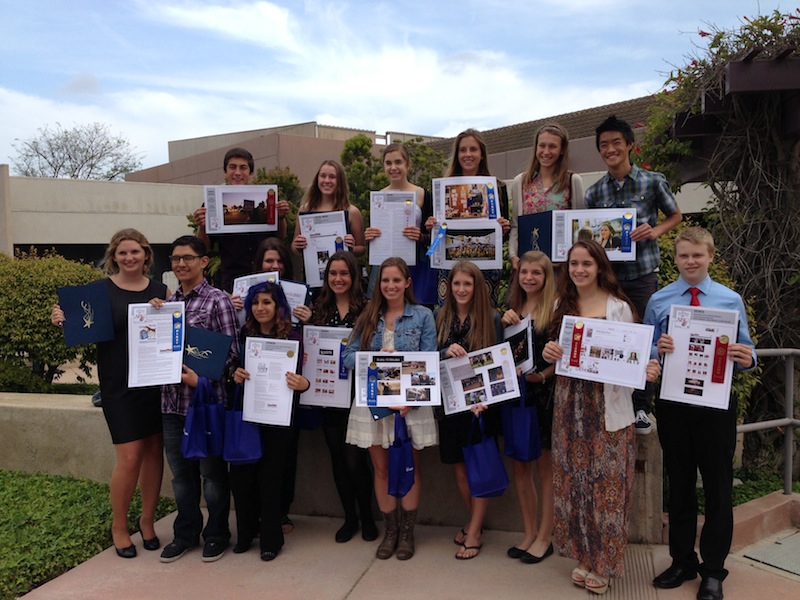 Motivated young journalists, printed or published online, gathered on the patio outside of the Ventura County Star office yesterday evening to receive awards for the best news, features, sports and other types of writing.
Out of the 18 high schools within the Ventura Unified School District that submitted work, those attending claimed their awards for excellence in journalism.
VC Star editor John Moore was determined to organize this event so that high school journalists could continue to have an understanding of the press and its role in society. He voiced a concern for the protection of free press which is being threatened by school officials and the Hazelwood School District vs. Kuhlmeier case.
"Your time as journalists now gives you an appreciation for the press," said Moore.
After explaining the importance of young journalists, Moore announced the first, second, and third place winners for each of the 17 categories.
Foothill took home at least one award from 12 of the 16 eligible categories, totaling at 18, and also achieving the highest recognition by winning first place in the General Excellence online category.
"I'm just happy with the whole year. I mean, it's never been a bad thing to win," said former Editor in Chief senior Rachel Crane.
Crane, teamed with junior Allison Clark, the new Editor in Chief, received first place in the Series or Project category for the "AB1575: The Cost of Free Education" series. Second place was won by Foothill Dragon Press reporters juniors Glenda Marshall and Anna Cogswell and sophomore Lucas Wiltjer for their Every 15 Minutes coverage.
"Excellent use of quotes that captured the emotions of the events […] Some very strong writing," said one judge of the second place package.
The Dragon Press received an honorable mention for opinion writing by sophomore Canela Lopez, and first place for a piece by senior Otto Tielmans. Junior Aysen Tan won both first and second place for his news photos and third place for a feature photo. Senior Bethany Fankhauser won the first place slot for her feature photo.
As for innovation on the site this year, junior Natalie Smith took first place for Social Media, while senior Felicia Perez and junior Aysen Tan took second for their creation of a Dragon Press Pinterest account.
"While [The Foothill Dragon Press] falls short in providing a mobile-friendly viewing experience, they more than make up for it in social media. Not only can readers easily find them on Twitter, Facebook, and Vimeo, but they'll find frequently updated content," said one judge referring to the overall excellence.