Drug-sniffing dogs return to search four classrooms; two students pulled out of class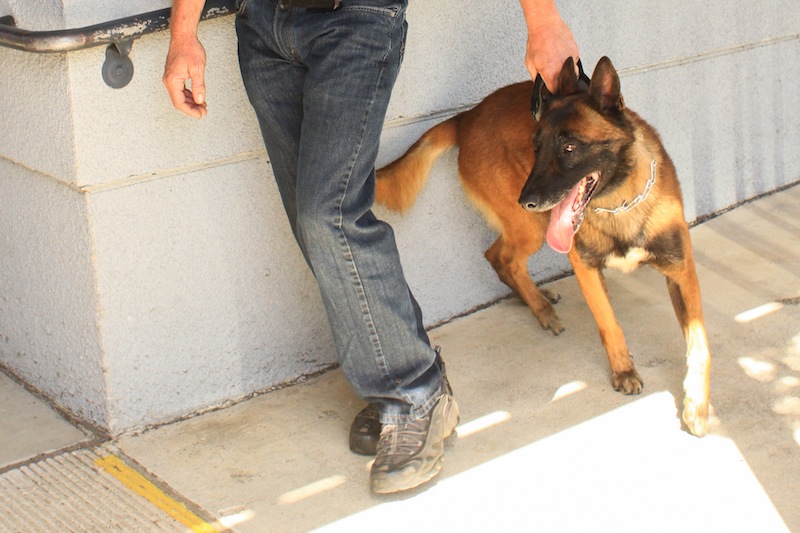 Foothill classrooms were searched by drug-sniffing dogs for the second time this school year during third period today. Four classrooms were randomly selected to be searched, down from the six chosen last month.
Honors World History and AP Government & Economics teacher Cherie Eulau's classroom was one of the four classrooms searched, and she said that she feels as though it was an interruption of learning time.
"I thought it was disruptive. Fortunately, they were not taking a test– we were actually transitioning to the next activity, but it did mean that I didn't go over the homework because we did not have time," she said. "By the time we were out of class and then by the time we came back in you don't just pick up from where you left off."
Other classes that were searched included English and psychology teacher Melanie Lindsey, physics and chemistry teacher John Weldele, and English and drama teacher Karen Rodrigues.
Weldele said he found his students preoccupied and not focused when returning to class.
"They reacted fine. It is a big ordeal so they were distracted when they came back into class," he said.
Two students were pulled out of their classes during the search. One student, who did not want to be named, said she was investigated and found to have Benadryl, an over-the-counter allergy medication, which is not allowed at school.
Sophomore Peter Kwon was the other student searched and said that he was called out of class when the dogs falsely alerted his bag due to a calculator. He was then called to the office and was asked about his belongings.
Kwon said that he felt nervous, but not as though he was being accused because they released him back to class after searching his bag.
"If the dog that sniffed my backpack was suspicious then it is good that they checked it and reassessed and found out that there was nothing in my backpack," he said.
Eulau said she believes that the dogs do sometimes find what they are searching for, but like in Kwon's case, they do falsely alert bags.
"The dogs falsely alert quite a bit and for quite a few reasons," she said.
Eulau said she does not agree with the use of the dogs, but she does have an understanding of the reasoning for them.
"I don't think it is an overall win, but I can see why the school board made a policy because it is certainly going to deter people from bringing not just drugs but weapons to school as well," Eulau said.