Local students wow crowd "Under the Big Top" at 12th annual Festival of Talent (38 photos)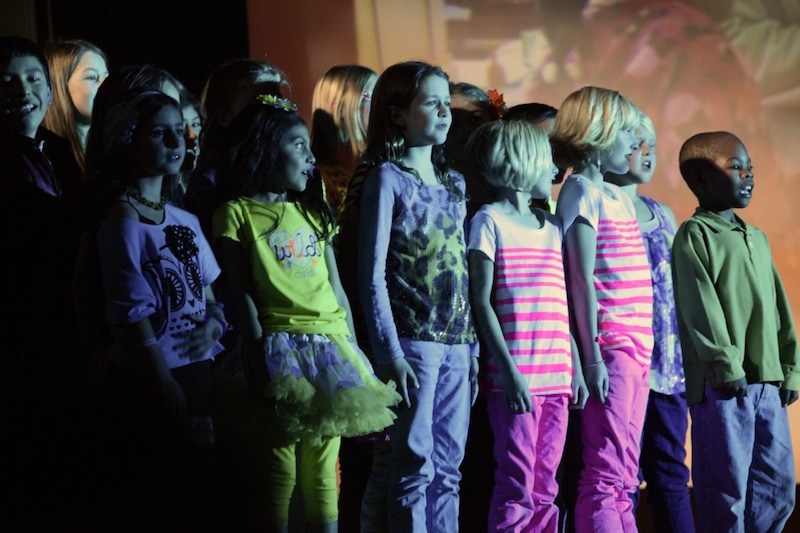 As the lights dimmed and the crowd fell silent, the action backstage was just getting started at the 12th annual Festival of Talent. VUSD students of all ages milled about, squeezing in last minute rehearsals and pumping each other up for their performances.
The students' anxiety and excitement was an expected reaction to the packed auditorium at Ventura High School awaiting them on the other side of the curtain.
The audience was anxious to see their friends, family, and neighbors perform, and by attending the event they helped to raise money for Ventura Education Partnership's grant program, which awards grants to Ventura Unified School District teachers for supplemental programs and activities.
Some of the grant money went directly back to the arts, and Caleb Bigler, a Foothill junior who performed in the show said the festival also helps foster the arts by exposing kids to them.
"I think that there's plenty of kids in that audience seeing us on stage thinking, 'Wow, I want to do that,' or 'I want to be a part of it,' or 'I want to do that when I grow up,'" he said.
This year's show was themed "Under the Big Top" and included clowns and circus performers as part of the pre-show and opening acts.
Even though the talent show was the main event, it wasn't the only thing going on that night. There was also a silent auction of animal masks made by VUSD students and a pasta dinner beforehand.
The pasta dinner raised money for the Ventura Unified Leadership Council. The funds went towards a leadership camp for students called Camp Ramah, which Foothill's Associated Student Body goes to every year.
"VULC raises money so students don't have to carry the burden themselves, especially with the new ACLU law that says students can't pay for anything," Ventura High School junior and ASB president-elect Sasha Shapiro said.
The pre-show also featured student bands, including Sweet and Low Band, who had never performed in front of an audience before. Cabrillo Middle School eighth grader and Sweet and Low Band drummer Kenny Kuhnhofer said his favorite part of performing was "watching everyone cheer for us."
Like Kuhnhofer, many performers enjoyed having the energy of the audience right in front of them.
"I'm not nervous. I eat it up when I'm onstage," said Alex Chavez, an eighth grader at Balboa Middle School who danced at the event.
A large amount of the students auditioned separately but were combined with other students in new acts, organized by director Brian McDonald of the Rubicon Theatre Company. This meant most of the students had only been preparing for about a month, and in some cases even less time. Even so, the performers were confident with their acts.
Such was the case with Chavez and Destiny Martinez, a Cabrillo Middle School sixth grader. These two dancers were paired up by McDonald after they had auditioned separately.
Even with little time to rehearse and a little pre-performance anxiety, Chavez and Martinez said they felt "excited" and "pumped" before their performance, respectively.
Other performers backstage relaxed, squeezed in last-minute rehearsals, and entertained others.
One such entertainer, Citrus Glen fifth grader Emmie Johnston, showed off her array of accents to a small audience before performing "Wouldn't It Be Loverly" from "My Fair Lady," an experience she described as "nerve-wracking," but did say it was exciting "to sing in front of everybody you can see."
Not everyone was carefree before their act, though. Matthew Goodkin-Gold, a Ventura High School junior who sang with the band The Special Guests, had been sick before the show.
"The last two days I haven't been talking to keep my voice up to speed until I [performed]," he said.
It was the biggest audience the band had ever performed for and Goodkin-Gold described the crowd as "a great energy."
Performing was also a rush for Bigler.
"My heart was beating really, really fast, but it's a great feeling when you've accomplished it and you're all done. It's really cool," he said.
Blake Silva, a Foothill junior who performed the finale, described his experience with the crowd as "unreal." During the final act, he sang Phillip Phillip's "Home" with the entire cast of the Festival of Talent, an uplifting performance that got the whole crowd involved and clapping along.
"I felt really pressured to do really well since I was closing the show, but once it started it became more fun. It was really fun," Silva said.
Silva's quote holds true for many of the Festival of Talent performers, who had the time of their lives doing what they love onstage, using their talents in the arts to promote them in the classroom.