Dragon Press named All-American, earns five marks of distinction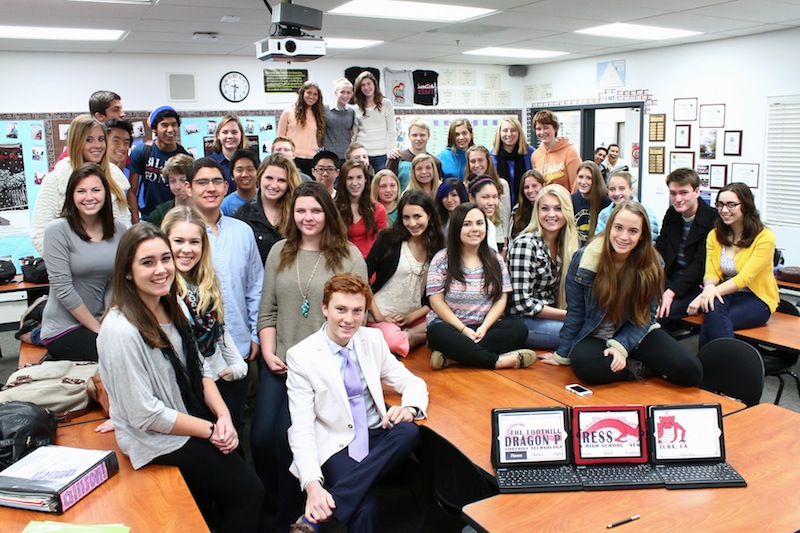 For the third year in a row, The National Scholastic Press Association has recognized the Foothill Dragon Press as an All-American publication, one of the organization's most prestigious titles.
In order to be rated All-American, a publication must score 3,400 out of 4,300 possible points and earn at least four out of a possible five marks of distinction. The Foothill Dragon Press earned five marks of distinction and was given a final score of 3,850, improving from their previous score of 3,750.
"I'm very proud of our achievement this year to get All-American status. It's something that just shows that we're doing a solid job in scholastic journalism," Dragon Press advisor Melissa Wantz said.
Vincent F. Filak, a professor of journalism at the University of Wisconsin, critiqued the site under five different categories: coverage and content, interactivity and community, breaking news, design and navigation, and rich media.
"You have some incredibly good writing on this site. [You had] great coverage of things like the election, the referenda, the 'Every 15 minutes' and more," Filak said. "All in all, there was a lot to like in here."
The Dragon Press received a perfect score in the interactivity and community category.
"You not only use these media [websites] to share information via your site, but you have established your own use of these tools to promote information and interact with readers," Filak said.
The year's staff is led by Editor-in-Chief Rachel Crane.
"I'm really proud of our staff," said Crane. "We have the biggest staff [we've ever had] this year, and every single staff member tries their hardest and puts all of their effort into their articles."
Features editor Kienna Kulzer said that the recognition was correlated to the motivation of the staff.
"Our staff is really hard working, and you can tell that people are really passionate about working on this publication because it's more than just an elective, it's something [we] really want to do," Kulzer said.
The entire staff is glad with what the publication has achieved.
"We have such a big class this year, and I'm just glad that we can all work together and get things done in order to have a pretty rocking, awesome site," multimedia editor Aysen Tan said.
Wantz has been the advisor for the Foothill Dragon Press since its founding four years ago and is proud of the class' accomplishment.
"To manage that with the work flow of being an online newspaper, and publishing 24/7, it's a lot of moving parts," Wantz said. "So I'm really proud that we are able to keep our achievement at the highest level nationally, while managing the biggest staff we've ever had."
Wantz says that she is always pessimistic about the results but is very pleased with the outcome each year.
"I always have this sense of it's all going to go away and this is going to be the year that we really fail, but then we get a review like this where it's so positive that it's really just gratifying in a way that I hope never gets old, and I think it's the same for the staff every year," Wantz said.