Inspired bus drivers work with "Toy for Tots" program to collect gifts for children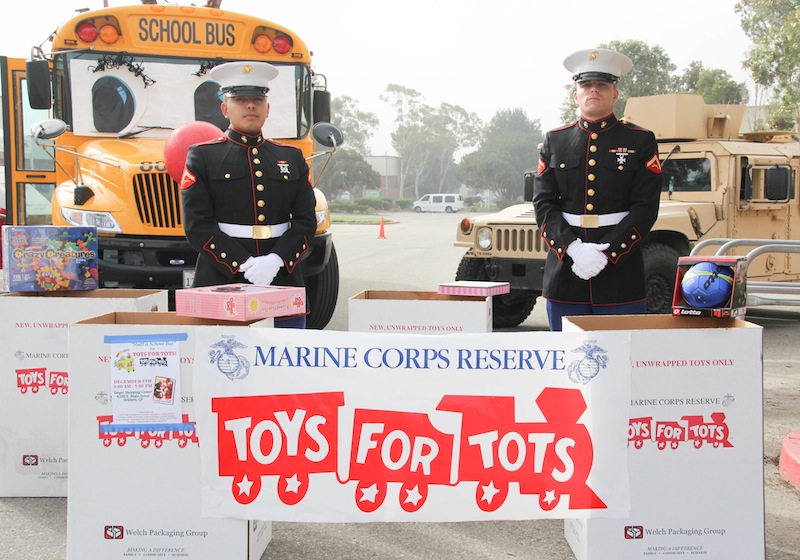 Volunteers and Marines stood in front of a big yellow school bus that sported a "Toys for Tots" logo on Saturday in hopes of reaching their goal of collecting 1800 toys for underpriveleged children.
The Toys for Tots program approved the request for adding Stuff-a-Bus in 2011 as the first school bus loaded with toys in Ventura County.
Headed by Robert Martinez and Cindy Lynch, Ventura County school bus drivers, the program lasted two days and met their goal of obtaining over 1800 toys last year.
Lynch got the idea to start Stuff-a-Bus when he learned that the Los Angeles School District had a similar program.
"And I thought, 'Why not do it to a school bus?'" said Lynch.
Lynch and Martinez went to the district's director of transportation to approve their motion. From there, Toys for Tots accepted their request and the program took off.
"[As Bus drivers], we are thrown basically in the middle of it all," said Stuff-a-Bus volunteer Janel Baughman.
As drivers, many of the volunteers are exposed to children's need for support and love during the holidays.
"It's uplifting, lifts your spirit-helps us get into the Christmas spirit," said Lynch.
The Marine Corps adopted the Toys for Tots program in 1948 and have contributed to the Stuff-a-Bus program over the past two years.
Between Oct. 1 and Dec. 15, the Marine Corps travel around to different organizations and assist with accepting and delivering the toys.
"I take great pride in throwing that [Toys for Tots] logo out there," said Marine Corps assistant coordinator Sergeant Fernando Aguirre.
Aguirre has had personal experience with delivering gifts to children, and he reflected that one experience has remained with him.
When Aguirre was stationed in Colorado, there was a mother who had terminal cancer and could not afford toys for her daughter. The Marine Corps delivered to this little girl on Christmas Eve. The young girl said she had never seen a man in uniform.
Following that Christmas, after the mother's passing, the young girl volunteered for the Toys for Tots program.
"It was one of those stories that stays in the heart," said Aguirre.