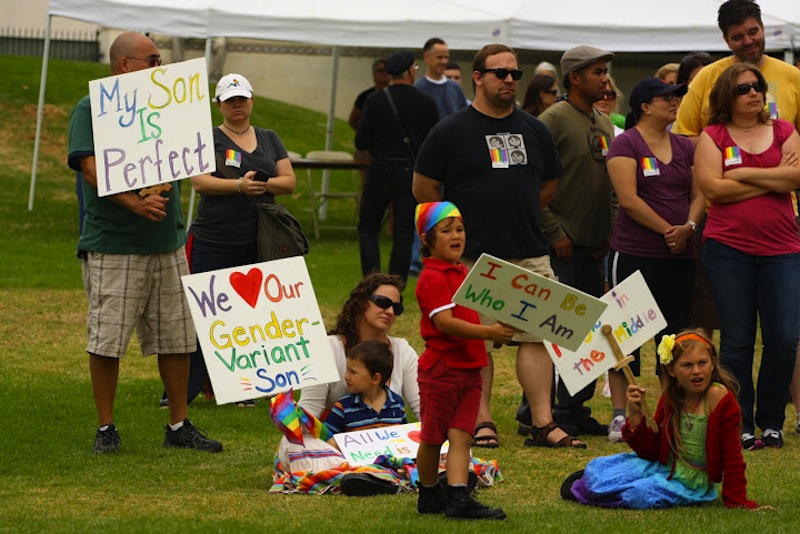 On Saturday, hundreds of people gathered at Mission Park for Ventura Pride, an LGBT-friendly event with live music, drag queen performances, and lemonade lounges. The event was created three years ago to promote equality and bring the community together.
About a dozen Foothill students, regardless of their sexual orientation, were there to support their friends, family, and the gay community.
Seniors Mimi Babb and Elizabeth Riddle, president and vice president of Foothill's Gay Straight Alliance (GSA) club, were also in attendance.
Babb said that GSA and Ventura Pride are important to the Foothill community because, "it shows you're not alone and there's people and organization and companies, especially at pride, that are supportive."
"Especially high school, there is going to be a lot of people there who are going to be really negative and really hurtful, so to have a place like that is really helpful to people who are struggling, and also to help people to understand," Babb said.
John Wilner, an active member of Ventura Pride, feels that Pride benefits not only the community at large, but Foothill students as well.
"It contributes to the community by enhancing people's cultural frame of reference and by providing wonderful, free, musical events and celebration," Wilner said.
Michael Dawson, like Wilner, is an active Ventura Pride member and sponsors Pride with his local business, Bite Bolt.
"Pride means bringing a community together that otherwise would be divided. With this festival we are trying to raise awareness, bring the community together and eventually put together some programs to help gays and lesbians, [and] transgender people in the area," Wilner said.
Dawson currently employs three Foothill graduates, two of whom are openly homosexual and active with Dawson in Ventura Pride.
"I think it's important to Foothill students, like it should be to everyone. It's all of us getting together on one planet and just trying to get by without killing each other," Dawson said.
"Pride means to me being comfortable and happy with who you are in yourself, and knowing where you came from and who got you to this point, especially in the gay community," Foothill alumnus Evan Skora said.
Alumnus Matt Zinik agreed.
"I feel at home in the gay community, you know, you express yourself, you dress the way you want, act the way you want and you help with allowing other people to be proud of themselves."
Editor's note: This caption of this article was modified at 10:29 p.m. on Tuesday, August 28 to more accurately represent those the advocates are supporting.
Credit: Josh Ren & Aysen Tan/The Foothill Dragon Press