Girls' tennis wins final match, heads to playoffs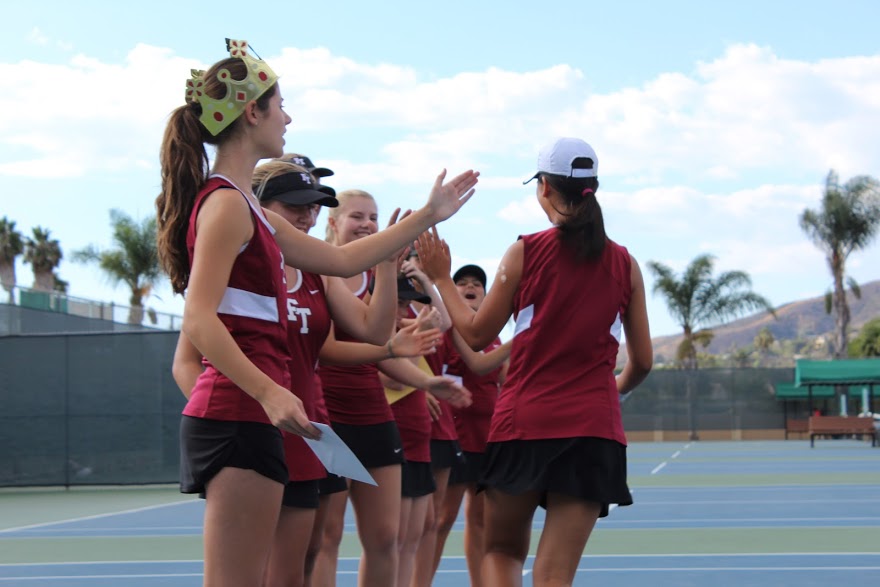 Keaton Dadigan
October 21, 2015
The Foothill girls' tennis team defeated Santa Clara High School 18-0 in their final home match of the season at Ventura College on Tuesday afternoon. With Tuesday's crucial win, Foothill advances to the playoffs
……………
The Foothill girls' tennis team defeated Santa Clara High School 18-0 in their final home match of the season at Ventura College on Tuesday afternoon. With Tuesday's crucial win, Foothill advances to the playoffs ranked second place, behind Thacher High School. The Dragons ended their regular season with a final record of 13-3 overall and 9-3 in league.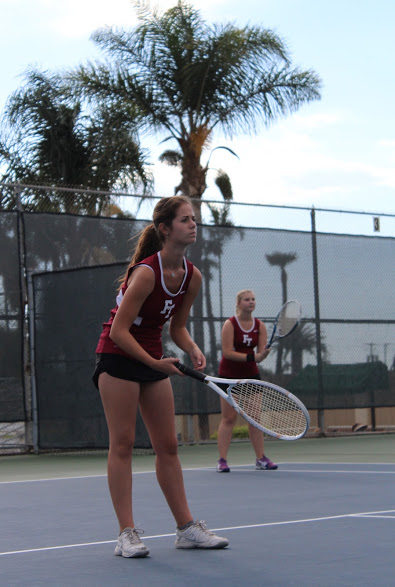 According to fans at the match, the conditions at Ventura College were considered "perfect." The weather averaged 76 degrees, a much cooler atmosphere compared to games earlier in the season that were in the upper 90s.
Freshman Erin Gaynor started off the afternoon with a "sweep" in her matches, winning all three sets. In her first set she won with a final score of 6-1 and went on to win her next two 6-0.
Sophomore Summer Khouvilay played singles in the place of usual single player Enkela Qoshlli, who had to sit out due to injuries.
"There is a lot of running involved in singles," Summer Khouvilay said. "We want to keep Enkela healthy for the playoffs so we are resting her because of her injury."
Qoshlli obtained a sciatic nerve injury in a game last week and has been pulled from her normal singles spot to reduce her running. Coach Brad McClain called it "a very easy decision."
"I'm trying to keep the wear and tear on her body to a minimal," McClain said. "However, come playoffs in a few weeks, Summer will be going back to doubles with her sister and Enkela will play singles. Enkela is one of my number one singles players and her body needs all the rest it can get."
The last minute lineup change did not affect the Dragons however. Summer Khouvilay "swept" her singles match and Qoshlli and her partner, sophomore Sherlyn Khouvilay, also "swept" their doubles sets.
Junior Laina Feath completed the trend by sweeping her sets as well.  
In doubles, partners senior Karina Cole and junior Emma Kolesnik and partners sophomore Katlyn Urick and senior Nina Urban went undefeated for the afternoon, with both teams finishing with a final score of 3-0.
Cole thought that she and her partner played well.
"It started off a little bit rocky, but as the day progressed we worked together better and became more coordinated," Cole said. "I really enjoy playing Santa Clara."
[soundcloud url="https://api.soundcloud.com/tracks/229364210″ params="color=ff5500&auto_play=false&hide_related=false&show_comments=true&show_user=true&show_reposts=false" width="100%" height="166″ iframe="true" /]
The Dragons look to enter the playoffs in a few weeks well rested and a strong team.
"Our attention now shifts to the playoffs," McClain said.
High school tennis playoffs are mostly determined by the team's regular season overall record and a coin toss. Their record determines who they will play and the coin toss determines if they are the home or away team.
"Sometimes it's the luck of the draw who we will play first and where but I have confidence in my team going deep into the playoffs," McClain said.
"There always is a little bit of luck involved but I just keep my fingers crossed that my team will stay healthy the next few weeks and I think we will be ready to give it our all when that first playoff game comes around."
Background Photo Credit: Carrie Coonan/The Foothill Dragon Press