The underground sport of mountain biking
Ventura is a town better known for surfing and its beach activities, yet it also contains a thriving mountain biking community. In communities of people that value the outdoors and adventure, mountain biking has emerged as a small but important sport, particularly within Foothill Technology High School (Foothill Tech) because of the mountain bike club and motivated members of the community that are dedicated to mountain biking.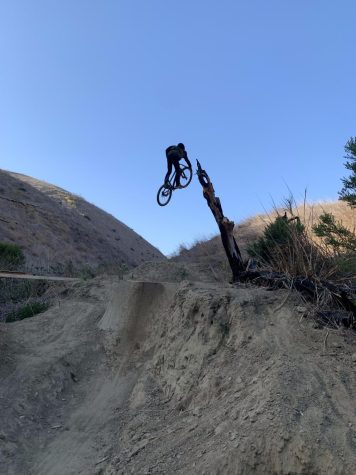 Foothill Tech is located in central Ventura and has many students that ride every day admiring Ventura's natural beauty. With its terrain, Ventura provides a surprising amount of hidden jumps and trails. Students at Foothill Tech have the opportunity to explore these trails, and many of them participate in the construction of the trails. 
One of the reasons why mountain biking has gained such popularity in Ventura is the accessibility and abundance of trails. There is a variety of trails, ranging from beginner-friendly paths to more technical and demanding trails and jump lines. 
Foothill Tech has recognized the significance of mountain biking in Ventura by offering a mountain biking club where students come together to ride, exchange tips, and explore the terrain. Aidan Franke '23, who is the co-president of the mountain bike club at Foothill Tech spoke on participating in the club by saying, "It has allowed me to make new friends that also ride bikes and I have had the chance to help out beginners, and teach them all the things I know." 
Mountain biking provides benefits for the students of Foothill Tech, both physically and mentally. Merric Bayless '24, a mountain bike club member said, "Mountain biking has been a super fun way to hang out with my friends while trying new tricks, crashing on big jumps, but in the end just having a super fun time outdoors."
Franke spoke on some of the mental benefits of mountain biking, specifically during the COVID-19 pandemic, "When the original COVID lock-down hit, the world shut down but I was still able to go out and ride my bike every day. I believe that it helped me a lot because it allowed me to go outside every day and made me more adventurous." 
While mountain biking may be a smaller sport in Ventura, it still holds great importance within Foothill Tech. The combination of Ventura's natural beauty, the accessibility of trails and the student's commitment to the sport have paved the way for it to flourish. Ventura's mountain biking scene serves as an example of how a small sport can have a great impact on a small community.