Boys' soccer closes out the season with a tragic loss against Diamond Ranch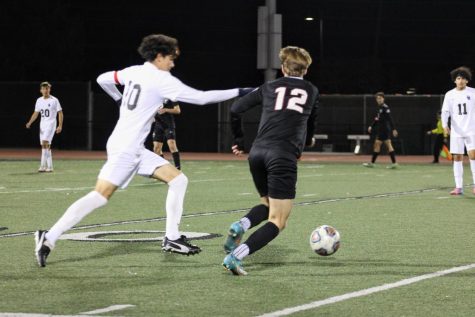 On the gloomy evening of Feb. 9 2023, Foothill Technology High School (Foothill Tech) boys' soccer entered their first round of California Interscholastic Federation (CIF) playoffs in a home game against Diamond Ranch High School (Diamond Ranch) coming off of their Tri-Valley league championship. 
Diamond Ranch started with the ball and quickly set the pace for the first half. Both teams were aggressive, resulting in several free kicks and multiple cards. 
Mathues Gamble '24 and Merric Bayless '24 were an aggressive combo, maneuvering around the other team's defense on multiple occasions. The communication from the midfielders stayed strong, and Diego Vega '24 kept the flow and pace of the game in check, controlling the positioning of his team.
As the time for the first half ticked away, both teams became increasingly desperate to score. A breakaway from Diamond Ranch was blocked by defender Cristian Gramada '23, who controlled the ball and reset the field.  
The score remained tied at 0-0 at the beginning of the second half, but Foothill Tech's determination was evident by a shot on goal by Nico Flores '24 within the first minute. Diamond Ranch responded with equal intensity and had several attempts on goal from various corners and free kicks, but none found the net. This was the case until halfway through the second half, when Diamond Ranch broke away from Foothill Tech's back line and scored the first goal of the game.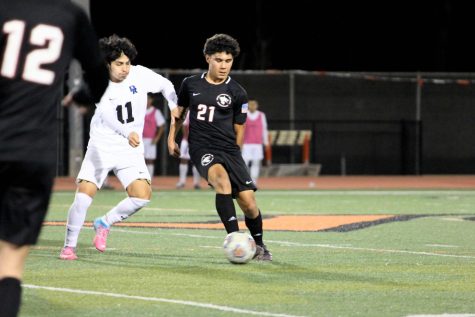 Not long after, a foul from Diamond Ranch allowed Foothill Tech a free kick. Powell Saucedo '23 sent into the box and Gamble headed it past the goalkeeper and into the net. The crowd cheered as Foothill Tech ran back to their side celebrating with each other, the energy palpable from the stands. 
"We are all brothers and we are all comfortable with each other. We are not individual players; we look out for each other," agreed Gamble and Vega when asked about how the community aspect of soccer translates into play.
With a mere ten minutes remaining, Diamond Ranch capitalized off of a miscommunication on Foothill Tech's half leading to their second goal of the night. Trailing once again, Foothill Tech upped their offensive efforts and attempted several shots on goal. 
Despite the Dragons' efforts, in the last two minutes Diamond Ranch scored their final goal, securing their victory 3-1. As the players left the field, some for the last time, they were disappointed but grateful for the season as a whole. Coach Luis Sanchez reflected on the team's growth and season as a whole as he stated, "I'm very proud of them regardless of the outcome."