Preparing for the future: Economics class Seniors experience mock job interviews
As Foothill Technology High School's (Foothill Tech) Class of '22 prepare to graduate in June, they are off to a new beginning to start their future careers. However, college is not the only thing waiting for these students.
In his senior Economics class, Foothill Tech teacher Dan FitzPatrick, with help from Dianne Fergus, had his class explore the different career options available to them after senior year. Students were encouraged to consider the military, college, jobs and other options after high school, questioning whether the cost of a 4-year college is worth it. 
On May 27, students were given mock job interviews with professionals. Before this, students received many visits from people in certain professions, including talks about realty and buying homes. Students explored entrepreneurship by creating a business and pitching it to the class. They also had a member of the military come and speak.
Bryson Blevins '22 spoke on the entrepreneurship activity, saying, "we all had to make our own company and pitched the idea just like they do in Shark Tank," later mentioning, "we made a really good presentation of our product and I have to say that was my favorite."
On the day of the mock interviews, students were put in groups with one to two professionals at each table. Students previously built resumes which were then looked at to help them acquire a professional job. This allowed the seniors to get feedback on their resume and receive helpful information for future interviews and building a resume.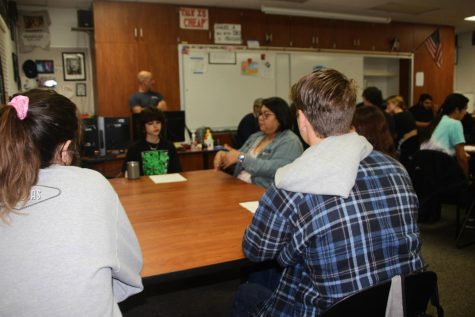 Melissa Lalum, a senior content manager at LinkedIn who came to help students with their job resumes, explained how a common mistake people can make in their interview "is not preparing fully before you come in." Lalum also mentioned that "what I look for when I'm interviewing someone is evidence and examples."
Blevins explained how Lalum "really helped me with my resume," and how she was "making it the best that it can." With help on their resumes, students can now feel more confident when applying for jobs.
Lalum later explained that you should create a resume "that's less about what you feel about something and more about what you have done," and that you should "highlight what you have done."
Lalum explains reassuringly that in an interview, "it's a time that you're nervous, so if you've prepared, you don't need to be nervous, you want to be yourself." She mentions how ¨I want to know if you are that right fit and even better if you are that add that's going to take us to that level." Lalum also reassured the nerves commonly associated with job interviews by saying that "it's being willing to smile, being willing to laugh and relax" and that "you can show a little bit of vulnerability".
As the uncertain future looms over Foothill Tech upperclassmen, each helping hand encourages students take a steady step towards their future and prepares them for the end of senior year.