ASB 'Winter Week' brings Holiday Spirit to the Foothill community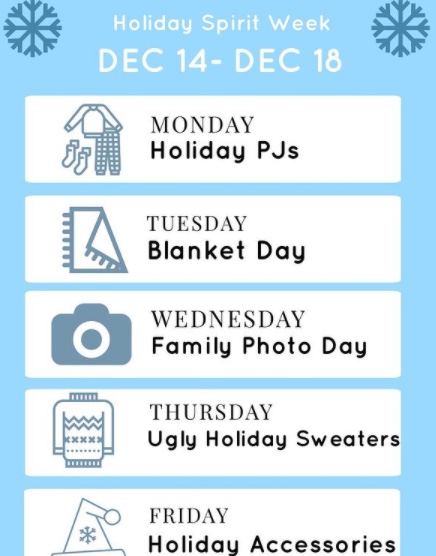 During the week of Dec. 14, 2020 the Foothill Technology High School (Foothill Tech) Associated Student Body (ASB), held the second Foothill Tech spirit week of the year. The winter themed spirit week was a way for students and teachers alike to connect and create a sense of normalcy during these abnormal times.
In addition, on Dec. 16, ASB advertised a special opportunity for Foothill Tech seniors to receive one free Starbucks drink from either the Starbucks at 5101 Telegraph Rd. or 1945 S Victoria Ave, Ventura CA. Seniors were able to receive one free drink through the drive-in window from 10 a.m. to 1 p.m.. 
Students were encouraged to attend their zoom classes with the theme assigned for that day and the ASB advertised the Instagram hashtag, #fthswinterweek20, where students could post pictures of themselves for each themed day.
"These spirit weeks are especially important now that everything is online," explained ASB member Marina Wolowicz '22. 
"Seeing people send in pictures and participate in spirit weeks is really fun and I think it helps our whole school feel more connected," continued Wolowicz.
The winter themed days were as follows: Monday – Holiday PJ day, Tuesday – Blanket day, Wednesday – Family photo day, Thursday – Ugly holiday sweaters and Friday – Holiday accessories. 
Foothill Tech ASB, "always [tries] to make the days as inclusive as possible making it easy for everyone to participate," stated Wolowicz.