Athletes have played a pivotal roll in the social justice movement of 2020
Colin Kapernick, Kenny Stills, Lebron James, Bradley Beal, Natasha Cloud, Maya Moore, Naomi Osaka. These athletes are all superstars in their respective sports, but even more than that, they are advocates for equality and justice. With the National Basketball Association (NBA) Finals looming, the US Open's conclusion, opening week of the National Football League (NFL) in the books and the Major League Baseball (MLB) season in full swing, these athletes' names have graced countless headlines in recent media. Typically these headlines would garner attention for significant athletic achievements or events, but lately, that has not been the case. Athletes are asking the public to shift their attention to the work they have done in the world of activism, social justice and their leading roles in the Black Lives Matter Movement of 2020. 
Athletes using their platform to amplify the voices of the people is nothing new. Bill Russell, the NBA's most successful basketball player of all time and the first black coach in American professional sports, participated in the 1963 march on Washington and in his lifetime has endured endless racial discrimination and hardships.
Muhammed Ali and Kareem Abdul-Jabaar, both black-converted Muslim athletes, were put through both racial and religious discrimination during their careers; yet they were two of the most influential athletes of the 20th century. among people of all races and religions. Ali and Abdul-Jabaar redefined what it meant to be a black athlete and even a black man in America.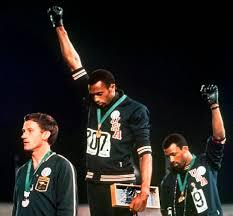 Perhaps the most recognizable instance of racial activism in professional sports is 200-meter champions Tommie Smith and John Carlos' "Black Power" salute in the 1968 Olympic Games. While today this event has been celebrated as one of the most powerful moments in sports history, at the time of the ceremony, they were stripped of their medals and forced to leave the games.
Fast forward 50 years and these athletes' messages are being carried on by athletes all over the country.
Colin Kaepernick went from being a Super Bowl quarterback for the San Francisco 49ers to a controversial household name after sitting down for the national anthem in a 2016 preseason game. In the post-game press conference, Kaepernick stated, "I am not going to stand up to show pride in a flag for a country that oppresses black people and people of color. To me, this is bigger than football and it would be selfish on my part to look the other way. There are bodies in the street and people getting paid leave and getting away with murder." 
His refusal to stand for the anthem was met with a plethora of various criticism, with many calling it unpatriotic and disrespectful to the military and the flag. President Donald Trump said of players who kneel, "maybe you shouldn't be in the country" and suggested that NFL owners should cut team members participating in the demonstration, saying "get that son of a b—- off the field right now, out, he's fired."
Without the President's support, Kaepernick was supported by his teammates and coaches, but was released following the season for not fitting the 49ers scheme. Today, he is a renowned name in the world of activism in the sports industry and has completed his "Million Dollar Pledge" in which he donated a total of 1 million dollars to various organizations dedicated to funding and protecting minority communities. 
Even four years after his career's end, Kaepernick's legacy is very much alive in the NFL, where players like Kenny Stills, Patrick Mahomes, and Deshaun Watson have continued his work.
The biggest conflict with activism in the NFL has been the clashing between the league office and the players. Kneeling was initially banned by the league which was met with claims from Kaepernick and fellow activist Eric Reid that they were being ousted from the league.
In a recent interview with former NFL player Emmanuel Acho, commissioner Roger Goodell said, "I wish we had listened earlier" and expressed his remorse for not understanding and supporting the message that Kaepernick and many others were trying to convey.
In contrast to the NFL, the NBA has shown full support of player activism since the beginning.
The NBA's continuation of the 2020 season has showcased the most organized and unified demonstrations of activism in the history of professional sports.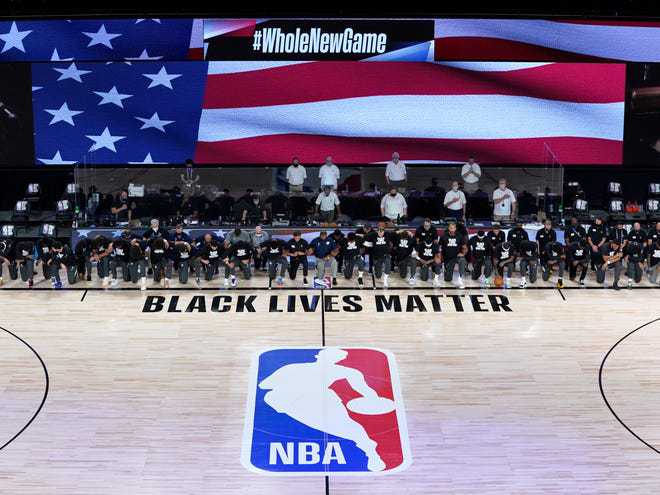 The players have kept the focus on a message broader than basketball, using interviews, footwear and even the backs of their jerseys as a way to bring attention to the movement. However, even the NBA's demonstrations have had outliers.
Miami Heat center Myers Leonard stood during the anthem. After the game, he clarified that he supports the movement but is part of a military family and will always stand for the flag. Orlando Magic forward Jonathan Isaac refused to kneel or wear a t-shirt, saying "I don't think that kneeling or putting on a T-shirt for me, personally, is the answer." 
Following the police shooting of Jacob Blake in Kenosha, Wisconsin on Aug. 23, the players decided they needed to take more drastic measures in order to garner attention to their cause. 
Prior to their first-round playoff game, the Milwaukee Bucks made a team decision to boycott their matchup against the Orlando Magic in direct protest of the shooting. 
The Rockets, Thunder, Lakers and Trail Blazers all quickly came to the same decision, and all playoff games were soon halted. This immediate cancellation of an entire day of playoff games was unprecedented and grabbed the attention of the entire country, basketball fan or not.
Criticism of the boycott was quickly voiced by many, including top White House official Marc Short, who stated that "it's absurd, it's silly." Senior advisor Jared Kushner said the boycott wouldn't amount to "actual action that's going to solve the problem." 
It appears the Bucks would disagree, as the team organized a discussion with Wisconsin Lieutenant Governor Mandela Barnes and eventually convinced the state to begin to form new legislation that would address police reform.
LeBron James came under fire by the Los Angeles County Sheriff Alex Villanueva who stated that "we need to appreciate that respect for life goes across professions, across races, creeds and I'd like to see LeBron James step up to the plate."
Even outside the NBA bubble, their counterparts in the Women's National Basketball Association (WNBA) are having a tremendous impact on their communities. 
WNBA superstar Maya Moore has taken the past two seasons off to focus on freeing her now husband Jonathan Irons, who was proven wrongfully convicted for a 1998 shooting, from his fifty year prison sentence. 
While the majority of activism in sports has been entire teams showing solidarity with one another, tennis star Naomi Osaka has been advocating as an individual athlete. The two-time US Open champion made sure her recent run to the Finals included messages regarding racial injustice in America. To each of her seven games, she wore a facemask with a victim's name on it. Philando Castile, Trayvon Martin, Ahmaud Arbery, George Floyd, Breonna Taylor and Elijah McClain were all names that were included in this silent protest.
While professional athletes are the ones with a high-profile platform to really advocate for change, college and high school athletes around the country have also contributed their voice to the campaign for social justice. 
When asked how she feels about protests and activism in sports, Foothill Technology High School (Foothill Tech) student and soccer player Bryce Hickerson '23 says that she "supports kneeling for the anthem because I think it isn't against the people fighting for our country but is bringing attention to the fact that our country only truly cares about certain people or groups."
Volleyball player Tyler Jorden 23' stated, "I believe all Americans are entitled to their first amendment rights. Professional athletes, however, are paid entertainers, not politicians. They have a power of persuasion when they use their platform. People should always do their own research when presented with any issue." 
Varsity basketball player Brian Holloway '21 says, "throughout my time playing high school basketball at Foothill I can say that it's always felt like a safe and welcoming environment. The great thing about sports is how it brings together people from all different backgrounds to share the same love of the game. I think the NBA, WNBA, and MLB have done a great job of using their platform to spread awareness to the social justice issues our country is facing."
While some believe activism in sports is an effective way to show support and bring attention to the Black Lives Matter movement, others believe sports are for competition and entertainment only and have no room for activism or politics. The question in the end, is whether or not it will lead to change in America.