Setting high standards for the new season, girls' volleyball brings home a strong win
On the evening of Aug. 21, girls' volleyball filled their home gym, Cabrillo Middle School, with a crowd of energetic fans. This wasn't any old game; this was the first home game on the first day of the 2019-2020 school year. The win against Rio Mesa High School sets the tone for the rest of the volleyball season, and bumps their record to 1-0. Having taken the match in three straight games should provide the team with crucial momentum going into the rest of the season.
The match was kicked off with a strong server from Rio Mesa, prompting a slow start from the Dragons. Although they initially struggled to keep up, the Dragons showed resilience and finally gained a small lead of 12-11 which only grew as the game went on.
Nicole Najera '20 mentioned that they "started out a little bit nervous but then eventually we got back into it."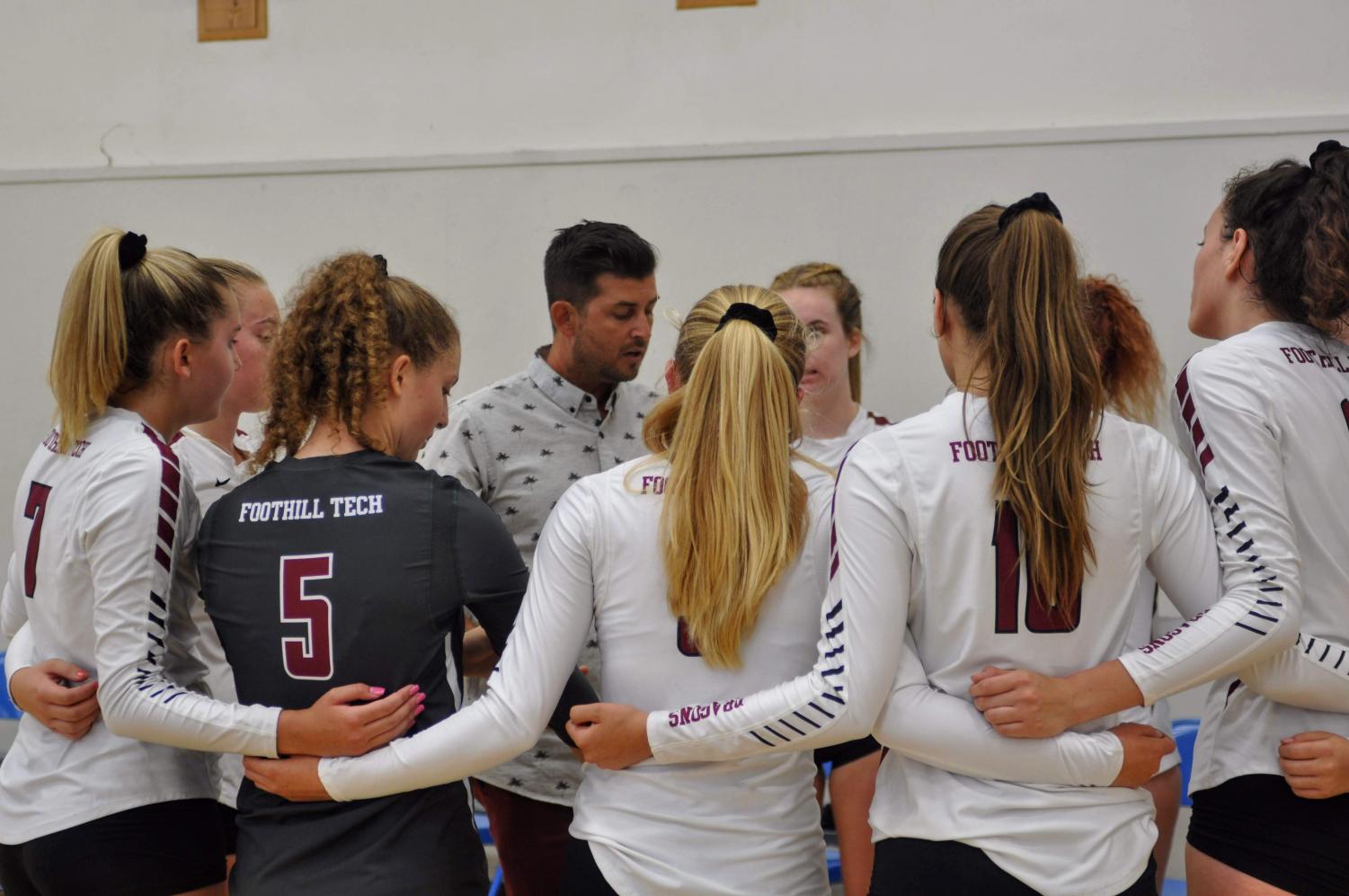 After a short timeout called by Rio Mesa, the Dragons snagged the upper hand and gained 10 more points to give them the win to the first game. With a strong swing by Fae Armstrong '21, the Dragons ended the game with a score of 25-14. 
As the Dragons entered the second game, they worked with more continuity as a well-oiled machine. Dylan Mullaney '21 started the second match on the right foot, sending a kill directly to collapse Rio Mesa's defense.
The Dragons maintained this powerful lead and continued to build it by working as a unit to the end of the second match, never backing down. The closest Rio Mesa came to catching up was within four points, and that would not stop Foothill Tech from dominating their competition. 
As the third match rolled around, everyone in the stands was on the edge of their seat. Once again the Dragons showed no signs of slowing down, consistently keeping their lead throughout the rest of the game. Libero Ashley Pazen '20 challenged the Trojans with a serve they could not contest with. As she tossed the ball that would lead to her game-winning ace, the crowd launched into celebration. 
After taking a match in three straight wins, the Dragons went home feeling confident in their abilities, and are excited for the road ahead. With a smile on her face, Najera proclaimed that the team has "been waiting a long time for the season to finally start".
After the game, head coach Kris Gullatt had nothing but positive comments about his team.
"I thought the girls did really well, they executed exactly what we've been working on in practice," Gullatt stated. He has high hopes for the season and is excited for what will come next as they face off against the Nordhoff Rangers on August 22.