Track and field sweeps the competition at 2019 Russell Cup
Marin Valerio, Features Editor
April 16, 2019
Foothill's track and field team swept their competition at the 100th annual Russell Cup on April 13. The team garnered enough points to win the meet's "Grand Sweeps," placing high in a variety of events.
Events at this meet are slightly different from those at a typical track meet. Since it has been around for 100 years, the organizers want runners to be able to look back on scores for events dating back to the very first meet in 1919 and compare them with scores for events today.
The boys' team had seven varsity competitors present at the Russell Cup: AJ Masmela '19, Iak Wright '19, Jason Messner '19, Daniel Montes '19, Henry Pick '19, Raine Hagerty '19 and Nicholas Jordan '20.
In the 100-yard race, Masmela placed fourth with a time of 10.36. In the 200-meter race, he placed seventh (23.39) and his teammate Wright placed 15th (24.33). Messner won the 800-meter with a time of 1:59.63 while Montes came in 12th with a time of 2:10.65.
The boys excelled in the one-mile race, where Henry Pick placed second (4:26.32) and Messner placed third (4:31.58). In the two-mile race, Henry Pick took first place with a time of 9:44.38, followed by Hagerty in ninth place (10:39.18). The 4×400 relay team (Masmela, Messner, Montes and Henry Pick) placed fourth with a time of 3:36.06.
Wright and Jordan pushed ahead in their field events. Wright placed second in both the long jump and the triple jump, with respective scores of 20'2.5" and 41'11.25". Wright's triple jump mark beat the school record, which was previously held by Daniel Holst '17 (41'2"). Jordan placed third in the pole vault, with a mark of 10.09.
Foothill brought ten varsity girls to compete at the meet: Aubree Smith '19, Cami Becker '19, Hana Vrablik '19, Lauren Kearney '19, Gretchen Scherrei '20, Carly Leandro '20, Kennedy Gomez '19, Kamila Kunes '20, Ashlyn Carey '20 and Jessica Lopez '20.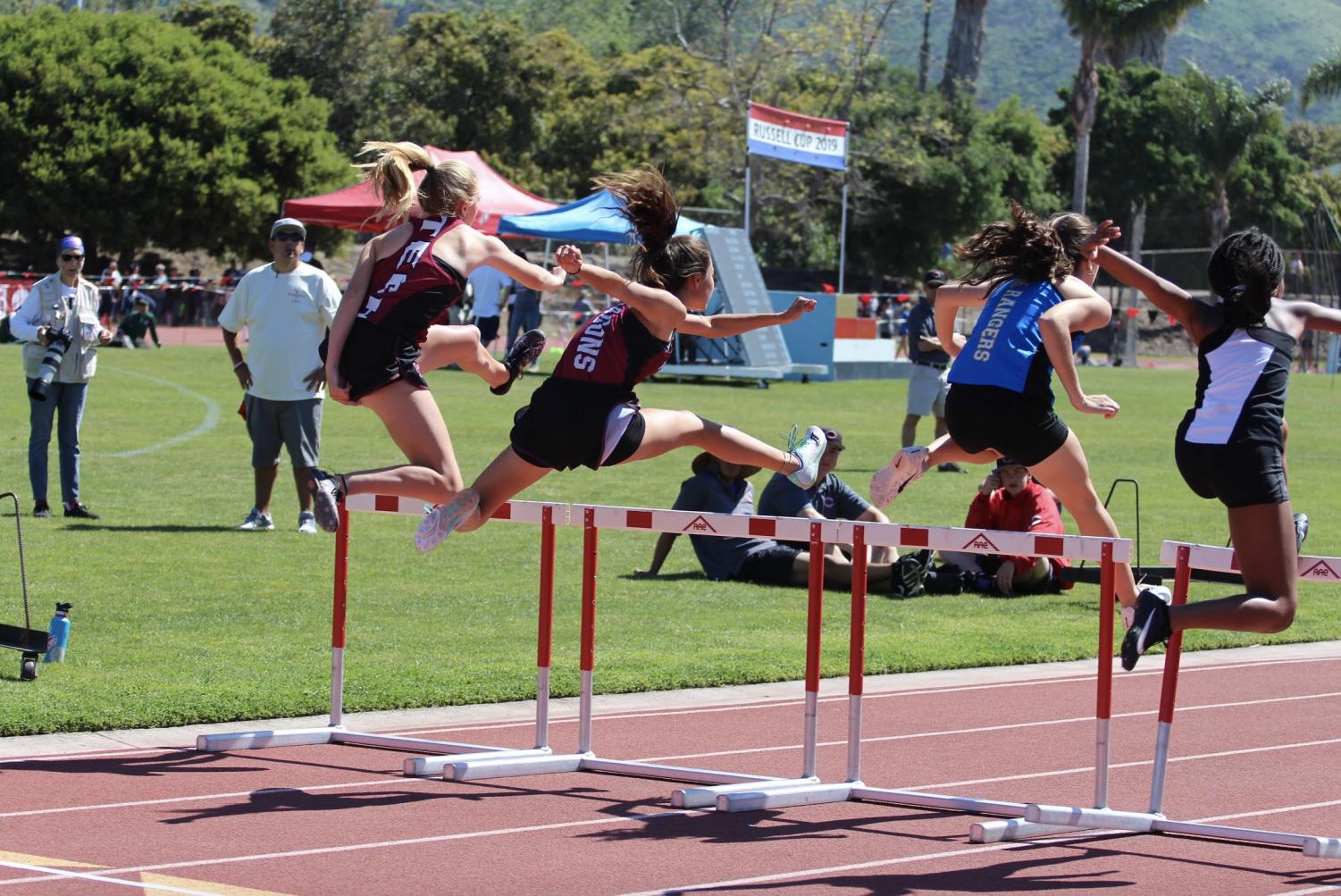 In the 100-yard race, Smith placed fifth (11.8), while in the 200-meter race she placed fourth (27.09). Her teammate, Becker, raced in the 400-meter, placing second with a time of 59.94. In the 800-meter, Vrablik placed fourth (2:20.50) and Becker placed eighth (2:28.42).
Kearney and Scherrei began the mile race running closely together, but Scherrei fell slightly behind near the end. Kearney placed first (5:07.45) and Scherrei fifth (5:22.75). In the two-mile race, Kearney and Village Christian runner Mia Barnett '19 competed for first, with Kearney leading the majority of the time. She placed second (11:11.08), just about five seconds behind Barnett. The girls' varsity 4×400 relay team, consisting of Becker, Vrablik, Kearney and Kunes, placed third with a time of 4:12.98.
Leandro placed 12th in the 100-meter hurdles (18.81), breaking the school record of 19.58 previously held by Skylar Rodriguez '18. Gomez placed sixth in the 300-meter hurdles (52.21) and Kunes placed tenth (54.90).
In the high jump, Carey tied for sixth place (4'3"), and Leandro placed sixth in the pole vault (9'3"). Lopez competed in discus and placed 20th (64'3").
In addition, Foothill brought ten freshman and sophomore boys to compete: Aidan Smith '22, Sash Fuentes '21, Ethan Crouch '21, Frank Stilwell '22, Josh Villasenor '21, Oliver Pick '21, Anthony Rodriguez '21, Aidan Hagerty '22, Ephraim Raymond '22 and Bryshaun Blanson '22.
Rodriguez placed second in the 100-yard race (10.62). Fuentes placed first in the 200-meter (23.37) and Smith placed seventh (24.67). Fuentes also won the 400-meter (52.72). In the 800-meter, Crouch placed third (2:06.12) and Stilwell placed 21st (2:20.44).
Oliver Pick and Villasenor placed one after the other in both the one-mile and two-mile race. Oliver Pick placed fourth in the one-mile (4:42.02), with Villasenor right behind him in fifth with a time of 4:42.71. In the two-mile race, Villasenor placed in first (10:11.62) and Oliver Pick took second (10:19.68). The boys' freshman and sophomore 4×400 relay team took first place with a time of 3:42.22.
Rodriguez placed third in the triple jump (38'10.25"). Raymond tied for third in the pole vault (9'3"), and Hagerty placed seventh (8'3"). In shot put, Raymond placed ninth (34'9"). He placed eighth in the discus (98'10") and Blanson placed 12th (84'5").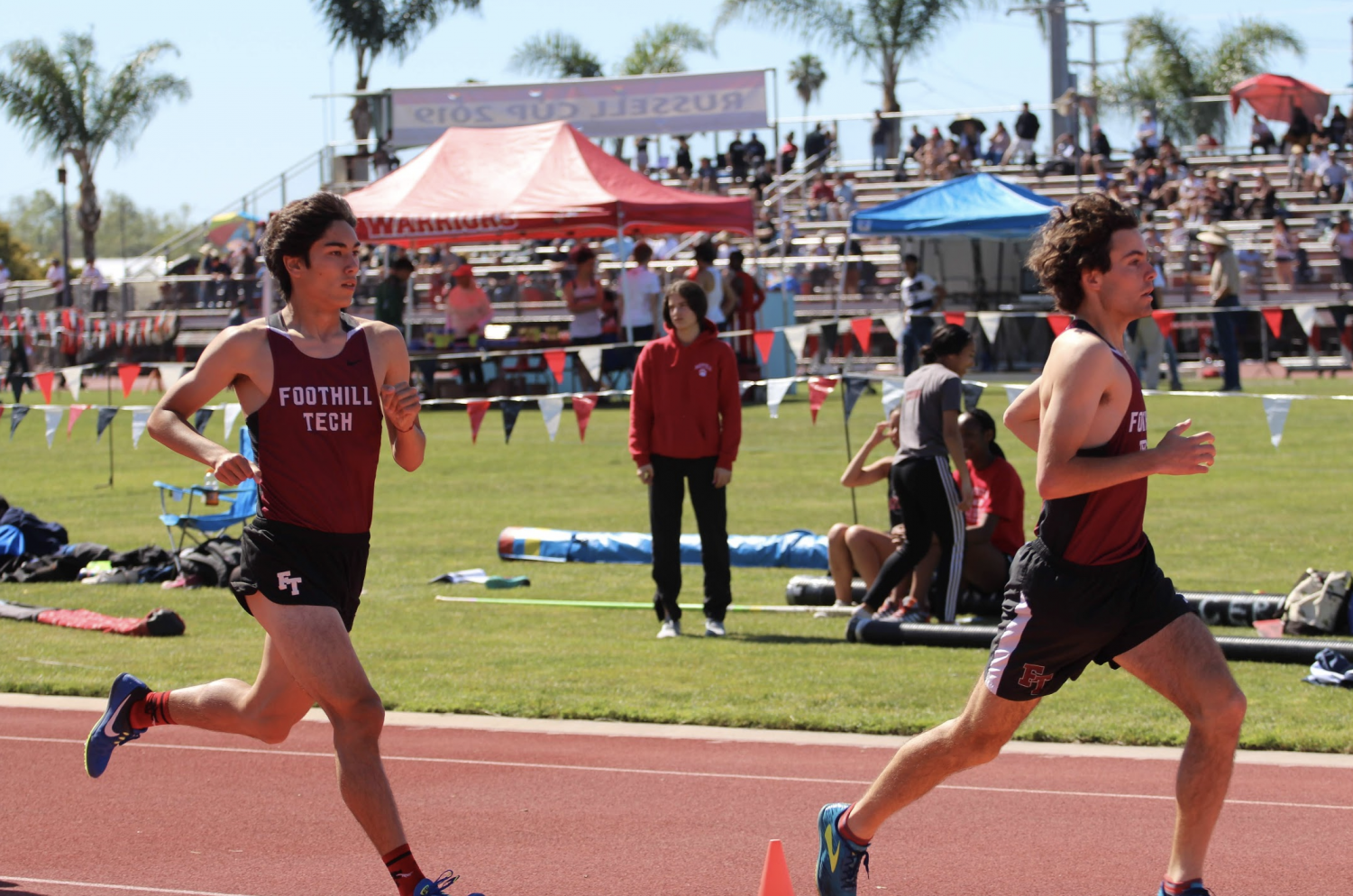 13 Foothill girls competed in the freshman and sophomore category: Jia Jackson '22, Arleth Martinez '21, Isabel Zumaya '21, Dylan Mullaney '21, Marie Bell '21, Itziany Rojas '21, Hannah Dearman-So '21, Kassie Mendoza '21, Drew Anderson '21, Brooke Secreto '21, Brianna Valdovinos '21, Sophie Prieto '22 and Adithi Desham '21.                      
Mullaney placed 22nd in the 100-yard race (12.71) and Bell placed 24th, just 0.05 seconds behind Mullaney. Mullaney tied for tenth in the 200-meter (28.96) while Rojas placed 15th (29.22). Dearman-So and Mendoza raced the 400-meter, placing second (59.92) and 11th (1:08.34), respectively. Secreto won the 800-meter with a time of 2:21.7, and Dearman-So finished just behind her teammate, placing second (2:21.94). Secreto also won the one-mile race (5:14.87), with Valdovinos placing seventh for Foothill  (5:58.75). Valdovinos went on to win the two-mile race (12:50.02) and Prieto placed fifth (13:28.43). In addition to the 4×400 relay, in which they placed second at 4:21.03, the freshman and sophomore girls placed fourth in the 4×100 relay with a time of 54.81. Bell, Secreto, Dearman-So and Mendoza all competed in the relays.
Anderson's time of 19.74 in the 100 hurdles earned her eighth place, while Mullaney placed 13th with a time of 20.10. Anderson placed ninth in the 300 hurdles (55.62). Desham placed eighth in the high jump (4'5"), with Prieto placing 12h just two inches below her. Prieto placed seventh in the pole vault at the height of 6'9". Jackson placed 13th in the shot put (23'5.5") and Zumaya placed 20th (20'10"). Martinez competed in the discus, placing 19th with a score of 48'11".
After nearly ten hours spent at the meet, Secreto reflected on the Dragons' successful day.
"We all stepped up and did our part," she commented. "We all placed really well, and got the points that we needed [to win Grand Sweeps]."
Dearman-So noted that in the team's workouts, they run together "because when you run with other people, it's easier to push each other to go faster." They carry this mentality to their races, a possible rationale for why so many of the Foothill runners placed so close together in their races.
Editor's Note: Jason Messner, Dylan Mullaney and Hana Vrablik are staffers on the Foothill Dragon Press. They were not involved in the production of this article.