Boys' tennis falls short against Villanova, 10-8
Abby Sourwine, Reporter
March 15, 2019
With butterflies soaring across the court alongside the bright green Wilsons, it must be time for the spring boys' tennis season. On March 15, the Dragons faced the Villanova Preparatory Wildcats, who Devin Franke '21 considered to be "definitely one of the better teams that we've played."
Villanova has a strong singles lineup, and the Dragons knew it. They tried to "stack our doubles a little bit heavier," according to head coach Ryan Rollins, but ultimately the strategy fell short and the Dragons took a 10-0 loss.
Ethan Wang '20 was the only member of the singles team that kept his spot at number one. Filling the number two and three spots were Erik Hanson '22 and Nikhil Maserang '21, respectively.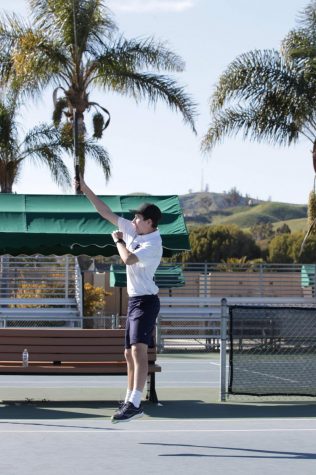 Rollins kept Wang in singles, rather than moving him to the doubles side, "because we knew he actually had a chance against everybody, and he did, it was close."
Wang finished with set scores of 3-6, 3-6, and 6-1.
Hanson and Maserang struggled with their new positions, but the effort also aided the team by trying something new.
Hanson had never played singles before this match and finished with set scores of 0-6, 0-6, and 1-6. He described the experience as "nerve racking," and found that he enjoys doubles more.
Though he finished with three losses, he recognized the skill of Villanova's team and thinks he played "as well as he could've."
Maserang finished with set scores of 0-6, 0-6, and 6-0.
On the "stacked" doubles side, the Dragons fared better. Tomas Carillo ' 20 and Shiv Bhaktar '20 made up the number one doubles team and swept their sets 7-7, 6-3, and 6-0.
The second team, Eesh Manwani '21 and Ashkay Shanbag '21, took two of three sets, with scores of 4-6, 7-5, 6-0.
Levi Mathieu '22 and Devin Franke '21, the third team, won one of three (1-6, 0-6, 6-3).
Franke found that the match revealed "how you can improve on the net, and how you can improve on the back."
Despite the loss, he remains optimistic.
"We have the entire season in front of us, and I think going into our next couple of games, we've learned a lot from this game about how to work together and how to hit better. Into these next games and matches, and as we get into the season, hopefully we'll get better," he said.