Class of 2014 kiss high school years goodbye and greet adulthood
[dropcap size=dropcap-big]T[/dropcap]he speakers blared "The Pomp and Circumstance marches" as soon-to-be Foothill graduates filed excitedly two-by-two down the aisles of chairs set up in Ventura College's gymnasium to take their seats for the Class of 2014's graduation ceremony this afternoon.
Before the commencement began, seniors congregated in a small gym behind the main auditorium, anticipating the reception of their diplomas and reflecting on where most of them had spent the past four years of their life.
"[The past four years] were challenging at parts and they definitely taught me a lot about myself and they helped me mature a lot," said senior Tara Yanez. "But they were really fun and  I think that the way that Foothill has enriched my life is in more ways than just educational […] I'm really grateful."
Want a behind-the-scenes look at graduation? Click here.
A loud gong sound effect rang out from the speakers to signal the start of the ceremony. Decorated Foothill teachers adorned with sashes and robes strode into the gymnasium, followed by members of the Dragon Honor Court, a group of juniors selected to help with graduation. Finally, the Class of 2014 walked in, some sporting pins, stoles, cords, and medals.  
Senior class president Anna Cogswell began the ceremony by introducing the League of Inspirational Heroes, a program she says is "to honor those teachers, coaches, mentors, counselors, and other persons of influence who have helped guide [the] graduates throughout their academic and extracurricular careers."
One of these heroes, Cecilia Johnson, had a few words of advice for the graduating class, spoken during an interview after the ceremony. "Go out and grab life. Take advantage of all the wonderful things that are out there. Don't be afraid," said Johnson.
………………………….
After the honoring of heroes, "the Star-Spangled Banner" was performed. Senior Caleb Bigler sang, while senior Shannon Thirion accompanied him on the piano.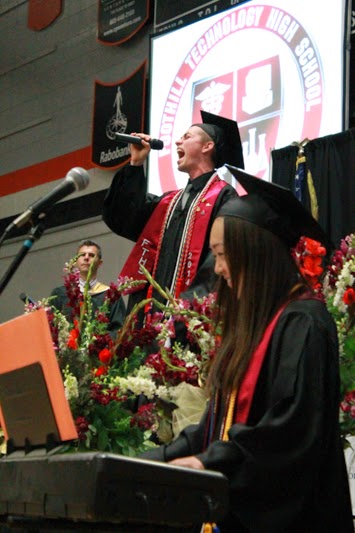 Principal Joe Bova then stepped up to the podium to list the highlights of the Class of 2014, honoring the various achievements of the students and honoring the part they played in helping Foothill to become a National Blue Ribbon School.
The precedent of academic excellence at Foothill, set many years ago, was built upon by the class and aided Foothill in being ranked 212 out of 31,000 high schools in the U.S.
Over 98 percent of the graduating class will be attending a university, college, or trade school in the fall.
Those who were honored stood as Bova called out the categories for which they were being recognized, including:
What college they would attend

A.V.I.D.

ASB leadership

Dragon Hall of Fame

California Scholarship Federation

BioScience Academy

Communications Academy

Multilingual Seal

National Art Honor Society

Foothill Dragon Press

National Forensic League

National Honor Society
One student, senior Ryan McDonald, was recognized for his 881 hours of community service.   [soundcloud url="https://api.soundcloud.com/tracks/154120098″ params="color=b61e1e&auto_play=false&hide_related=false&show_artwork=true&show_comments=true&show_user=true&show_reposts=false" width="100%" height="166″ iframe="true" /]
Glenda Marshall, one of the three valedictorians, gave a speech titled "Another Cliche Graduation Speech," recapping her initial hesitation to attend Foothill and how, ultimately, the past four years had been a great period of growth for her.
Amid the sounds of laughter from audience members appreciating Marshall's various High School Musical references, Assistant Principal Katie Tedford called the classes salutatorians to the stage.
The GPA required to be salutatorian this year was a 4.8. Casey Collett, Liam Egen, Claire Jurgensen, Angela King, Lucy Liao, Melissa Marshall, Paige Treloar-Ballard, Hannah Rivera, and Anneko Zeko received this title.
Then, Assistant Principal Carlos Cohen read the names of the three valedictorians, each of which had earned a cumulative GPA of 4.92 in order to secure their title. Ami Ballmer, Glenda Marshall, and Aysen Tan all were awarded medals to go along with their achievement. A group of seniors, headed by Blake Silva, performed "I Lived" by OneRepublic as the senior song.
[soundcloud url="https://api.soundcloud.com/tracks/154123327″ params="color=c53131&auto_play=false&hide_related=false&show_artwork=true&show_comments=true&show_user=true&show_reposts=false" width="100%" height="166″ iframe="true" /]
"It [the senior song] was one of the best opportunities I've ever had. It was really great getting up there in front of thousands of people and showing off my very beautiful voice," senior Carson Graves said with tongue-in-cheek.
Next was an original speech, titled "To Infinity and Beyond," given by salutatorian Angela King. King expressed her anxiety regarding the moment she would have to walk on stage to deliver it.
"I'm kind of petrified that I'm going to trip try going up the stairs, or that I'm going to trip over small words like the or and or other such things and them I'm going to sound really stupid in front of all of my beloved friends and family," said King.
However, King did not trip over the steps or her words. Instead, she delivered a speech critiquing "the biggest lie of our [the millennial] generation" and provided her fellow graduates with a few parting words of wisdom.
"Changing the world isn't reserved for the few and fearless; it's inherent to us all; it's built into our nature," said King.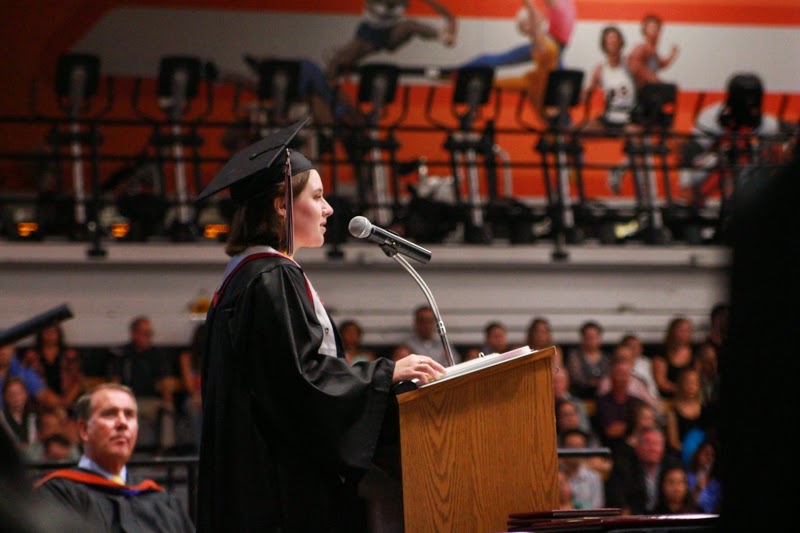 [soundcloud url="https://api.soundcloud.com/tracks/154121248″ params="color=c82515&auto_play=false&hide_related=false&show_artwork=true&show_comments=true&show_user=true&show_reposts=false" width="100%" height="166″ iframe="true" /]
When the speech ended, Cogswell stepped back on stage to present the annual Senior Gift. Earlier this year, Foothill suffered a tragic loss when former teacher Chris Prewitt was killed by a driver under the influence.
This year's gift was centered around preserving the legacy of Prewitt. "We lost a teacher, a mentor, a coworker, a friend, a smiling face on a gloomy day. We lost one of our dragons. […]This year, there can be no greater gift than to continue Chris Prewitt's legacy by honoring students who love, live, adventure, and forgive with the same generosity and spirit and an infectious enthusiasm for life," said Cogswell.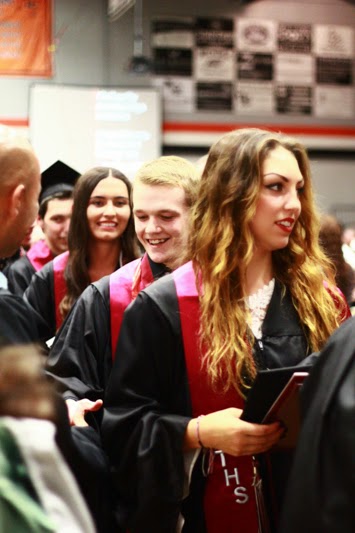 Each year from this year on, one senior from the graduating class will be awarded with the Chris Prewitt award and have their name engraved on a plaque which will remain in the Foothill front office for all to see.
Finally, the moment everyone had been eagerly waiting for had arrived and Bova presented the class of 2014, which was then accepted by School Board President, Mary Haffner.
Names of the students were called by the three Foothill counselors, Debbie Freeman, Steve Boyd, and Juana Vega and the soon-to-be graduates walked up to receive their diplomas.
Once the last diploma was given out and the last hand was shook, Superintendent Trudy Arriaga declared the seniors were at last alumni and told them to take their right-hanging tassels and turn them to the left side.
Cannons of bright red and white confetti exploded and the class threw their caps into the air. A mix of bittersweet emotions ran high as families and friends searched for their graduates. Arriaga felt a strong connection with the class do to the fact that she began as Superintendent the day the seniors had started kindergarten.
"It's just a huge sense of pride. That I got to see them as kindergarteners.  Many of them I've watched grow up, and then to see what a great class of seniors they are," said Arriaga.         d