VC Star awards stress the importance of student journalism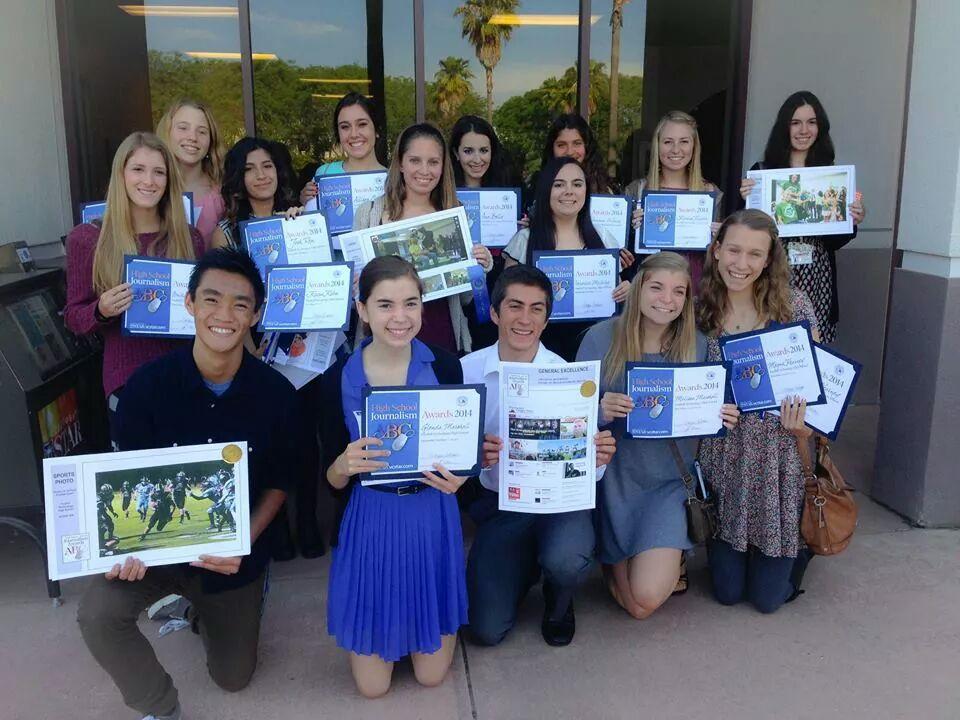 High school journalists from 20 different high schools across Ventura County watched as fellow staffers received awards at the Ventura County Star High School Journalism Awards on Thursday.
The Ventura County Star High School Journalism Awards was organized by the Ventura County Star and held at their office. The awards had a total of 17 categories including several writing sections, social media, graphics, photography, video, art, website design, overall excellence, and more.
"We hope to honor and recognize good high school journalism," said Ventura County Star editor John Moore. "All of us who are involved in the Ventura County Star came out of journalism programs. So, we remember how hard it is, and how much fun it was, and we think that it's worth our time to tell each other and to tell the community what great work is being done in high schools today."
The Foothill Dragon Press earned 17 total individual awards, the most of any school in the region, with eight first place awards, one second place award, three third place awards and four honorable mentions. Staffers also won first place in the website category and an honorable mention in the general excellence category.
"I'm so proud of the work that the staff has done this year. They continue to blow me away with every piece that they submit, and I could not be more proud of their work and achievements," said Allison Clark, former editor-in-chief of the Dragon Press.
Glenda Marshall, Fidelity Ballmer and Megan Kearney won first place in the News Category for their article on previous Foothill teacher Chris Prewitt's death. Summer Al-Saleh won first place in the Opinion category for her editorial on cyberbullying law, and Ana Bello and Kienna Kulzer won first place in the features category for their article on slut-shaming.
"These two journalists used data collection, good writing, great quotes and several sources to tackle an important issue…and gave it color by interviewing those on both sides of the issue," one judge said of Bello and Kulzer's article.
[soundcloud url="https://api.soundcloud.com/tracks/150930155″ params="auto_play=false&hide_related=false&visual=true" width="100%" height="150″ iframe="true" /]
The Foothill Dragon Press also won many awards in photography, cartoons, and multimedia.
Some photography awards included Aysen Tan for his his work at "A Night to Remember" as well as the Chris Prewitt memorial.  "St Baldricks 2014" by Emily Chacon, Bridget Parrino, and Kazu Koba which won first place in video, and "Our generation is consumed by technology" by Lucy Knowles won first place in the cartoon category.
Other staffers who won awards included Josh Ren, Melissa Marshall, Bryn Treloar-Ballard, Ema Dorsey, and Veronica Mellring.
Melissa Wantz, Journalism adviser for the Foothill Dragon Press, described how she felt when staffers of the Foothill Dragon Press received recognition and rewards.  
[soundcloud url="https://api.soundcloud.com/tracks/150930041″ params="auto_play=false&hide_related=false&visual=true" width="100%" height="150″ iframe="true" /]  
The Ventura County Stars Awards was an event for rewarding high school journalists, but it was also an event for recognizing the importance of journalism.
"I think that [journalism] is absolutely critical. I think that journalism helps us," Moore said. "Whether you go into journalism as a profession or not, it really helps you understand how to be a better critical thinker, how to evaluate and understand information, because you understand how to create information."
Moore also spoke about the importance of ethics and values in journalism.
"Ultimately, we all become publishers today through social media, so if you know the values of journalism and ethics and standards you learned in high school, regardless of how you use it, it will be hugely valuable to use throughout your entire life," he said.
Overall, it was a successful and happy event for the Foothill Dragon Press and district newspapers. Many staffers said they greatly appreciated the recognition and awards.
"It feels absolutely amazing, I love to receive awards, but more than that I love seeing everyone else on staff receive them because I truly think that they deserve them with all their hard work and dedication to the [Foothill] Dragon Press," Clark said.