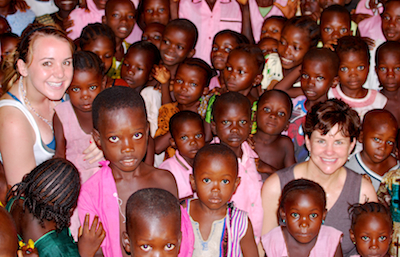 No homes, but shacks made out of tin and sticks. No running water, just a well 12 miles down the road. No restrooms, only a hole in the mud. Sierra Leone is considered to be the poorest country in the world and functioning places to live, let alone schools, are hard to come by.
Back in February 2010, Foothill Technology High School teachers, Cherie Eulau and Melissa Wantz, met with Dr. Richard and Dr. Catherine Frazier to plan a workshop for Sierra Leonean teachers.
The workshops are run through the organization Friends of Sierra Leone. Their motto: "Teachers teaching teachers".
Shortly after high school graduation in June, Eulau and Wantz flew to Freetown, the capital of Sierra Leone. Their coworkers from Friends of Sierra Leone and Wantz's daughter, Megan Wantz, an alumna of Foothill, accompanied them. Their major sponsor was Schools for Salone, a non-profit organization helping to rebuild schools that were destroyed during the country's civil war.
After arriving in Freetown, the crew took a dangeroustrip to Bo, the second largest town in Sierra Leone, where the workshop took place. Wantz and Eulau met with local teachers to help them develop material to teach in their classrooms.
The goal of the workshop was to get the teachers to write a newspaper. If no textbooks are on hand, a newspaper is an efficient, informative way to teach any subject. Eulau commented in an interview,"Even though they don't have textbooks, they are still able to gain knowledge."
Every moment of the trip became a memory for a lifetime, but Eulau's favorite experience was a trip to the Lungi village, where the Foothill teachers hope to raise enough money to build a school through Schools for Salone. When they arrived, female villagers welcomed their visitors with dancing.
"It was so unexpected; that's why it was the biggest thing," Eulau said.
Closely following her favorite memory was getting to meet students that Wantz has corresponded with on Ning.com, a social networking site.
"It's amazing, they have no running water, no electricity, but they are still so knowledgeable…it's really inspiring to see these kids that want to go to school."
Megan Wantz commented, "It wasn't as much the experiences I had, but the relationships I built, that impacted me the most. The people I met were just amazing. They shaped me as a person."
In order to get access to textbooks, the government requires that the school has a place to store them. The school will provide more textbooks and latrines, which will increase sanitation.
"It's not just a school, it's lots of other things. It will change people's lives," Eulau commented, "The villagers are articulate about education. They understand what education will do for their children."
A well is also going to be built along with the school in the village of Lungi. The new well will eliminate the amount of walking necessary to access drinking water; therefore kids will no longer have to skip school to make the journey. Having its own well will also reduce the number of cases of water born illnesses in the village.
Eulau hopes that the workshop will go again, however the Fraziers have not committed to anything yet. Another issue is the cost of another trip. Foothill teacher Robin Houlahan has found a grant for teachers to go, and teachers Chris Prewitt and Kristen Faulconer have expressed an interest in accompanying them on a future visit.
In the meantime, 50,000 dollars has to be raised in order to build a school in Lungi. A handful of Foothill seniors want to fundraise this money as part of their Senior Hero Project.
Madi Thompson plans to design and make shirts to raise money to build the school. She will be selling the shirts at the benefit concert that Foothill seniors Trent Ruiz and Bill Grundler are currently arranging. Back to school night and other events such as youth groups will also have the t-shirts for sale. A few other seniors are developing their own ideas to raise money as well.
"What drew me to the cause was…reading the book A Long Way Gone by Ishmael Beah as a sophomore," Thompson said, "Looking at how poor the schools are in Sierra Leone is just unbelievable. Even if I'm helping in the slightest bit at least I am contributing a little."