Students take a trip to the 50s for Air Guitar (2 videos, 58 photos)
Poodle skirts and leather jackets were abound at school today as students traveled back in time to the 1950s for a "Grease" themed Air Guitar. Students rushed from their sixth period classes today at noon to settle down on their blankets and towels in the quad to watch Foothill's annual end-of-the-year talent show.
Students were given 20 minutes to cruise through the food fair before the show began. Different clubs on campus were selling food from Taco Bell, In-N-Out Burger, Dickey's Barbecue Pit, and more. While students mingled, senior Talia Aharon-Ezer, the official "house" act, sang a few songs.
Three judges, counselor Debbie Freeman, English teacher Yiu Hung Li, and Career/Multimedia Specialist Linda Kapala, had a front row seat to observe the acts, and would choose first, second, and third place winners at the end.
The sun is out & everyone's ready for Air Guitar!

— The Dragon Press (@FTHSDragonPress) May 16, 2014
As students started heading back to their blankets, seniors Kayalin Akens-Irby and Kylie Valencia took to the stage to introduce themselves as the MCs for the afternoon. They began by announcing juniors Brittany Richardson and Morgan Castro, who sang Sara Bareilles and Ingrid Michaelson's "Winter Song."
"I thought it was really great that Brittany and Morgan went up there because I just really love their voices together and I thought they were really good," sophomore Jonathan Lantiegne said.
Hip-hop dancers junior Johnathan Carriger and senior Madisson McCarthy performed to a mash-up of songs including "Imma Be" by The Black Eyed Peas and "Talk Dirty" by Jason Derulo.
Senior Kevin Fickenscher played guitar and sang a song he wrote called "Without You By My Side, I Am Alone." He got the audience clapping as he sang the lyrics, "Baby can't you see you're the only one for me, you're the sweetheart of my dreams."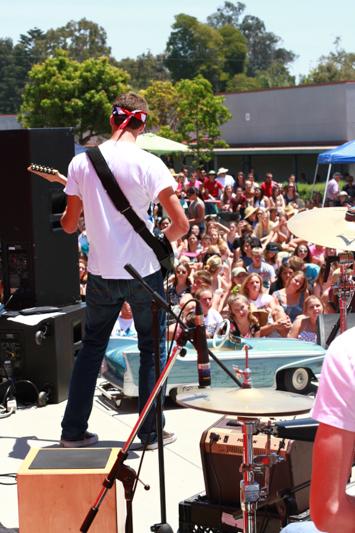 Akens-Irby and Valencia played a few games with the students throughout the show. The first was a Foothill trivia game where they picked a student from the audience to answer a question. When the student couldn't answer, they threw a water balloon at him.  
"My favorite part was probably chucking water balloons at everybody. That's just something I like to do in general," Valencia said.
After this comedic break, the show was back on with juniors Nick Vaughan and Ariana Vivian singing "Demons" by Imagine Dragons.
Next, a band composed of freshman Ela Yasa on keyboard, junior Will Hammer on drums, junior Carlos Cohen on bass, St. Bonaventure High School junior Jake Devericks on guitar, and freshman Alex Cohen sang "Starlight" by Muse.
"I enjoyed the Cohen siblings. Alex was like, wow. I was watching her and she even looked at the judges and was making contact," Li said.
Every year, a student is awarded the Tanner Aubert award, dedicated to a Foothill student with muscular dystrophy who passed away in 2008. This year, principal Joe Bova presented the award to freshman Lauren Hudyma for her hard work and perseverance in school, despite her disability.
Next up came seniors Norint Tung and Hunter Godfrey, who decided to take the name "Air Guitar" literally and have a lip-syncing competition to "Lights" by Ellie Goulding and "A Thousand Miles" by Vanessa Carlton. When they tied, they danced and "sang" together to "Hips Don't Lie" by Shakira and gave the audience a good laugh as they wiggled their hips.
"I liked Norint Tung's and those guys because I felt like that would be the best I could do," World History and Government/Economics teacher Dan Fitz-Patrick said of the lip-syncing act.
More singing acts included juniors Ethan Tan and Sasha Poirier with "Little Talks" by Of Mice and Men, sophomore Corinn Conant with "I Choose You" by Sara Bareilles, and seniors Blake Silva and Maija Saarinen singing "All of Me" by John Legend.
"It was really fun but like five minutes before I was really nervous," Conant said. "It was a good experience. It was my first year at Air Guitar."
Junior Cameron Liljekvist sang "No More" from the musical "Into the Woods" that he just found out he's starring in. He dedicated the song to his father, who passed away from cancer about a month ago.
……………
"I really liked all the acts but I felt like the most meaningful was Cameron because he dedicated it to his dad," sophomore Nicole Rockholt said.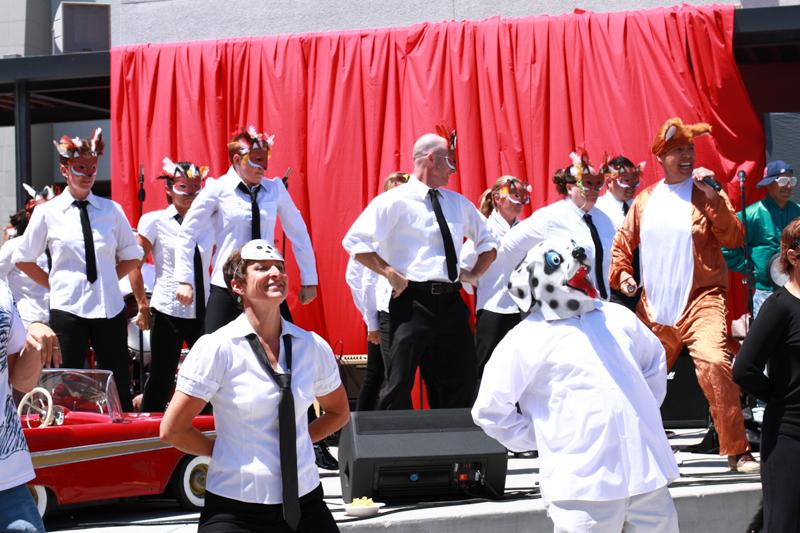 The show continued with sophomore Ashley Amaladhas playing the violin and seniors Hanna Rivera and Ailene Lee singing "Secrets" by OneRepublic as senior Emily Sim played piano and sophomore Adrian Lee played the cajon.
The show ended with a real "Grease" themed number as seniors Holly Guzman and Caleb Bigler performed "You're The One That I Want" portraying Sandy Olsson and Danny Zukko in the musical.
"I felt like they really brought the show alive. They acted it out and they really got into character," Valencia said.
However, what students thought was the end of the show was just the beginning of a whole new act as the staff surprised students with a collaboration of crazy songs and dancing.
English teacher Jason Dinkler, Spanish teacher Adrian Sanchez, English, Bioethics, and History teacher Richard Geib, Assistant Principal Carlos Cohen, and Principal Bova took the stage wearing the "YMCA" attire that they wore two years ago during Air Guitar and had a dance-off.
What students thought was crazy enough got even crazier as Campus Supervisor Dana Eaton rode in on his Harley Davidson motorcycle. Science teacher Ryan Duston strolled in as the cop, and suddenly, math teacher Anthony Villa bounded onstage as "What Does the Fox Say?" by Ylvis blasted through the speakers. The entire staff joined in wearing animal masks as students laughed and danced to the silly performance.
"My favorite act was the one that the staff did. I think it allows us to show the human side of us and just be crazy and have fun," Eaton said.
Many students also commented that this was their favorite part of the show.
"They did such a good job like with costumes, they were all dressed up, they were all dancing, the way they came in from all sides. Dana's motorcycle was awesome, it was just really cool," junior Paris Dosch said.
Air Guitar Organizer sophomore Cody Clark said that Air Guitar took "months and months of planning."
"Normally like 40 percent of the kids get in, but this year I squeezed in like 15 or 16 acts because the idea this year was to get more kids in," he said.
As school ended, the winners were announced. In third place was Amaladhas, in second were Bigler and Guzman, and Lijekvist was awarded with first place.
"His voice and ability is impeccable, so hands down he probably belongs in his own category," Li said. "It was moving, it was powerful, and I enjoyed it and even though we had some incredible acts, I felt that he deserved it."
Foothill Staff Air Guitar 2014 Performance from The Foothill Dragon Press on Vimeo.
Background Photo Credit: Josh Ren/The Foothill Dragon Press