Foothill senior puts on benefit concert for Invisible Children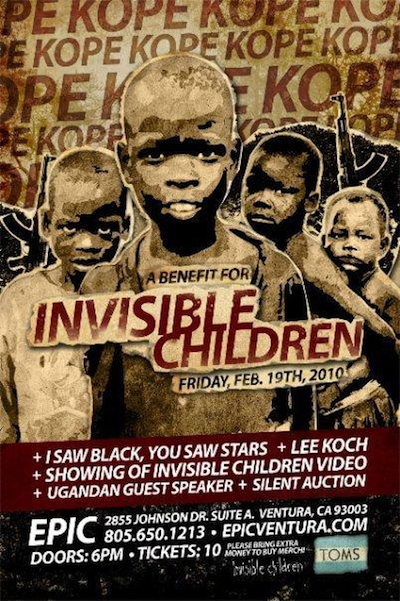 Invisible Children poster.
KOPE. It symbolizes hope and directly translates to "no problems" in the Lwo Language. This is the name of the Invisible Children Benefit Concert that Foothill senior Rachel Ashley is putting on for her Hero Project. The event is Friday February 19th and doors open at 6pm at EPIC in Ventura.
Invisible Children is an organization that strives to spread awareness of the problems in Uganda and the children that are kidnapped and forced to serve in the Lord's Resistance Army (LRA) and brutalize the people of Uganda who sympathize with the government. Invisible Children works to rescue the abducted children and provide housing, clean water, food, heath centers, and education for displaced Ugandan people.
Ashley has planned a benefit concert featuring I Saw Black, You Saw Stars and Lee Koch. There will be a Ugandan guest speaker and they will be showing the Invisible Children Video.
There will also be a silent auction with items from Patagonia, One Way Boardshop, Snapper Jack's Taco Shack, Peet's Coffee and Tea, Marble Slab Creamery, and many more.
The concert is also featuring TOMS Shoes, and both TOMS and Invisible Children will have booths with merchandise for sale, includingInvisible Children bracelets and DVDs.
Tickets for the concert are $10 each and the proceeds of the concert will go directly to Invisible Children.
When asked why she got involved with Invisible Children, Ashley commented, "Every human being has the responsibility to defend human rights. Although I will not be able to travel to Uganda to dedicate my efforts firsthand, I know that my project will work to raise awareness of the situation in Uganda and provide funds for those who are suffering."
Photo: The KOPE event flyer courtesy of Rachel Ashley.